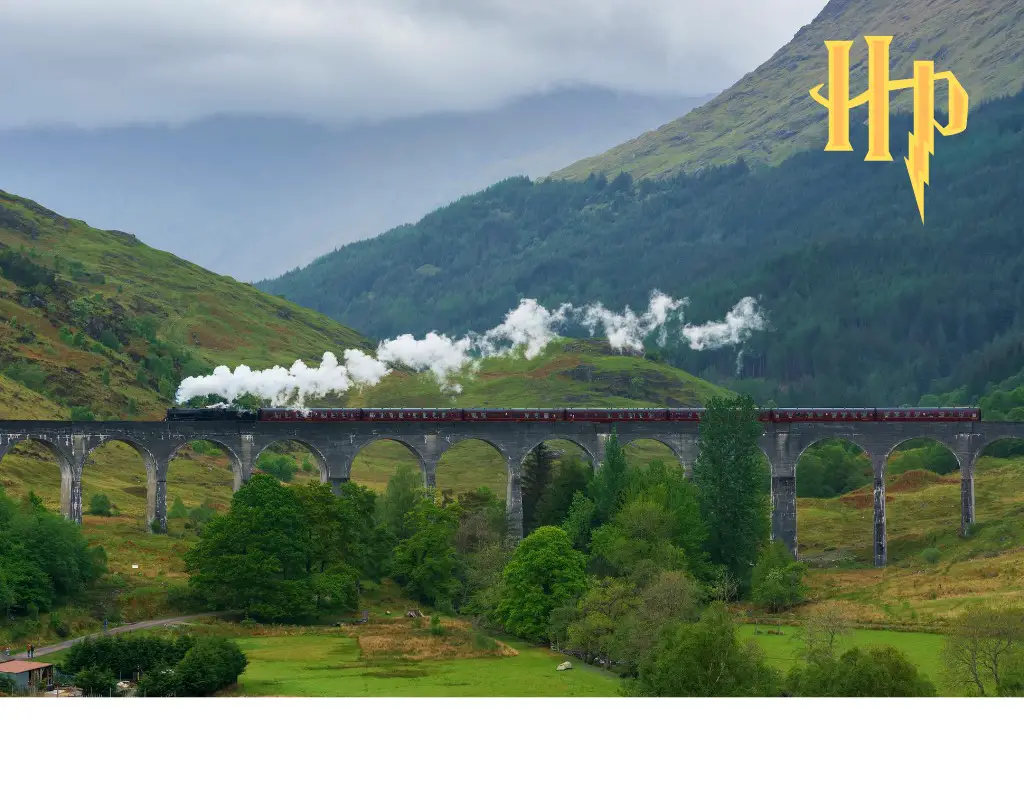 As I have mentioned in this video review of the Harry Potter LEGO theme, I never became a huge fan of the Harry Potter series of books. But the more I keep investigating the LEGO Harry Potter theme, the more I'm enjoying what LEGO is releasing. There are some really amazing sets on the shelves! This gives tons of opportunity for Harry Potter LEGO investing.
The first Harry Potter book was published in 1997, so the audience of children who loved these books have now grown into adults. This is a LEGO theme that is popular with both kids and adults as a result. And I mean POPULAR! This is a brand that continues to thrive, with books, movies, and even theme parks dedicated to it.
The question then becomes – which Harry Potter sets should we focus our attention on?
Here are four Harry Potter sets that I believe will perform great after retirement.
Harry Potter Hogwarts Express 75955
Hogwarts Express is a re-release of the original set and LEGO has done a terrific job designing this set. This set, unlike the previous Hogwarts Express sets, has an accurate wheel configuration on the locomotive.  The previous sets disappointingly had smaller wheels which did not reflect the wheels in the Harry Potter movies. 
It is priced at $79.99 but you should be able to find it for 20% off.  Even this set may not retire this year, this set is sold out frequently.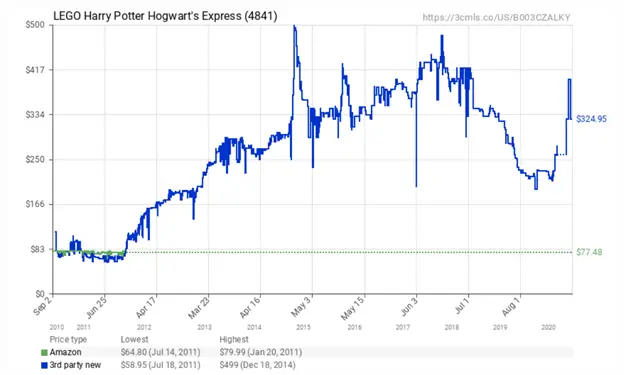 Hedwig 75979
This set is beautifu! I fully expect it will be in high demand once it is retiring. 
This Hedwig set is scheduled for a release date of September 1st so there is plenty of time to add to your inventory. This will make a great show piece. I can see this set placed on top of many Harry Potter fans nightstand – even those who do not usually buy LEGO. 
This set also has great functionality. The movable wings to set up different display options provide a great selling point. These can be used to make it looks like Hedwig is taking flight.
Because this is the first set based on Hedwig, it's difficult to guess how it will perform post retirement. However, I do believe this set will do very well. 
I added the performance of the Harry Potter & Hedwig Brickheadz set below. Although not a perfect comparison, this should give us some idea on how fast the supply and demand crossed paths on a similar set and prices started to rise. Paying attention to this can be somewhat useful in gauging Hedwig's future performance. But of course we can't rely entirely on that data.
Again, this set is not released yet, so we don't need to move quickly on it. I like to avoid going too deep on brand new sets. This of course is a time when having discipline is crucial to your LEGO investing success.
It doesn't appear to be an exclusive, so it should be available to purchase on all retailer platforms. I expect there will be an opportunity to get this set at a 20% discount over time.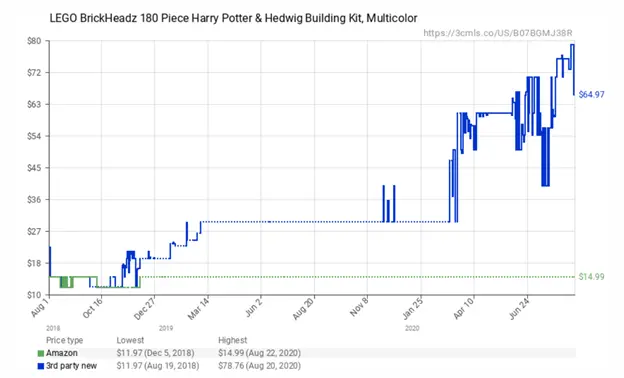 The Knight Bus 75957
The Knight bus is a great set.  It is also a re-release which is a good thing when it comes to trying to figure out the potential performance after retirement by analyzing the performance of the previous set. 
This set is also at a good price point of $39.99 which appeals to a wide range of LEGO fans, and is usually discounted at 20% off. 
This set is apparently scheduled to retire this year. A good opportunity is presented to scoop as many up as many as you can right now. Because this set has high availability on many online retailers, I think this will have a strong return. 
It's currently ranked in Amazons top 25 under Toy Building Sets which shows it strong demand.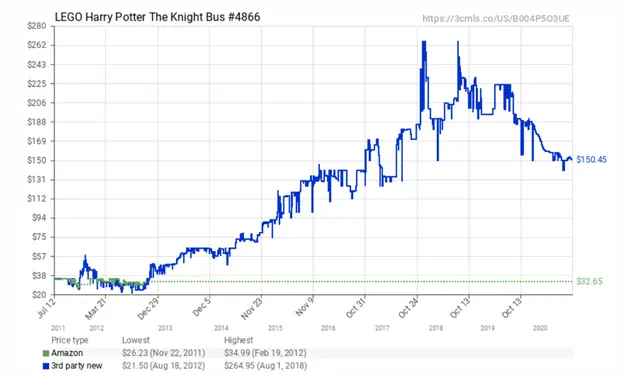 Diagon Alley 75978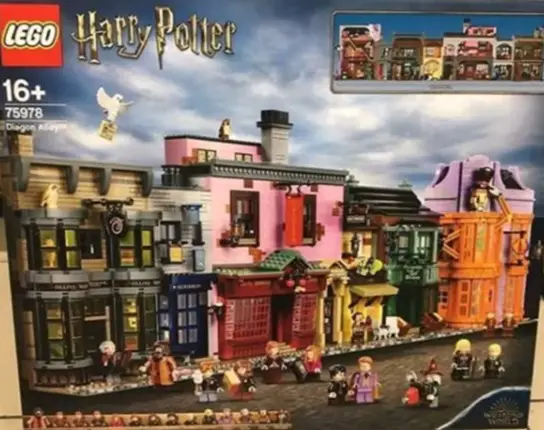 Ah, the return to Diagon Alley! The return of one of the well known set ideas in the world of Harry Potter LEGO investing.
This set is scheduled to be released on September 1st and there is already so much buzz around this set for a number of reasons. Firstly, the last Diagon Alley set has reached incredible prices in post-retirement, and is widely sought after by fans of the Harry Potter theme.
This set has an RRP of $399.99 so that already put me off buying this set for reselling. I may purchase a couple depending on what discounts will be available, but I don't plan on making this a significant position to my inventory. 
Now despite the high price, this set can really be looked at like a four building modular set. If you go into buying this set with the perspective that your getting four modular for $100 each, the does take a little pain out of your wallet and shows some of the value you are getting.
This set is also rumored to be the first of many modular sets which should make this set even more attractive towards resellers. Once this set is retired, AFOLs will be more than willing to purchase this set after new related sets are released and they start to build a collection.
This isn't the first Diagon Alley set of course, but it is the first Diagon Alley modular.  The first Diagon Alley has performed well, and I expect this current Diagon Alley set to perform in a similar way.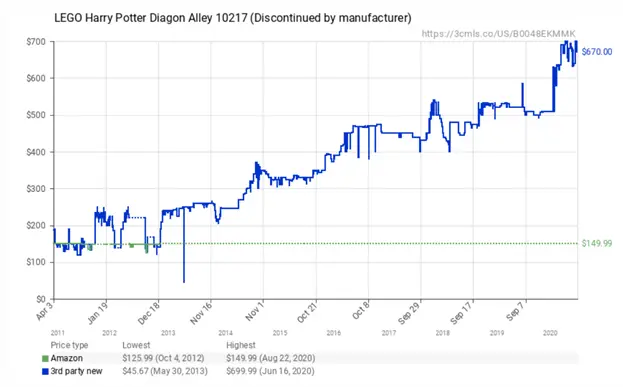 Go out there and get it!
LEGO has brought the Harry Potter theme back in a big way. The theme is expanding so much it makes me wonder if there will come a point to where it may give the Star Wars theme some serious competition.  Only time and sales will tell, but for now the Harry Potter themes future looks very bright. There are tons of opportunities in the world of Harry Potter LEGO investing.
If you want more thoughts on LEGO themes and sets, and more tactics and strategies for investing and reselling, make sure to check us out on YouTube, where we give tons of more experience and strategies for LEGO reselling and investing. Also, we have a free Facebook group – join if you would like to learn from like-minded LEGO investors.
What do you think of the Harry Potter theme? Share in the comments!