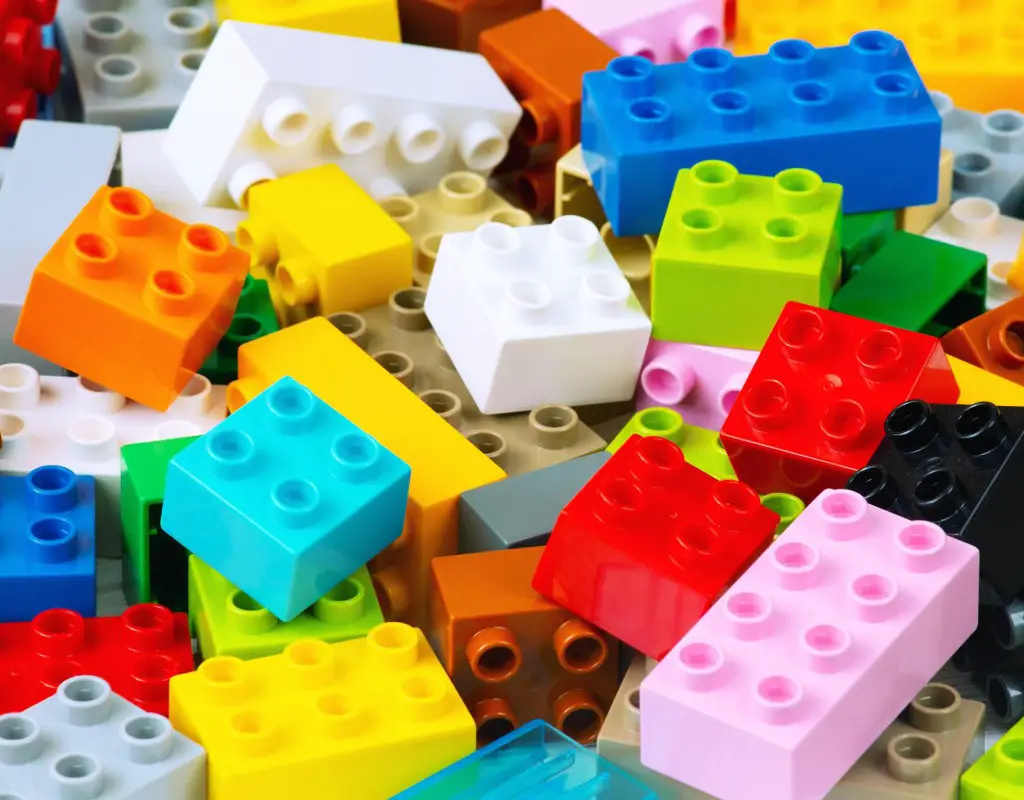 When I started my LEGO Reselling journey back in 2012, reselling DUPLO was the last thing on my mind and I really did not see that many people focusing hard on that theme.
Over time however, I've seen DUPLO sets have discounts between 30-50% off during certain times of year which caused my interest to rise.
Eventually I befriended other LEGO resellers who deal with DUPLO in large volumes. After hearing their stories, it was a no brainer for me to dive into the DUPLO universe.
Here are five DUPLO sets that I believe are worth investing in.
DUPLO Town World Animals 10907
When I first started scouting DUPLO sets, I learned early on that animal sets equal strong returns. This set, DUPLO Town World Animals 10907, has a whole host of different animals in it. Parents will be willing to pay a premium for this set once it retires.
This set does not appear to be retiring this year. That's OK – this should give a reasonable amount of time for serious LEGO investors to add a large position into their inventory. It is currently ranked #3 on Amazon.com under Toddler Plastic Blocks, which shows massive levels of demand. Its predecessor, Duplo of The World Animal Round The-World Set 10805, has shown to have a very strong ROI once it retired.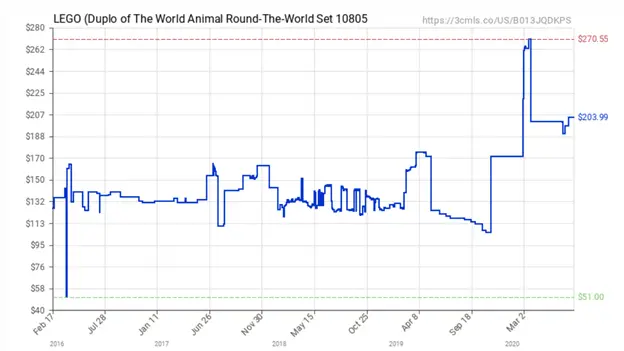 LEGO Duplo of The World Animal Round The-World Set 10805 ROI 104%
LEGO DUPLO Town Tropical Island 10906
Continuing with another set that features animals, this set is priced right for LEGO Investors to pick up.
Similar to Duplo of The World Animal Round The-World Set 10805, this set is not scheduled to retire this year. That's a good thing, because it's not currently being discounted. You should be able to patiently wait for this set to be offered at a 20% discount.
Also, due to this set being sold out during Q4 of last year, you can see the investment potential this set has by going as high as $110 on the secondary market.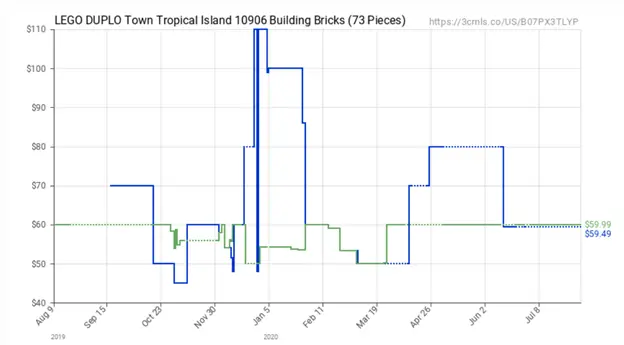 LEGO DUPLO Town Tropical Island 10906
DUPLO Mickey & Mini Birthday Parade 10597
Fair warning about this set, this set is one of my favorites on the list, but this set has been available for over five years, so we really don't know when it might retire.
Mickey licensed DUPLO sets have always performed well in the secondary market. On top of that, DUPLO trains are always a favorite for parents and this is currently ranked #6 on Amazon.com for Toddler Mechanic Toys which shows tremendous demand.
This set is also frequently discounted as well but remember, this set does not appear to be retiring anytime soon so I would continue to just tuck this away until there is an indication that it is at the end of its life.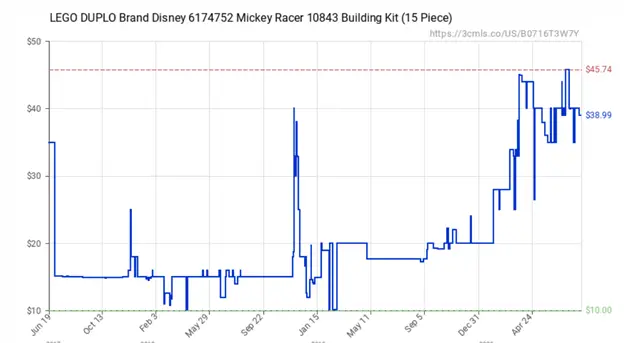 LEGO DUPLO Brand Disney Mickey Racer 10843 ROI
DUPLO Town Submarine Adventure 10910
I believe that this is one of the more fun sets on this list. In fact, I know more adults who own this set than children. This is the first submarine set in the DUPLO line, and they did an excellent job on the design.
It has previously been sold out on amazon which gives everyone a opportunity to see what the potential of this set can be during retirement. As of writing, this set has a strong rank of #45 for Toddler Mechanic Toys on Amazon and is not scheduled to retire this year but I would be very surprised if this set was still available at RRP during Q4 of next year.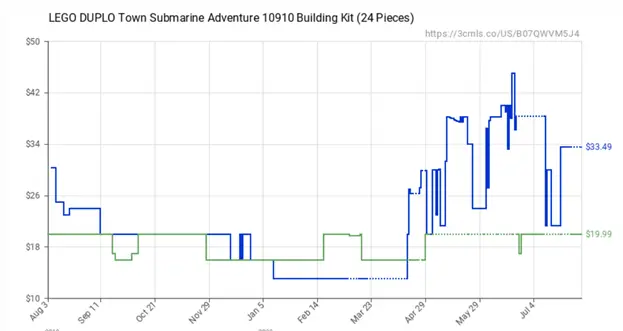 LEGO DUPLO Town Submarine Adventure 10910
DUPLO Pizza Stand 10927
Every couple of years DUPLO releases a version of a pizza themes set, and currently available is the DUPLO Town Pizza Stand 10927.  Sure, this may be a small set that has a RRP of $9.99 but previous pizza themed sets have had strong performances post retirement. 
As of writing, this set is currently ranked #22 in Toddler Mechanics whcih shows huge demand, and it is discounted on various online retailers.  This set is not scheduled for retirement yet but there are rumors that this may go end of life at the end of the year.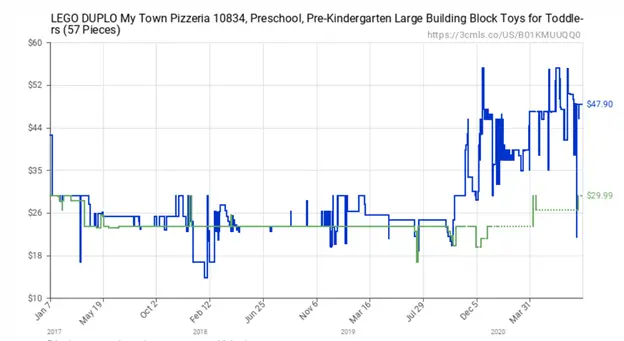 LEGO DUPLO My Town Pizzeria 10834 ROI
Go out there and get it!
If DUPLO isn't something you usually have in your inventory, you may want to consider the advantages that DUPLO brings. Supply is often lower after retirement than other themes due to less resellers venturing into the DUPLO theme than you would typically see in more popular themes such as Star Wars, Architecture, etc.
I hope you found this valuable. If so, make sure to check us out on YouTube, where we give tons of more experience and strategies for LEGO reselling and investing. Also, we have a free Facebook group – join if you would like to learn from like-minded LEGO investors.
Which of these five sets is the one you like the most? Let us know in the comments below!