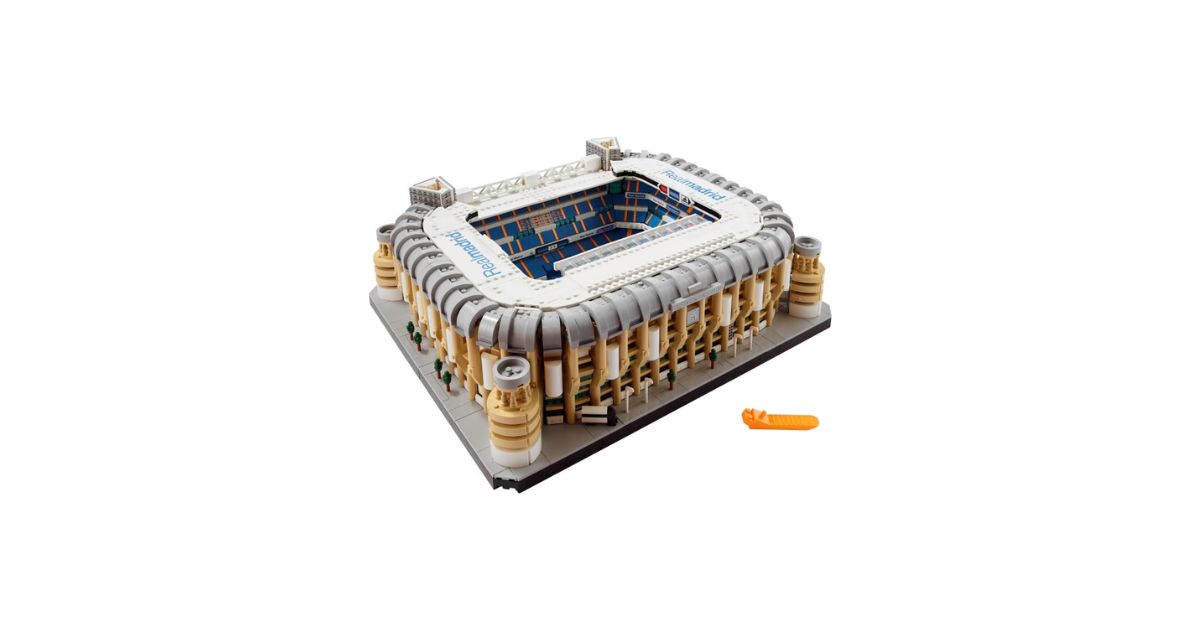 Commercial partnerships are nothing new to The LEGO Group. They have partnered with major franchises in the past such as Harry Potter, Star Wars, and even Stranger Things! LEGO sets based around one of these popular themes are often seen to be successful because they attract buyers from two separate fan bases: LEGO fans and fans of the franchise itself, but in 2020 The LEGO Group produced sets based on buildings that are arguably more controversial.
Of course, football stadiums are iconic architecturally among fans of teams. However, many LEGO fans mused that it may be a risky venture as the stadiums might only appeal to the fans of that team, therefore, limiting their market. So, as you would expect, The LEGO Group have chosen some of the most popular and renowned teams across the world to have their soccer stadiums immortalized in the form of LEGO.
Having only arrived in 2020, this LEGO Football stadium sub-theme of the Creator Expert Series is relatively new when compared to other Creator Expert buildings like the Sydney Opera House which was one of the line's original sets released in 2013. Despite this and its arguably limited audience, the line has certainly made an impact among fans. In fact, the two football stadiums that are available at lego.com are currently out of stock in the UK LEGO online store. So, what makes these sets so popular? Let's take a closer look!
10272: Old Trafford – Manchester United
RRP: $299.99 | £244.99
Year Released: 2020
Pieces: 3,897
Minifigures: 0
The 'Old Trafford' Stadium is the largest football club stadium in the UK, holding 74,310 fans at its maximum capacity. Manchester United call this football stadium their home and have done since its construction finished in 1909.  However, in 1941 the stadium was bombed so heavily the team could no longer use it to play matches, forcing them to play at Manchester City's 'Maine Road' stadium for 8 years while Old Trafford was rebuilt.
10272: Old Trafford – Manchester United was the first ever LEGO football stadium to be released back in 2020 with an RRP of $299.99 for the 'soccer' fans and £244.99 for the 'football' fans. Measuring 58.2 x 48 x 17cm this football stadium certainly would look impressive in any display. The iconic red and white color theme makes this set very eye-catching, supported by the unique architecture which is masterfully translated into LEGO bricks. The build comprises of 5 sections; four large sections of seating and the bright green pitch. This almost modular design also allows for the set to be opened up so fans can admire its interior as well as exterior. The set also translates the 'United Trinity' statue into bricks which is built from 3 microfigures atop a black pedestal. This statue is a very well known land mark at the 'Old Trafford' stadium.
The set released in February 2020 and is predicted to retire in December 2022. This will give the set the longer shelf life out of the two stadiums that we are expecting to see retiring this year.
A larger version of the 'United Trinity' statue was released as a free gift with purchase of the 'Old Trafford' Stadium which attracted some investors to this set as the ability to resell the gift acts as a discount for the set.
10284: Camp NOU – FC Barcelona
RRP: $349.99 | £289.99
Year Released: 2021
Pieces: 5,509
Minifigures: 0
With a capacity of 99,354, the 'Camp Nou' stadium (which translates to 'New Stadium') is the largest football stadium in Europe and one of the most iconic stadiums in the world and is home to an equally iconic team: Barcelona. The stadium was opened in 1957 after a 3-year build and is an impressive height of 48 meters, so an impressive piece of architecture to recreate in LEGO.
No one expects a LEGO set that is based on a real life building to be a scaled model or to be a perfect likeness, but there is no mistaking that this set is the iconic Camp Nou. Built from 5509 pieces, the LEGO soccer stadium measures 58.2 x 48 x 17 cm in size, costing $349.99 despite it not including any Minifigures. The stadium creates on a micro scale the seas of bleachers which fans sit on on match day to enjoy the game. These, the main body of the stadium, are built in four sections which are joined together at the end of the build to make the complete stadium. We also see a checkered pitch complete with markings which made from several printed tile pieces, with two tiny goals which cover two studs worth of space. A small final detail is the team bus, however, it is far too large to match the actual scale of the stadium.
The set launched in September 2021 and is predicted to retire on the 31st December 2022. You can see other sets that we expect to retire by signing up to our retiring list.
When the LEGO Group launched this set, they brought out a free gift with purchase that was called 'LEGO 40485 FC Barcelona Celebration'. Built from 178 pieces, it features four fans equipped with banners and football t-shirts gathered around a monument who seem to be celebrating the teams success. This exclusive gift made the set an attractive buy for investors when it launched, a similar attraction for investors was seen when within months of its projected retirement the set was reduced by 40% on the lego.com website. Such a reduction is rarely seen from The LEGO Groups and subsequently the set has sold out in the UK LEGO online store.
10299: Santiago Bernabéu Stadium – Real Madrid
RRP: $399.99 | £344.99
Year Released: 2022
Pieces: 5,876
Minifigures: 0
Santiago Bernabéu Stadium has a capacity of 81,044 and is the home to Spain's famous team 'Real Madrid' who are widely regarded as one of the greatest football teams of all time. The construction of the stadium began in 1944, and it only took three years until the build was complete.
With the RRP of this set topping the previous two football stadiums at £344.99 or $399.99, fans would expect a lot from this set and it does not disappoint. 40 bags full of LEGO pieces, two instruction books and a very blue and white heavy sticker sheet is what you will find if you unbox this set. The two instruction books also provide some historical context to the stadium. They also allow you to build the set in tandem with a partner, which might be advisable given the 5,876 pieces you are going to have to put together! All of the slopes and structural points of the stadium are clearly captured particularly well when you consider the tiny scale that this set is built to. Despite this, as LEGO sets go, the stadium is quite large measuring 52.3 x 48 x 21.8cm The new set also brings with it a new soccer pitch design as well as the 'Adidas' and 'Emirates' sponsor logos.
The set was released in early 2022 and is not predicted to retire any time soon, so there is plenty of time to get your hands on this set for investment or enjoyment! Unlike the previous two sets, this soccer stadium did not launch with a free gift.
Final Thoughts
Although only three sets have so far been released for this Lego theme, the popularity amongst LEGO Fans will surely encourage LEGO to continue to drop more designs in this category. So far, all sets have noticeably received plenty of design and planning to ensure spectacular resemblance between the real stadiums and these LEGO built sets.
So, with three sets having dropped in the span of two years, the question is: what will be next in the world of LEGO Football Stadiums? There is only one way to find out – make sure you keep up to date with all of the Lego news and investment tips here at brickbucks.net and while we wait to find out what the future holds for LEGO stadiums, why not check out our article on another Creator Expert subtheme: Every LEGO Modular Building Ever Released which you can find here.