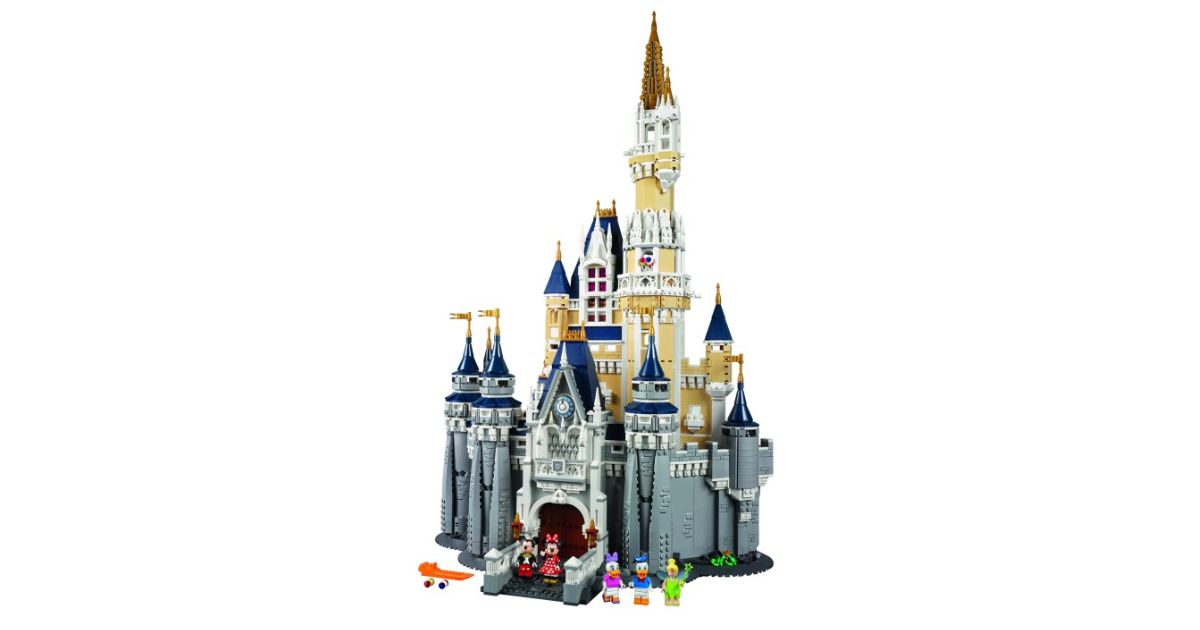 What is a LEGO castle to you? Is it a classic 4 walls fort with a draw bridge and a moat, or is it a menacing villain's lair? Whatever comes to mind, there is something in this list for you. LEGO castles in one way or another are seen in almost all of the themes of LEGO and take many forms. In fact, they are often one of the biggest, if not the biggest sets in a theme with many unique minifigures and high piece counts (and high price tags!) However, as you will see, there is lots of differentiation in the types of LEGO castles which we have seen over time and there will be lots more unique sets as LEGO castles continue to be produced.
A castle is one of my favourite type of sets. What's not to like? A large centrepiece to a theme which is often a very accurate representation of what they look like in real life. As there are so many LEGO Castles in just the 'Castle' theme, let alone all of the other themes which have castles in them, it would be impossible to collate them all into one list. So, here are my 13 favorite LEGO castle sets of all time.
13. 70678: Castle of the Forsaken Emperor
RRP: $99.99 | £89.99
Year Released: 2019
Pieces: 1,218
Minifigures: 7 (2 unique to this set)
This set being the 13th in my list is not to say that it is my least favorite LEGO Castle. There were literally several sets to look through to make this list, so it is really the best of the best. The LEGO Ninjago style of builds is quite a unique one, and they never fail to produce a breathtaking set. When someone says LEGO Castle, this set is certainly not what springs to mind, but I still really like it. This set has lots of things going on, from the main building, to the huge dragon-like creature and the minifigures. I can see this set having a lot of play value!
The set had a shelf life of only one and a half years, however, from its release on the 1st of June 2019 to its eventual retirement on the 31st December 2020. The set contains 1,218 pieces and had an RRP of $99.99. There were 7 minifigures in this set but only two of them were unique to the Castle of the Forsaken Emperor.
12. 4785: Black Castle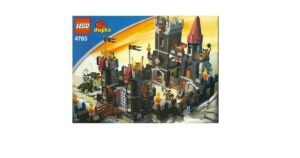 RRP: $100.00 | £89.99
Year Released: 2005
Pieces: 380
Minifigures: 6 (5 unique to this set)
This castle is unique to this list in that it is a Duplo set, meaning it is built with far bigger bricks than all of the rest. The castle has a red and black color scheme and soldiers which wield shields emblazoned with a flame design; so there is no doubt that this is a castle full of villains. This set also stands out from the list because, although it fits the castle 'status quo' of having perimeter walls and a drawbridge, etc., it is not a castle for the good guys, it is for the bad guys.
The set released on the 1st September 2005 and retired just a year later. It contains 6 LEGO Duplo minifigures, with 5 of them being unique to this set. The set contains 380 pieces, all for the cost of $100.00.
11. 40478: Mini Disney Castle
RRP: $39.99 | £34.99
Year Released: 2021
Pieces: 567
Minifigures: 1
This set is a miniature version of one of the other sets in this list, but that does not stop it having its own attraction. The Mini Disney Castle is just that, as smaller version of the huge Disney Castle, not just in pieces but more importantly price too! That means that this set is accessible for far more fans of LEGO and Disney which is really important. The set does not hold back on the gold detailing on the castle and actually provides a rather good representation of the real life Disney Castle despite its small scale!
Only one minifigure is in this set, arguably the most iconic: Mickey Mouse. He does not fit with the scale of the set but is a good addition to the piece for display purposes. The set has only a fraction of the peices of its big brother the 71040 Disney Castle, at 567, and therefore an equally lesser RRP of $39.99.
10. 41180: Ragana's Magic Shadow Castle
RRP: $99.99 | £79.99
Year Released: 2016
Pieces: 1014
Minifigures: 3
Part of the LEGO Elves theme, this castle certainly has a magical feel to; created by the translucent lime green and vibrant purple accents in the set. This castle is not the traditional drawbridge and moat structure that might come to mind given the title of this article, but it is this which attracts me to this set. The bright and bold colors coupled with the unusual pieces in this set are really interesting, despite the minifigures not being my preferred 'traditional' style. The minifigures in this set resemble the kind one would see in themes like LEGO City.
A respectable 1,014 pieces are used to build the structure which come at the cost of $99.99. The set first hit shelves on the 1st June 2016 until it retired with a shelf life of only one and a half years, on the 31st December 2017.
9. 10223: Kingdoms Joust
RRP: $119.99 | £99.99
Year Released: 2012
Pieces: 1575
Minifigures: 9
Despite being a part of the 'Castle' theme, the center of attention of this set is unusual – it is not focused on the walls and castle building particularly, but it is what is going on inside of this castle which really brings this set to life. A jousting tournament is being observed by the kingdoms king and queen, with many of the castles inhabitants watching on. This is not to say the castle is neglected, however. No, the castle building itself still has plenty of detail and contains all important knights! My favorite small detail of the building is the small structure with the blue walls, I think this splash of color is really interesting against the rest of the grey an brown walls.
The set is made up of 1,575 pieces containing 9 minifigures (with 6 being exclusive to the set). Its RRP was $119.99 all the way back when it was on sale from the 1st of January 2012 to the 31st of December 2014, giving it a shelf life of two years.
8. 70357: Knighton Castle
RRP: $129.99 | £109.99
Year Released: 2017
Pieces: 1,426
Minifigures: 11 (9 unique to this set)
When looking through the many castles or castle themed sets which the LEGO Group have produced, the LEGO 'Nexo Knights' Knighton Castle really stood out to me. I love the orange and dark blue color scheme and some the minifigures are reminiscent of the traditional castle minifigs, but have bright colored garments, which brings an exciting twist to what you would expect a transitional LEGO Castle to look like.
1,426 pieces make up this castle and its various accessories, with a price tag of $129.99. Nine of the set's 11 minifigures are unique to this set, and have not appeared in any sets before its release on the 1st June 2017, or after its retirement on the 31st of July 2018. The set had a short shelf life of just one year making it rather exclusive to those who got it.
7. 75251: Darth Vader's Castle
RRP: $129.99 | £119.99
Year Released: 2018
Pieces: 1060
Minifigures: 6
Personally, I love a film's antagonist, and this certainly translates to my love of the LEGO sets which depicts a villain's castle. This set has a selection of minifigures and the designers of the set did well when translating the huge castle we see in the films to the small LEGO 'stud scale'. I find the architectural design to be simple, but effective in creating a dominating structure, just like in the films.
Totaling 1,060 pieces and 6 minifigures, this set is fairly average in size and had a shelf life of around 3 years. The set released at the start of December 2018 (US and UK) and retired on the 14th of October 2021 in the US, more than a month earlier than the UK's retiring date on the 21st of November 2021.
6. 43197: The Ice Castle
RRP: $219.99 | £189.99
Year Released: 2021
Pieces: 1,709
Minifigures: 9 (4 unique to this set)
The Ice Castle is a magnificent structure, based on the iconic Ice Castle we see in the Frozen films. The set also contains minifigures featuring the most popular characters of the franchise. Despite not being a huge Frozen fan, this set makes it into my list because of the castle itself. True to its name, it does look like an ice sculpture but in LEGO form. It would make a great display piece, and an equally great way for fans of the film to appreciate it in LEGO.
1,709 pieces are used to build this castle, making it one of the larger ones in this list, with its RRP at $219.99. It contains nine minifigures in total and four of them are unique to this set. The set made its debut on the 1st July 2021 and is still on sale and is not expected to retire anytime soon.
5. 71408: Princess Peach's Castle
RRP: $129.99 | £114.99
Year Released: 2022
Pieces: 1,216
Minifigures: 0
Super Mario was my favorite video game to play growing up, so it is no surprise that this castle ranks so highly on my list! I think that the design of this particular castle is excellent and very true to how it looks on the console! One of my favorite features of this set is the stained glass window which displays Princess Peach at the top of her castle. We also see some blue plates in this set which resemble a moat. Ironically, I have found this to be a rare feature not found in the many of the other castles.
Although the set has no minifigures, there are a number of characters including icons like Bowser and Toadette which more than fill the gap left. These are some of the things which the 1,216 pieces build you when you purchase the set for $129.99. The set is very new, as it only came onto shelves in August 2022 so there is plenty of time for you Super Mario fans to get your hands on this set!
4. 7094: King's Castle Siege
RRP: $99.99 | £73.39
Year Released: 2007
Pieces: 973
Minifigures: 10 (4 unique to this set)
When I was younger, my LEGO collection included many of the 'LEGO Castle' sets, but this one was definitely my favorite. The royal-like gold and blue is a great accent to the grey, stone castle. The set was an easy build, good for a younger audience, but also can be appreciated for many of its other interesting features like the operational drawbridge and gate, and the huge dragon that the enemy ride on.
Coming in at just under $100, the castle scene is built from 973 pieces which includes 10 minifigures – four of them being unique to this set. The set had a shelf life of two and a half years from the 1st of June 2007 until it retired on the 31st December 2009.
3. 71040: Disney Castle
RRP: $349.99 | £309.99
Year Released: 2016
Pieces: 4,080
Minifigures: 7 (6 unique to this set)
I think its fair to say that almost everyone has heard of or seen the Disney Castle. This set just had to make this list. The set's similarity to the real life building is impeccable and it is a dream set for someone who is a LEGO and Disney fan to build. Seven Disney icons are included in this set including fan favorites like Mickey Mouse and Donald Duck. In fact, 6 of the minifigures can only be found in this set.
The Disney Castle was a LEGO exclusive set that has proved to be very popular despite the price of $349.99. This set also has had a long shelf life as it release on the 1st September 2016 and is not expected to retire until the end of 2022.
2. 10305: Lion Knights' Castle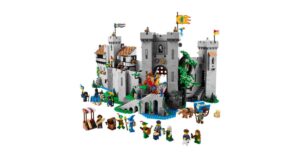 RRP: $399.99 | £344.99
Year Released: 2022
Pieces: 4,514
Minifigures: 22 (21 unique to this set)
Released to celebrate 90 years of LEGO, the Lion Knights' Castle is one of the newest castles on this list. When built, the set is an absolute fabulous activity to build, everywhere you look there is some kind of scene or detail. It is a 'classic' castle, but that does not make it any less impressive! With a large flag hung from a flagpole atop the main castle gate, this set certainly does not disappoint in size. Unfortunately, there is only a section of the full castle in this set; it is only the perimeter. However, if the full castle were to be built on this scale then the piece count would be much bigger!
The thing that I like most about this set, though, is the minifigures: all 22 of them. All but one of them are unique to the set. With so many minifigures, you need a large set for them, so there are 4,514 pieces that are used to build the area for the minifigures to populate, which comes at a cost of $399.99. The set released on the 3rd August 2022 and is not expected to retire any time soon!
1. 71043: Hogwarts Castle
RRP: $469.99 | £409.99
Year Released: 2018
Pieces: 6,020
Minifigures: 28 (24 Microfigures)
Finally, at number one in my list is a set that I both own and have built: the magnificent Harry Potter Hogwarts Castle. Admittedly, I am a Harry Potter fan, so I am slightly biased, but it is hard to disagree that the set has incredible detail and is very visually interesting; every time I look at the set I see something new, be it the different scenes depicted with the microfigures or the detailed interiors of the castle.
Perhaps you would expect this, though, as this is the largest castle which is featured in the list, totaling 6,020 pieces. The sets price is rather high, meaning not everyone may be able to get their hands on this set, but personally I really do think that it is worth the money. If you agree, it is still available to get online!
So, which LEGO Castle is your favourite? How would you amend my list? Let us know! If you enjoyed this article, fee free to also check out this article on Every Lord of the Rings Set Ever Released which features another great castle which barely missed this list!