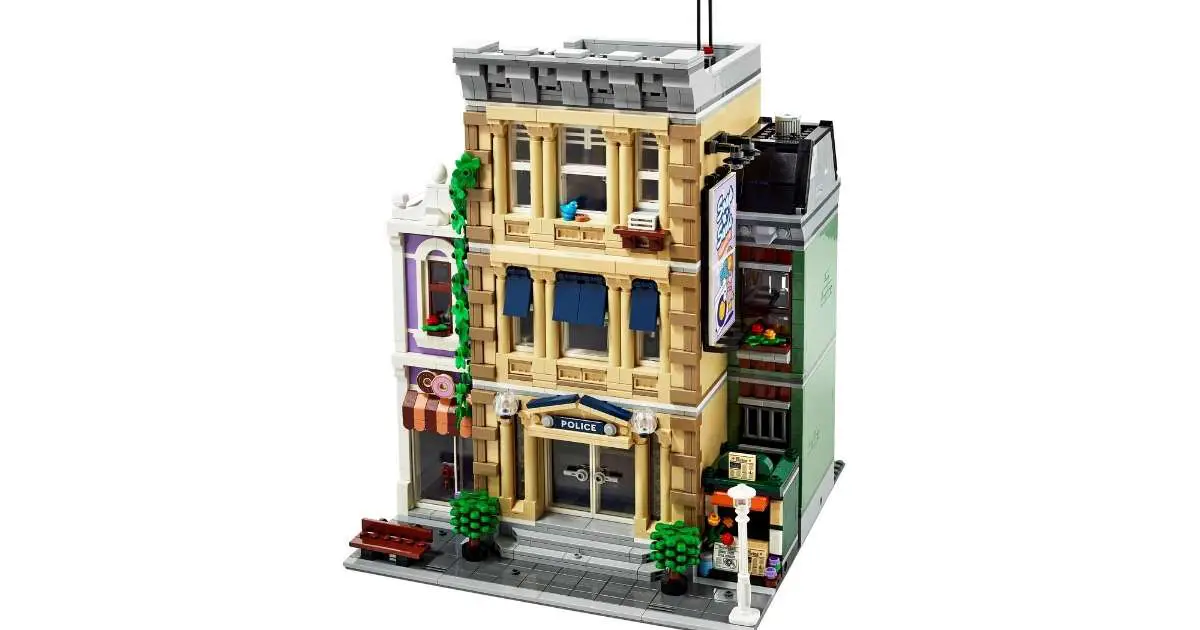 LEGO's Modular Buildings are some of the most popular LEGO sets that are targeted toward adults.
The LEGO Modular Buildings are a series of LEGO sets released annually that features advance building techniques and unique designs. As of 2021, there have been 16 sets released so far. It is among the most popular sets out the LEGO Creator Expert theme. The sets' connectable nature make this theme highly collectable for anyone who is building a LEGO city, or wants some amazing sets to display on a shelf. 
The sets were created in response to the suggestions of AFOL (Adult Fans of Lego) and TFOL (Teen Fans of Lego). The Modular Building sets are generally for advanced builders, as most of its set contains more than 2,000 pieces. While many LEGO sets released are aimed at children, the Modular Buildings were aimed at 16 years old and above LEGO fans. 
The LEGO modular buildings list of every set released so far is here!
Café Corner 10182
RRP: $139.99
Year: 2007
Pieces: 2056
Minifigs: 3

Café Corner is the set that started it all. Released in April 2007 and sold exclusively through LEGO shops, Café Corner is a hotel and café combined in a corner of a three-floor building.
It contains 2056 pieces which feature a vertical "Hotel" sign, Café tables, and three minifigs. Unlike other Modular Buildings, the Café Corner does not have a finished interior.
Market Street 10190
RRP: $89.99
Year: 2007
Pieces: 1248
Minifigs: 3
The Market Street was released in October 2007 following the success of the Café Corner set. It contains 1,248 pieces and features a four-floor building, a gate, and three minifigs.
The Market Street set is designed by a LEGO fan named Eric Brok, and not by the LEGO design team. Because of this, many do not consider this set as a true part of the Modular Building line, and is mostly ignored by some collectors.
Market Street 10190 is an extremely rare set. As of writing, there is no available listing on Amazon.com.
Green Grocer 10185
RRP: $149.99
Year: 2008
Pieces: 2352
Minifigs: 4
Released in March 2008, the Green Grocer is one of the most highly sought-after sets by many LEGO collectors. It contains 2,352 pieces, and features a three-floor building, a detailed interior to each room, a terrace, and a fire escape.
This set differs from the two previous sets because of its more detailed design. Each floor in Green Grocer contains a prop and the first floor is a fully furnished grocery store.
The Green Grocer is widely known by LEGO investors as a historic turning point in the business. Due to the collectible nature and the growing popularity of the modular building lineup, this set quickly rose in value, and today it is hard to find one new and sealed that is priced below $1200.
Fire Brigade 10197
RRP: $149.99
Year: 2009
Pieces: 2231
Minifigs: 4
The Fire Brigade was released in September 2009 and is the first Modular Building set that includes a vehicle, in a form of a classic fire engine. The building is extremely detailed, with gray and red architecture, a garage, a fireman's pole, and a rooftop bell.
The Fire Brigade had a production run of over 4 years, as it did not retire until 2013. As a result this set has not grown in value to the same levels as its predecessor – the Green Grocer – which was on the shelves for 2 years and 8 months.
Grand Emporium 10211 
RRP: $149.99
Year: 2010
Pieces: 2182
Minifigs: 7
The fifth Modular Building set, the Grand Emporium, was released in March 2010. It is the second corner building, next to Café Corner. The features a three-floor building linked by escalators and a classic department store and is popular for its revolving door, chandelier, classic "shop" signage, and a large rooftop billboard.
There are a total of seven minifigs included in this set – the most in any modular building until this point.
Pet Shop 10218
RRP: $149.99
Year: 2011
Pieces: 2032
Minifigs: 4
The Pet Shop was released in May 2011 and is the first Modular Building to have a pair of buildings. It is a residential and commercial building combined.
The set contains 2,032 pieces and features a townhouse and a pet shop, which can be separated from each other. There are a total of four minifigs, two parrots, a dog, a cat, and a fish tank.
Pet Shop is widely regarded in the LEGO investing community as an example of a bad investment. This set was in production for more than 5 years, as it did not retire until 2016. As a result there was too much supply and not enough demand to drive the price of this set as high as other buildings in the modular lineup.
Town Hall 10224
RRP: $199.99
Year: 2012
Pieces: 2766
Minifigs: 8
Town Hall was released n March 2012 and is the tallest of all Modular buildings with a total of 2,766 pieces. It has a three-floor building with a high ceiling, and a clock and bell tower on the roof.
At a retail of $199.99, this was the most expensive modular building to date when it was released in 2012, and for a good reason. Town Hall had the most minifigs of any modular to this point (a total of 8!), and also had the highest piece count.
Town Hall had a short production run of just over 2.5 years, which makes it quite rare and sought after now, which contributes to the extremely high prices on Amazon and eBay. This is a beautiful set and a center piece for many LEGO modular building collections.
Palace Cinema 10232 
RRP: $149.99
Year: 2013
Pieces: 2196
Minifigs: 6
Released in March 2013, the Palace Cinema was the third corner building to be released and is the first Modular Building set to incorporate stickers into its design.
It features the Hollywood Walk of Fame printed star tiles on its sidewalk and movie posters along the building sides.
Parisian Restaurant 10243 
RRP: $159.99
Year: 2014
Pieces: 2469
Minifigs: 5
The ninth Modular Building set was released in January 2014 and is considered by many to be one of the greatest Modular Building sets ever in terms of aesthetics and detail.
Parisian Restaurant contains 2,469 pieces and features a beautiful and very detailed building with ornate architecture. It has an outdoor seating area, a fully-stocked kitchen, and a loft art studio.
Detective's Office 10246
RRP: $159.99
Year: 2015
Pieces: 2262
Minifigs: 6
Detective's Office was released in January 2015. It contains 2,262 pieces featuring a detective's office, a barbershop, an apartment, and a pool hall.
Many LEGO fans hailed Detectives Office as having one of the best interiors of any modular building before it. Most notably, fans loved the pool table and the extremely detailed office.
The popular design and the fact that all LEGO cities need a detective has led to this set maintaining extremely high demand during retirement. As a result the price of this set on eBay and Amazon quickly rose to high levels.
Brick Bank 10251
RRP: $169.99
Year: 2016
Pieces: 2380
Minifigs: 5
Released in January 2016, the Brick Bank was the 11th Modular Building set released. It features a classic bank with an adjacent laundromat which resembles a money-laundering pun.
Brick Bank has a detailed structure with beautiful architecture and incredible contrasting white and grey colors. Inside, there are tons of minor details showing the bank tellers and the vault.
Similar to the Detectives Office, Brick Bank has quickly risen in price during its retirement. This set was only available for over 2.5 years and had a sudden and unexpected retirement, which led to less supply being available via resellers on third party marketplaces.
Assembly Square 10255
RRP: $279.99
Year: 2017
Pieces: 4002
Minifigs: 9
The Assembly Square is a highly regarded and popular entry into the modular lineup. It was released in January 2017 to celebrate the 10th anniversary of the Modular Building subtheme.
The set features a varied and detailed design with its interiors that subtly represent all other sets released. It also includes a three-building huge plaza with a total of 4,002 pieces, which is the most of any of the modular buildings released to date.
Downtown Diner 10260
RRP: $169.99
Year: 2018
Pieces: 2480
Minifigs: 6
Downtown Diner was released in January 2018. It contains 2,480 pieces that feature a retro-styled diner on the first level, a gym on the second, and a music studio on the third level.
Downtown Diner includes six minifigs with individual varied faces, and a vintage pink convertible car.
Corner Garage 10264
RRP: $199.99
Year: 2019
Pieces: 2569
Minifigs: 6
Released in January 2019, the Corner Garage features a 1950's theme. It contains 2,569 pieces.
The first level is a garage, with a veterinarian's office on the second level, and an apartment with a roof on the third level.
As hinted by the name, this is a corner unit, which should slot in beautifully on another block corner in a LEGO city, similar to Palace Cinema, Grand Emporium and Café Corner.
Bookshop 10270
RRP: $179.99
Year: 2020
Pieces: 2504
Minifigs: 5
The Bookshop set was released in January 2020. It has 2,504 pieces, featuring a three-floor building with windows, bookshelves, and a townhouse.
It was not as popular as other Modular Building sets due to its strange proportions where the townhouse has a raised ground floor that doesn't seem to sit right with the street's design.
Police Station 10278
RRP: $199.99
Year: 2021
Pieces: 2923
Minifigs: 5
This addition to the Modular Building sets, the Police Station, released in January 2021. It has 2,923 pieces including five minifigs.
There is a large "Soap 'n Buds" poster on the side of the building, a newspaper kiosk, and a donut shop.
The station features a jail cell, an interrogation room, and a detective's office.
Boutique Hotel 10297
RRP: $199.99
Year: 2022
Pieces: 3066
Minifigs: 7
Released in January 2022, The Boutique Hotel finally brings an extremely important entry into the modular building line-up – accommodation! LEGO city builders can't ignore the importance of this set when it comes to completing their city. It is beautifully designed, and the 3066 parts are put to excellent use with very intricate detail throughout.
The Boutique Hotel features guest rooms, a penthouse suite, a lobby, staircase, and a terrace. There are no stickers in this build – all parts are fully printed, which adds to the premium feel.
The Boutique Hotel is certainly a welcome entry into the series of modular buildings.
Do you own any of these set?
Learn how you can make money out of your LEGO Modular Building sets! Check us out on Youtube where we give out more detailed tips and strategies about LEGO reselling and investing.
Or if you want to become a LEGO investor or collector but don't know where to start, here's an article we made about the four things you need to do before investing in LEGO.