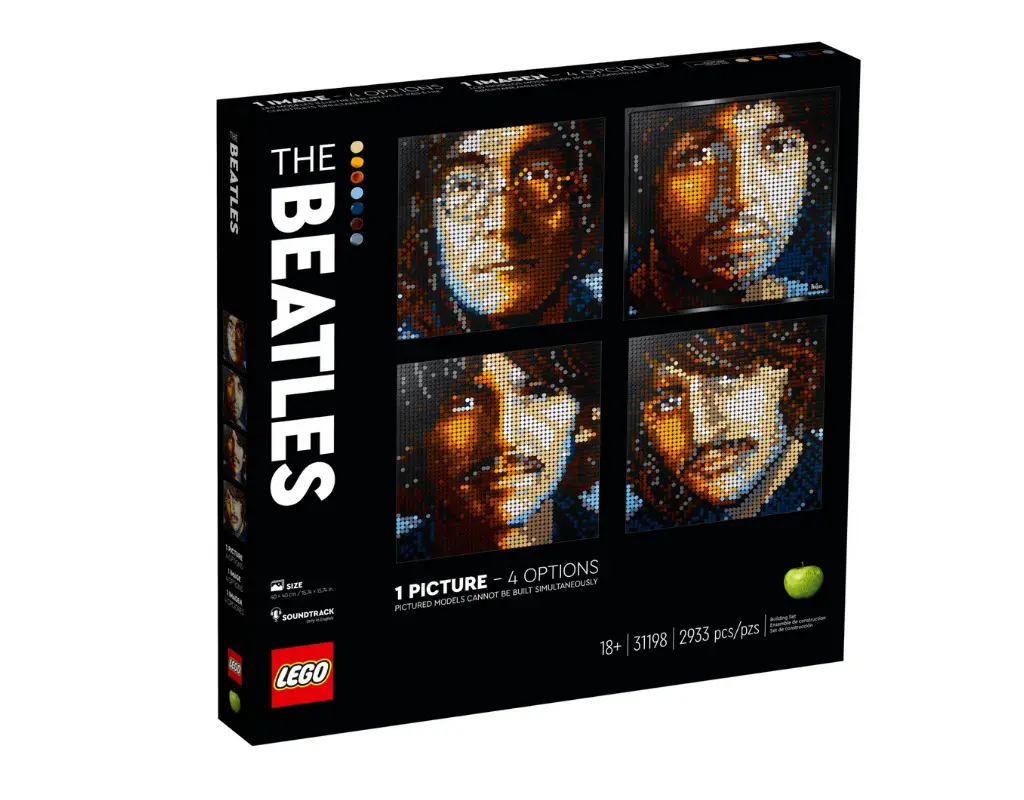 It is not too often that we get a whole new theme from LEGO, and it's always an exciting time. In September, 2020, the LEGO Art theme is launching with four sets. The theme will contain sets that can be built and hung on a wall – amazing portraits of popular characters and stars.
But how well will the LEGO Art theme do when it comes to investment? It's impossible to say, yet.
Therefore, we need to be making a even more careful decision on whether to invest in these sets.
Let's take a look at one of my favorites from the line-up – The Beatles 31198.
Discounts. Discounts everywhere!
A benefit to this being a new theme is that lack of awareness and popularity can possibly lead to discounts in the first few years after launch, while the theme gathers steam. I can see this set being discounted heavily throughout its life cycle. At the extreme end, I could even see it possible that we can get this set at 50% off right before retirement, depending on how well the theme is received in the beginning. We have seen this recently with some Hidden Side sets.
RRP
The RRP for this set is $119.99, which is slightly higher than what I'm usually hoping to spend on a set for investment. However, the plus side is that this also means there will likely be fewer resellers willing to go big on this set, which may create an opportunity. 
LEGO Set, or Puzzle?
Other factors to consider is the popularity of puzzles during COVID-19.  While this is a LEGO set and not a puzzle there are similarities where friends and family can sit around at a table in a fun environment while completing something together. 
Re-Usability
One of the big selling points of the new Art theme is that the sets can be built into multiple different designs. In the case of The Beatles, one set can be used to build the portrait of all four of the members of the band.
Even though there is a high price point for this, I can see groups of friends completing four different Beetles sets at the same time. There also will likely be some mega fans who buy four copies of the set so they can display all four variants on their wall.
Collectability
If the theme does well, it could benefit greatly from the collectible nature of the sets, similar to how we have seen the LEGO Creator Expert modular buildings perform in recent years.
Five years from now, I can see adult consumers looking up past LEGO Art sets and wishing that they were aware of the set or theme when it was readily available. Since adults have higher price elasticity, we could then see some sets reach high valuations, and demand to still be there.
A lot of this is speculation, since we don't have strong comps to base our decisions on. But if the theme does well, I find it difficult to imagine a world where past sets don't perform extremely well in the after-market.
Potential Return
But what is the potential ROI on this set? 
Since we don't have comps in the theme, we need to try to get creative when it comes to figuring out what demand may look like, and therefore what the price appreciation may look like.
An indicator we can consider is the performance of similar or related sets. Thankfully we do have one that might be worth using for comparison – the previous Beetles set that was released a few years ago (Ideas Yellow Submarine). 
As you can see here, the previous Beatles set has done incredibly well since retirement. Although it's not a perfect comparable, it is encouraging.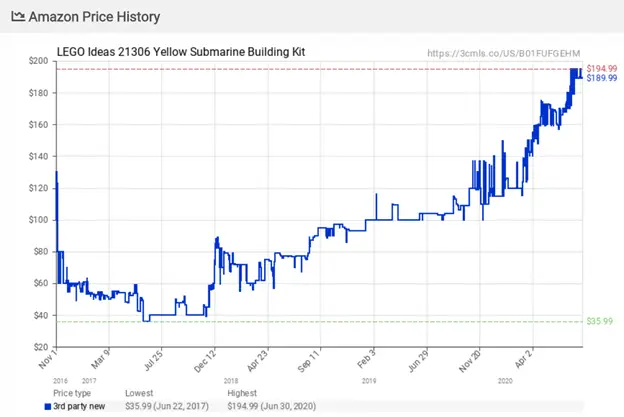 LEGO Ideas 21306 Yellow Submarine Building Kit ROI 217%
Verdict
I love this set and intend to purchase as much as possible. 
Although I have never been a fan of The Beetles, I have always appreciated the brand and how much revenue it has been able to make over a sustained period of time. Yes, the price point of this set is a little rich for my tastes, but with the performance of the Yellow Submarine set, which I didn't purchase, I feel that this one could do well too.
If you found this useful, make sure to check out our YouTube channel for more set analysis and LEGO investing strategy. If you want to learn from other like-minded LEGO investors, check out our free Facebook group.
Do you like the new LEGO Art theme? Why, or why not? Let us know in the comments!