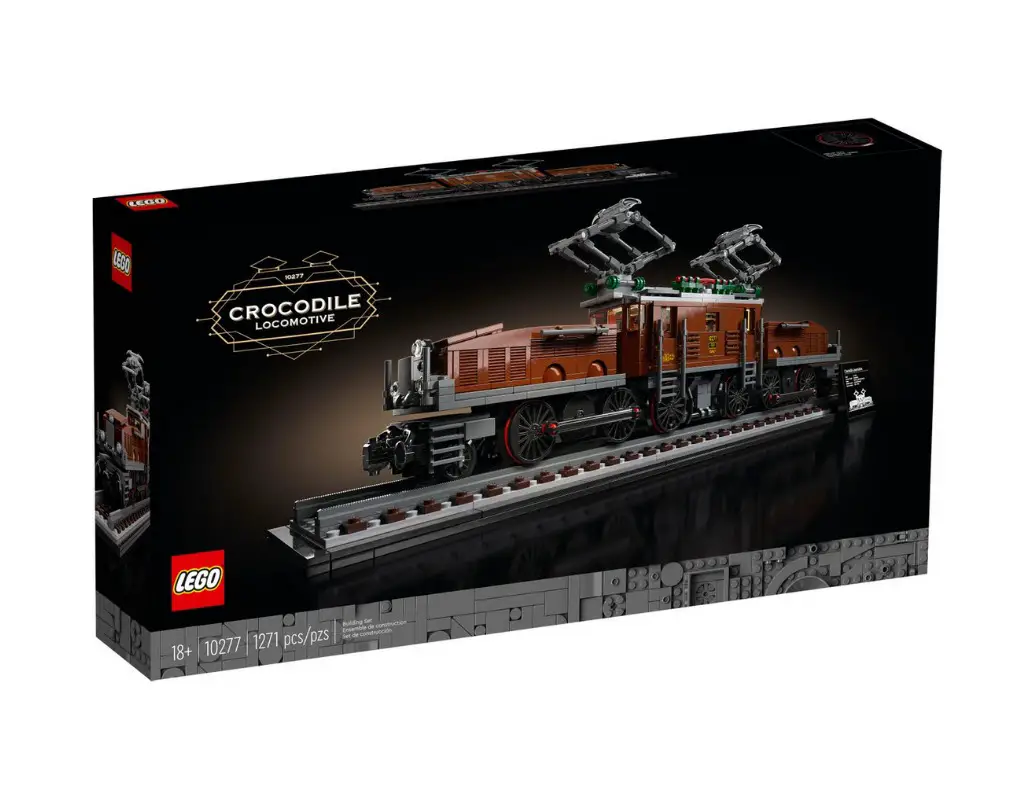 Determining the investment value of LEGO Creator Expert Crocodile Locomotive can be a tricky a decision.  I must think about a whole myriad of variables, such as the size, price, potential value this set can bring home, and many others.
But also I need to think about perhaps the most important variable I use when choosing sets to invest in – do I love it?
In this post I want to walk through my process of determining if this set is the right fit for me to invest in.
Retail Price
As I have talked about in previous content such as on the Brick Bucks YouTube channel, we love to invest in sets that are below $100. That doesn't mean we don't invest in higher priced sets; we just find that sets below $100 typically have more room to appreciate in value.
The RRP for this set is $99.99 USD.  Although this is a higher price than I'd like to spend on it, it does fall below the $100 threshold.
One good thing to always keep in mind about higher price point sets is that many resellers will be less likely to have huge positions built out of the set, and therein lies some opportunity for those who are less risk averse and willing to go deep on higher priced sets.
Availability & Discounts
This set was released in July 2020, and immediately went out of stock in almost all retailers.
Amazon have had issues keeping the set in stock, which shows high demand. However, it does come back in stock frequently.
Even though LEGO has not given this set the "Hard to Find" label I have a strong feeling that this will have limited quantities available.  The good news about this set is that as of writing this article, it is a new set so if there are resellers out there that are wanting acquire a large inventory, then it may be worth considering starting to build out your position once it is available again.
The lack of availability makes it less likely that we will see strong discounts on this set for the foreseeable future. When it is back in stock, any investor that is interested in this set should be keeping an eye out to see if they can find it at 20% off. It may be unlikely!
Likability
In the past I have commented on the recent changes LEGO has made on it's box art for LEGO Creator sets. They are moving toward making packaging more tailored to adults, so as to drive an increased focus on the AFOL (adult fan of LEGO) market.
We don't know how successful that will be yet, or what ramifications it might have on the resale value of sets.
While the photo of the train on the box looks impressive, I'm personally not a fan of the black background on the box. I feel it lacks character, but the market will soon tell us how they feel about this new look.
Potential ROI
LEGO trains usually have a strong return on investment and this set should be considered a special set for builders and collectors. 
I can see this set selling for a very high premium once this is retired.  The interesting thing for me is that this set reminds me of set #10241 Maersk Line Triple-E.
The price points are the same and the Crocodile Locomotive is more likely to be a set for adults than children.
Check out the price chart for 10241. If the Crocodile Locomotive performs even close to this, investors will be doing well.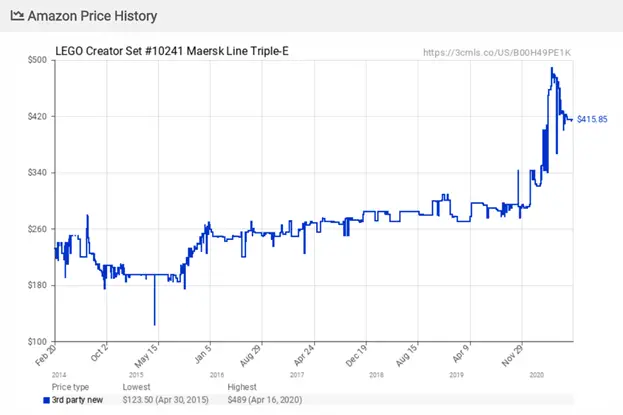 LEGO Creator Maersk Line Triple-E 10241 ROI 316%
Verdict
For the most part, I am going to pass on this set because I just do not love it. The potential ROI is strong, but availability problems and lack of deals make it a questionable purchase for investors.  
This does not mean I'm not going to buy a few if I see this set discounted.  If I see this set discounted at a really good price I may buy some, but as of right now there are sets out there that are a better fit. 
If you found this useful, check out more great LEGO investment verdicts on our YouTube channel. If you want to connect with a community of like-minded LEGO investors, head over to the free Facebook group.
Are you buying this set? Let us know your thoughts in the comments section below.