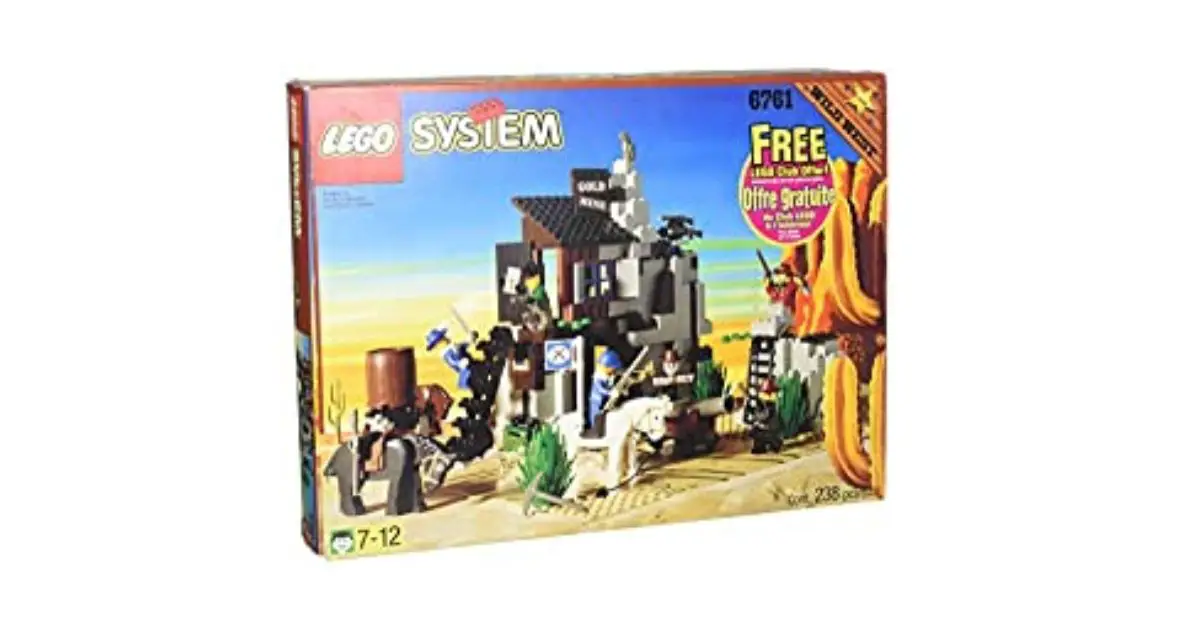 In the past couple of years, The LEGO Group has released several unique new themes. The likes of LEGO Ideas, Stranger Things, Harry Potter – sets of these themes are home on the shelf of most collectors. But, many fans will forever hold a special place in their heart for the more classic themes: Classic Castle, Pirates, Adventurers, and Aquazone – to name a few. This classic LEGO theme, released in 1996, is a personal favorite of mine and will for sure surprise you with some of its revolutionary features.
LEGO Western explores the world of Cowboys and Indians. Fans can enjoy building their very own cities, forts, and camps – and can create amazing battle scenes between the different parties of this historic Wild West era. The theme only lasted for two years, 1996 and 1997, with 3 sets re-released in 2002. 20 sets were released in total, of which 12 for the Cowboys subtheme and 8 for the Indians.
The Western sets are great additions to any LEGO collector, as some of the sets are beautiful display pieces. Many of them come with quite detailed minifigures for the time. Fun fact: the first-ever non-smiling LEGO face was released on one of them! So what are we waiting for? Let's dive into the complete list of LEGO Western sets.
Note: in this article, I use the term "Indians" to reference the fictional group of LEGO minifigures (as registered in most LEGO databases), only inspired by Native American history.
LEGO Sheriff's Showdown – 6712
RRP: $4.00
Year Released: 1996
Pieces: 28
Minifigures: 2
The first set is a rather small one: 6712 Sheriff's Showdown. It depicts a small camp in the middle of the desert. A bandit is enjoying his evening meal and stolen money in silence, as the sheriff surprises him from behind the bush. Who will win this showdown?
6712 features two non-exclusive minifigures (a "good" and "bad" guy), both with nicely designed torsos. The set also includes a horse and a small build of the bandit's camp. Some details include the 1×2 tiles with a dynamite and money pattern, which are commonly found in these sets, and a specially designed brown barrel.
LEGO Covered Wagon – 6716
RRP: $8.00
Year Released: 1996
Pieces: 64
Minifigures: 1 (exclusive to this set)
Watch out! The Covered Wagon is rumbling through the desert with a dangerous canon and cargo. A cavalry lieutenant is ordering his horse to go faster, but a dynamite stick is on the verge of dropping out of the attached barrel. Will he reach his destination?
No Western layout is complete without at least one wagon on display! This is the first set on this list to feature a cloth with a pattern. Nowadays it is difficult to find a used set with an intact one, as they are likely to show mold (black spots) or fraying over the years. Nevertheless, an amazing set with 64 pieces and the first bluecoat to appear (this version is also exclusive to this set). The canon can come either as the non-shooting (US) or shooting variant (elsewhere).
LEGO Sheriff's Lock-Up – 6755 / 6764 (re-release)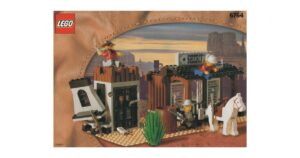 RRP: $25.00
Year Released: 1996
Pieces: 176
Minifigures: 4
This set is the first part to building the city of Legoredo, named after the theme park area in LEGOLAND Billund since 1968. A sheriff has locked up one of the bandits in the cell next to his office – but he's still looking for his companion, as depicted by the "WANTED" sign. All of a sudden a loud explosion is set off! The second bandit has used dynamite to free the prisoner, and the sheriff, now joined by a cowboy, is trying to catch the both of them.
The set contains 176 pieces, a baseplate, 4 non-exclusive minifigures, a horse, and the buildable office and cell of the sheriff. One thing immediately draws attention: the spring mechanism to blow up the side of the cell triggered by a 1×2 dynamite tile. This is arguably one of the best play features of this theme and has probably surprised many kids back in the day. The sheriff's office includes a table with playing cards (1×2 tile) and a safe with a printed front. The building also has two stickered windows next to the door, and a sign spanning across two 1×10 bricks with the word "SHERIFF". A 1×2 tile with a "WANTED: Dead or Alive" pattern beautifully resembles the posters used in that era. The set was re-released in 2002 with a different number and box design.
LEGO Bandit's Secret Hide-Out – 6761
RRP: $40.00
Year Released: 1996
Pieces: 250
Minifigures: 5
The cavalry has come across a secret bandit hideout! A trumpet is blown to warn the other bluecoats, as they are about to fall into a trap. The horse is about to hit a tripwire, which will trigger a large canon to show up. Also, the other two bandits are defending their hideout with the many guns scattered throughout the mountainous area. They can even drop a barrel from the roof as a last defense mechanism.
This is the only set to feature one of the bandits' bases – a hideout built on an abandoned goldmine made out of many BURPs. It is filled with play features and other details, like a removable staircase, closable window blinds, hidden coins, and more. The shack itself is pretty lacking, as the interior consists of only a chair. With five minifigures, 250 parts, and two horses, this is a great set for any collector.
Fun fact: the 2013 Silver Mine Shootout (set 79110) from the Lone Ranger theme looks quite similar at a first glance, so it could arguably be its unofficial "modern" remake.
LEGO Gold City Junction – 6765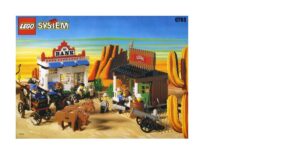 RRP: $50.00
Year Released: 1996
Pieces: 350
Minifigures: 6 (2 exclusive to this set)
Gold City Junction resembles the main street of Legoredo and has lots going on. The two buildings are a bank and a general store. On the street, a bandit can be spotted who is trying to rob the cash carrier wagon! The banker is rushing after him, but luckily a sheriff and two cowboys are always around to help out. Will they succeed in preventing the heist?
This set fits perfectly with the previously discussed 6755 Sheriff's Lock-Up. It features 6 minifigures, of which 2 are exclusive: the banker and a cowboy in a blue shirt. Both are currently worth around $15, the most expensive of the theme. Two horses lead a cart, and one more is included for the bandit. The general store has stickers for the sign and a window, and some tools and weapons for sale inside. The bank also has some stickers (like advertisements on the walls), and a nicely shaped sign on top. Note that the LEGOREDO sign is printed. Inside the bank you can find a safe, some money, and a large vault with the same spring mechanism as the Sheriff's Lock-up to blow out the front left of the building.
This set seems to have gained more attention over the years, as the price keeps going up. Currently, one can find a used version for around $130-$150 on online markets such as eBay. Finding one with decent stickers is a challenge, though.
LEGO Fort Legoredo – 6769 / 6762 (re-release)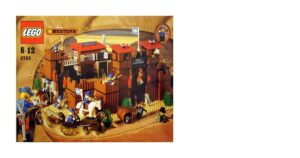 RRP: $85.00
Year Released: 1996
Pieces: 687
Minifigures: 10 (2 exclusive to these sets)
The largest set of the theme and probably the one that most fans remember vividly – Fort Legoredo. A huge fort made out of wooden logs on top of 4 baseplates. On all sides, something interesting is going on; it is nicely detailed for the time. However, most attraction is going on at the front gate, as the bandit pack is once again trying to break in (or escape?). All hands-on, as the bluecoats are all trying to catch them using the cart, a horse, or shooting them from behind the fort's walls. The cavalry colonel is there to lead his squad!
This set has much to offer, like the 10 (!) included minifigures (2 exclusives), three horses, and the many play features in the fort. It is built out of four 16×32 modules, which can be displayed separately if wanted. The cabin at the back has a simple interior with a fireplace and two chairs for playing a game of poker. Don't cheat the game though! One of the chairs also functions as a trap, as it can drop down into the prison cell below. The other chair can also drop, but that can be used to quickly send someone away from the fort. Another 16×32 module features a double door and watchtower. Across that is a module with just a wall to put guards up for the protection of the fort. The front gate module features two towers with ladders that can be flipped up, a cool roof design, and a sign with a sticker that says "FORT LEGOREDO".
This is definitely my favorite set of the theme, and it is still proudly on display. If you have the possibility to view (or buy?) this set somewhere, do it, as it is truly a large and timeless classic. It was re-released in 2002 with a different number and box design.
LEGO Frontier Patrol – 6706
RRP: $6.00
Year Released: 1997
Pieces: 25
Minifigures: 3
Now that all large Cowboys sets have been discussed, there are some smaller ones left from 1997. This one is what you could call the "battle pack" of the Western theme, as it doesn't feature any build but still includes 3 minifigures to build your army of cavalrymen. The set also has a horse, an oddly-shaped bush (which is originally from the Aquazone theme and is only in this Western set), and some tools for the minifigures. For $6 you probably won't be able to find any squad builders today!
LEGO Bandit with Gun (6790) / Bandit's Wheelgun (6791)
RRP: $2.00
Year Released: 1997
Pieces: 19
Minifigures: 1 (exclusive to this set)
This set shows a cowboy behind a wheelgun, with a stick of dynamite for additional ways to keep someone away. It was released as a boxed (6790) and polybag version (6791). Funnily enough, these sets are the only way to get the fourth bandit minifigure, but he is almost identical to bandit 1 (ww007).
LEGO Showdown Canyon – 6799
RRP: $10.00
Year Released: 1997
Pieces: 69
Minifigures: 4
A very rare set that contains two boxed sets in itself, plus a box that can be used as a playfield for the builds. One half of the set depicts a similar wheelgun as 6790, but now with two bandits. The other half is a cart drawn by a horse, which has a safe protected by some chains on it. It also includes a cowboy and the sheriff, to fight the two bandits on the ledge.
The set itself is fairly simple, but the box is what gives it value for collectors. Only 3 sets are currently listed with box on Bricklink.
And that's it for the Cowboys! But we're not done yet – we still have some amazing sets of the Indians subtheme to go.
LEGO Indian Chief – 2845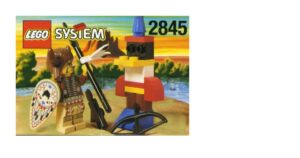 RRP: free promotional release
Year Released: 1997
Pieces: 20
Minifigures: 1
This set was released in the Netherlands as part of a Shell promotion. It was also available in some outlets in the UK and Germany. The set features the first Indian minifigure on the list, a medicine man, with a nicely patterned shield, some tools, and a totem pole.
LEGO Indian Kayak – 2846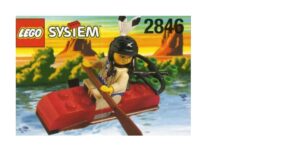 RRP: free promotional release
Year Released: 1997
Pieces: 18
Minifigures: 1
Also a promotional release, this time from Blockbuster Video, and released in some UK retailers. It has 1 minifigure with the iconic hairpiece and printed feathers. The Indian minifigure is sailing on a kayak on a river.
LEGO Tribal Chief – 6709
RRP: $4.00
Year Released: 1997
Pieces: 16
Minifigures: 1
Yet another nice set to fill up your Indian camp or Western layout! It features one minifigure with a spear (the tribal chief with his headdress), a bush with a snake, and a horse with a detailed printed design. These horses are definitely what sets this subtheme apart from the Cowboys, as there are several different versions throughout the coming sets.
LEGO Raindance Ridge – 6718
RRP: $8.00
Year Released: 1997
Pieces: 71
Minifigures: 2
The Raindance! One of the most famous ceremonial dances, supposedly performed to ask the gods for rain on the crops. This set depicts a nice scene surrounding a small river bed. But watch out! The rocks are filled with snakes, dropping into the water.
A simplistic set with 2 minifigures, 71 pieces, and a different horse design. One of the pieces is quite interesting: the large tree stump on the right. The piece can host a minifigure and some tools (or a snake!) and takes up 6×6 studs. It is only featured in 5 sets, all of which are in the Indians subtheme. A totem pole is also included to be used in the ritual.
LEGO Chief's Tepee – 6746
RRP: $20.00
Year Released: 1997
Pieces: 131
Minifigures: 3
This set shows a peaceful scene of an Indian village. A villager can comfortably (?) sleep in the clothed teepee, while others can cook food or sit next to the large totem pole. On the right side, a small stream of water can be spotted. But just like the previous set, watch out for the snakes beneath the rocks and in the tree stump!
6746 Chief's Tepee includes 3 minifigures, a printed horse, and a 16×32 baseplate with a tepee and some other details. This is the second set of the theme to include a piece of cloth, like the 6716 Covered Wagon, but this one has a cutout at the front for minifigures to enter through.
LEGO Boulder Cliff Canyon – 6748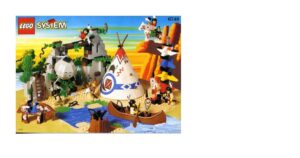 RRP: $40.00
Year Released: 1997
Pieces: 250
Minifigures: 6 (1 exclusive to this set)
The North American deserts show to be very dangerous, as the boulders are falling off these high cliffs! If that is not enough excitement for you, have a look at the wobbly tree trunk spanning over the canyon. There is lots to enjoy in the second largest set of the Indians subtheme. We can see a new design for the teepee, and a beautiful baseplate with a river in the corner.
Set 6748 Boulder Cliff Canyon contains 6 minifigures (1 exclusive) with plenty of accessories like printed shields; 250 pieces; two horses; and a large variety of specialized parts. The kayak is now molded, unlike the one in 2846. The tree stump is featured again. There's a somewhat spherical, buildable rock. A new teepee. And the largest totem pole so far! The canyon is built out of several BURPs and LURPs, which is quite cheap but I guess it works fairly well.
This set has become pretty rare over the years, as there is currently only one for sale in Europe (BrickLink). Even though it is less than half of Fort Legoredo in pieces, it seems to sell for about an equal price.
LEGO Rapid River Village – 6766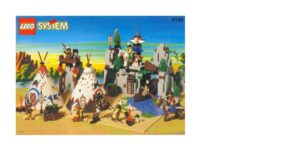 RRP: $60.00
Year Released: 1997
Pieces: 343
Minifigures: 7
What a display! In this Indian village, built on top of three (!) baseplates, we can see many villagers and even two teepees. The rock formation in the back is similar to the Boulder Cliff Canyon, and even here there is danger of falling things: the tree trunks can be dropped into the river with the kayak below. On top of the rocks there is another trap, to drop minifigures into the cave. The tower built against the rocks is a neat feature to help protect the village from intruders.
This is the largest set of this subtheme, both in size and pieces. You get one 32×32 printed baseplate and two 16×32 basic baseplates. Again we see many different minifigures (no exclusives, unfortunately), accessories, specialized pieces, and it includes both released versions of the teepee cloth. It is the ultimate Indians set to collect! That will set you back around $200 for a used one though.
Wrap-up
That's all folks! As we took a deep dive into the world of LEGO Western, I hope you enjoyed reading every detail about the sets. If you wish to purchase one of these sets for yourself, you might be able to pick up a good deal or two on sites like BrickLink, eBay, and Amazon.
Some more modern sets touch this theme, like The Lone Ranger and The LEGO Movie sets. Hopefully The LEGO Group brings back the Wild West again, perhaps as part of the Ideas line if not for a theme. If you're interested in more LEGO sets inspired by historic eras, take a look at this article for every LEGO Pirates of the Caribbean set ever released.