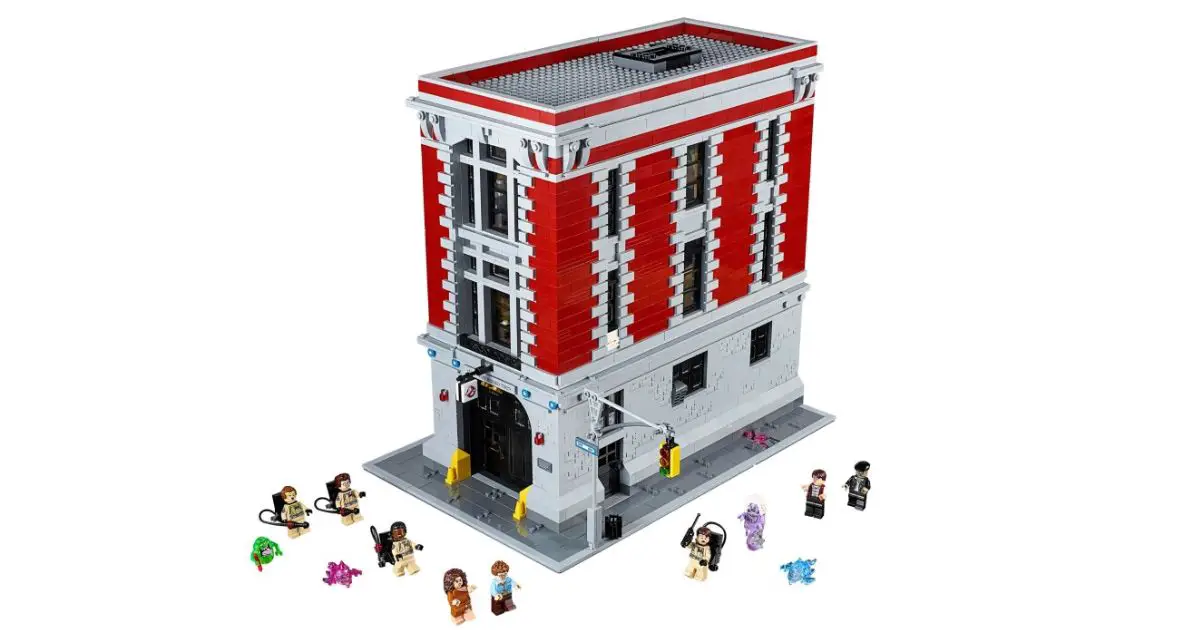 LEGO is known for its affiliation with many franchises, most of which are inspired or based on pop culture. In the quarterly rounds of LEGO Ideas, we often see fans replicating their favorite movie scenes and characters using the LEGO brick. It is no surprise that the influence of large communities behind these franchises makes it easier to reach those 10,000 votes needed to be reviewed by The LEGO Group. This "theme" – which wasn't always a dedicated theme – is one of the first fan-designed pop culture projects actually released in stores.
Who you gonna call? GHOSTBUSTERS! LEGO Ghostbusters brings the 1984 film to life for the first time in 2014. Featuring Peter Venkman, Ray Stanz, Egon Spengler, and Winston Zeddemore, the four main characters are represented in minifigure form. As stated in the introduction, not all sets have been released under the theme "LEGO Ghostbusters". Only two are officially listed as so, whilst there are a total of 7 sets inspired by the original film, its sequels and spinoff.
In this article, we will explore the various iterations of both locations and vehicles based on Ghostbusters. The theme has a lot to offer and might even inspire you to purchase its only currently available set. Let's catch some ghosts!
LEGO Ghostbusters Ecto-1 – 21108
RRP: $49.99 | €49.99
Year Released: 2014
Pieces: 508
Minifigures: 4 (all exclusive to this set)
This first set is the sixth LEGO Ideas set to have been released by The LEGO Group. With that, it is also the first ever set to feature the name "LEGO Ideas", instead of the former "LEGO Cuusoo" line. We see the original iterations of the four main characters, and a slightly larger than minifigure-sized Ecto-1, the famous car from the 1984 film. You can even display the minifigures together on a small display stand! Overall, it's beautifully designed and starts the theme off greatly.
All minifigures are exclusive to this set and feature a proton pack (with printed pieces) on their backs to capture the ghosts. The torsos are nicely designed with a front and back print. In fact, every minifigure has a unique torso as their initials are printed on the chest. The car is the largest buildable object. Its interior is quite simple and can host third minifigures – one in the back and two (although very tightly) in the front. The set comes with four printed curved slopes with the Ghostbusters logo on it, which is used in two other sets as well.
LEGO Ghostbusters Level Pack – 71228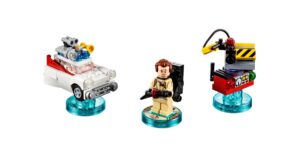 RRP: $29.99 | €29.99
Year Released: 2016
Pieces: 115
Minifigures: 1 (exclusive to this set)
LEGO Dimensions is a toys-to-life video game in which players can use physical figurines to change their game environment and/or characters. The theme was canceled in 2017, but two Ghostbusters packs were released a year before that. This first level pack is a relatively small set featuring an alternate version of Peter Venkman, now with printed arms. Players can also unlock the Ecto-1 and XXX using the mini-builds included in the set.
When it comes to price-per-piece, this set looks lackluster for those not familiar with the Dimensions format. Fortunately, the other part of the fun starts when placing these builds on the Toy Pad module. This Level Pack unlocks "A Spook Central Adventure" in-game, about an hour of Ghostbusters content.
LEGO New Ghostbusters: Play the Complete Movie – 71242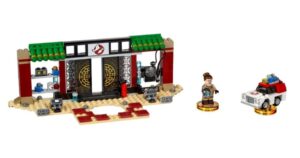 RRP: $49.99 | €44.99
Year Released: 2016
Pieces: 259
Minifigures: 1 (exclusive to this set)
We have another Dimensions set, but this time it is based on the reboot from 2016, with an all-women squad of Ghostbusters. Players can build Zhu's restaurant, which serves as the new Ghostbusters' headquarters in the film. The build can be placed on top of the Toy Pad to fit it with the new Toy Tags. These include another Ecto-1 mini-build (which can be transformed into 2 other versions), and the character Abba Yates.
Overall a nice looking set, which could definitely be used for more stories than just Ghostbusters. One downside is that a lot of stickers are included in the set (8), although it does come with a one-off 2×2 printed tile with the Ghostbusters logo. This Level Pack unlocks the entire story from the 2016 film, granting about 2-3 hours of playtime.
LEGO Firehouse Headquarters – 75827
RRP: $349.99 | €349.99
Year Released: 2016
Pieces: 4634
Minifigures: 10 (all exclusive to this set)
There it is, the original Ghostbusters' headquarters! This is the biggest set of the theme, with almost 5,000 pieces. To a mere layman, it looks like a regular firehouse with a sidewalk, with a pretty dull color scheme of grey and a tint of red. But we know better! It perfectly represents the classic firehouse in which the Ecto-1 is stored. The building can be unfolded to reveal lots of recognizable scenes, like the slimy encounter with one of the included ghosts (Slimer), or the shiny Animated Toaster from Ghostbusters II. There is even a firefighters' pole to quickly climb down from the top floor.
The set comes with 10 exclusive minifigures, with which you can easily populate the building. Now all Ghostbusters come with printed arms, and Peter Venkman even has a slimed torso. Four ghosts are also included in the set, like the Library Ghost with a double-sided head to reveal her monstrous face. The set is quite expensive to get new in box nowadays, but it will certainly guarantee for lots of building fun.
LEGO Ecto-1 & 2 – 75828
RRP: $59.99 | €59.99
Year Released: 2016
Pieces: 556
Minifigures: 6 (all exclusive to this set)
This is the second and last set of the 2016 Ghostbusters reboot. We see a new, modern iteration of the Ecto-1. The box design shows all five characters from the film, catching their first ever ghost: Mayhem. It also reveals the Ecto-2, which is a motorcycle introduced to the Ghostbusters by Kevin Beckman. The car has doors on both sides that can be opened, and a trunk that can be opened to store a Proton Pack. Four minifigures can take a seat in the vehicle.
It is a different build from the original 2014 set, but it nevertheless manages to capture the car pretty well. The set has just over 500 pieces, for 6 minifigures and accessories, and two vehicles to build. Like many of the other Ghostbusters sets, a lot of stickers are included as well.
LEGO Peter Venkman & Slimer – 41622
RRP: $19.99 | €19.99
Year Released: 2018
Pieces: 228
Minifigures: 0
The theme came back for a one-off set in 2018, to expand upon the popular BrickHeadz theme. We see the brick-built version of both a slimed up Peter Venkman and the ghost Slimer (like in the 75827 Firehouse Headquarters). Venkman comes with a Proton Pack on his back, and Slimer is feasting on a bunch of hotdogs.
Like most BrickHeadz sets, the decorated pieces are all printed and therefore the set does not include any stickers. You can build both characters and then display them proudly on their small stands. Slimer is resting on a transparent 2×2 brick, to create a floating effect. Overall, a nice set for any Ghostbusters fan!
LEGO Ghostbusters ECTO-1 – 10274
RRP: $239.99 | €239.99
Year Released: 2020
Pieces: 2352
Minifigures: 0
The final set as of 2022, is the still available 10274 Ghostbusters ECTO-1! Created to celebrate the release of the 2021 sequel film (Ghostbusters Afterlife), fans can enjoy building an almost "UCS"-like Ecto-1. The model is almost half a meter long (47mcm / 18.5 inch) and features many details from the film. The rust all over the car shows that it is the original vehicle, now degraded after almost 40 years. There is a gunner seat that can rotate out of the car to catch ghosts while the Ecto-1 is moving. The "RC-DC"-like (for the Call of Duty fans) ghost trap that is often used in the film is also included. The car's wheels can also be turned, and the doors can be opened on all sides. There are too many awesome details to discuss here; you should definitely view it at your local LEGO store.
This set has just over half of the pieces from the largest set (the Firehouse) and guarantees for hours of building fun. It is a beautiful hommage to the entire Ghostbusters saga. However, it does (again) come with many stickers, like all the rusty spots. Three 1x4x3 bricks are included with a printed Ghostbusters logo, though. Make of that what you will! Overall, it is a must-have display piece as it looks truly majestic in real life. In November 2020, anyone who bought this set at a LEGO store or online received the Ghostbusters Afterlife poster with the LEGO vehicle on it. The Ecto-1 currently retails for $239.99 in the U.S. and €239.99 in Europe, but more affordable prices can sometimes be seen in other platforms.
Wrap-up
And that's all seven sets inspired by the Ghostbusters franchise! Hopefully, we will see more sets in the future – and seeing how well the 10274 ECTO-1 has done, I think that is highly likely. Whilst writing this article, I got myself back into the franchise and decided to watch the 1984 and 2021 films, and surely had a blast! Ghostbusters: Answer the Call (2016) and Ghostbusters Afterlife (2021) is currently available on Netflix in some regions.
If you are interested in more classic franchises turned into LEGO sets, be sure to have a look at every LEGO Indiana Jones set ever released here. Rumor has it that the line will be continued in 2023, with 8 new sets, in conjunction with the release of the final Indiana Jones film with Harrison Ford.