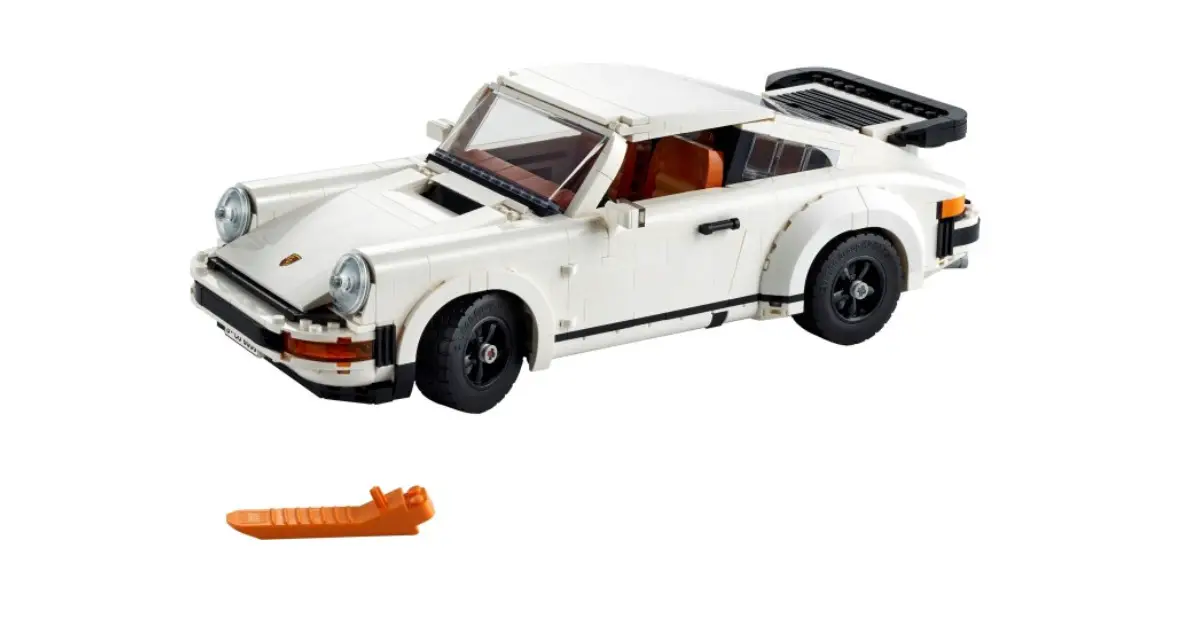 LEGO is a huge umbrella for a lot of licenses, themes, subthemes, one-offs, and ever-increasing lines they have, so once in a while, things need to be tied, and condense in a way that is easy for us, the LEGO fans, to understand the type of sets we are buying and where they belong across the vast sea of Lego options. This process happened this year, and what was before the Creator Expert line, has now become Icons.
Thus, continuing with the great precedence that the previous vehicles gave us, this newer sets work on making the collection bigger and better, with cars that take us through a rollercoaster of emotions with each new release; each one aimed to what might appear a different audience, but on the contrary, we as gearheads have that fixation on the varied ways a vehicle can take form, so it doesn't matter if it's a sport vehicle, a motorcycle or a vintage car, we cherish them all.
These sets are spectacular, eye-catching, and sometime even striking, so when you complete the whole model, it just represents something quite larger than what we have in our hands. And it's there, when you take a step back, you really understand how these are really icons, in their area, field, or theme, and they will ever be remembered as such. Having said that, this is the complete list of LEGO Creator Expert vehicles sets available at the moment.
LEGO Ghostbusters ECTO-1 10274
RRP: $239.99 | €239.99
Year Released: 2020
Pieces: 2352
Minifigures: 0
One of the most iconic Cadillac vehicles in pop culture, the LEGO Ghostbusters ECTO-1 shows up as the first vehicle of the new LEGO Icons line. This very recognizable car is a delight for Ghostbusters fans, the level of detail put not only in the car itself, but the complete array of gadgets and sensors is outstanding. From the classic angled grill to the super futuristic red fins at the back of the car, this is a set that displays like no other; just the shapes, the pieces and advance techniques used make it a very enjoyable experience.
In an identical fashion as the Creator Expert vehicles before, this model was designed with several action features, like the deployable radio-controlled ghost trap, an extending gunner seat, and a moving ghost sniffer and detector. With 2352 pieces, the ECTO-1 is the set with most pieces of the subtheme, but also the one with the biggest footprint, it measures over 8" (22.5 cm) high, 18" (47 cm) long and 6" (16.5 cm) wide.
The LEGO Ghostbusters ECTO-1 was released in November of 2020, and it is still available, but it might retire in the coming months.

LEGO Volkswagen T2 Camper Van 10279
RRP: $179.99 | €159.99
Year Released: 2021
Pieces: 2207
Minifigures: 0
More than 10 years after the first Volkswagen Camper Van was released by LEGO, a newly designed T2 was unveiled to the public. One can understand the decision to redo a very similar sought-out vehicle like this one, using modern parts and up to date techniques.
It features a pop-up tent using a beautiful orange textile, working steering, a very interestingly designed sliding side door, and of course, a couple of folding chairs with an accompanying surfboard, for a truly Californian feel. And since this is a camper van, the interior is packed with even more details such as a camping kitchen with gas stove, sink, fridge, swing out table, and foldable bed. The model contains 2207 pieces, measures over 6" (15 cm) high, 13.5" (35 cm) long and 5.5" (15 cm) wide.
This LEGO Volkswagen T2 Camper Van was released in August of 2021, and it is foreseen to retire at the end of December of 2022.

LEGO Icons Pickup Truck 10290
RRP: $129.99 | €129.99
Year Released: 2021
Pieces: 1677
Minifigures: 0
There is something very calming about the LEGO Pickup Truck, maybe it is that it reminds us of simpler times, or that we might associate it with the quintessential grandpa figure; either way, I believe this set has a lot of soul and projects a huge feeling of joy. Even when this isn't a license set, and it kind of incorporates elements of the pickup trucks of that time, you can almost see the different brands blended in each component and part of the design.
This truck features a working steering wheel, removable fences and a bunch, a bunch of side builds that complement the set so well. These include, a box of pumpkins, a basket of apples and another one of carrots and turnips, an old-school metal milk jug, a watering can, little box or present, a Christmas wreath, a 2-sided sign, and a wheel barrel with some flowerpots.
The dimensions of this vehicle are over 5.5" (15 cm) high, 13" (33 cm) long and 5.5" (14cm) wide; and even when the piece count is only at 1677, which isn't as high as the previous sets, it does have a big presence of its own.

The LEGO Pickup Truck was released in October 2021 and its retirement is yet to be announced.
LEGO Porsche 911 10295
RRP: $169.99 | €169.99
Year Released: 2021
Pieces: 1458
Minifigures: 0
Out of the bat I must say the Porsche 911 is something else, it might not be as uncommon as a DeLorean, or as common as a Vespa, but whenever one is seen on the road, or parked in a busy street, it becomes a statement. The LEGO Porsche 911 has that same feeling, it's a legendary car that commands to be seen, taken, and in this case, built.
The designer of this model went above and beyond to take every bit of the real thing and put it on this set, all from the very top of the room, bottom of the fenders, where we might not even look at it regularly, all the pieces are there, so no matter the angle, you are seeing what is supposed to be represented.

Besides the great design work, this set also comes with all the additional pieces to transform the car into its two variants, the Turbo, with its wide rear axle, the integrated spoiler and of course the turbocharged engine, and the Targa, with its well-known removable roof and unmistaken Targa roll-bar.
The set has 1458 pieces and has all the regular features this subtheme includes such as a working steering, gearshift, and even an emergency brake. It measures over 4" (10 cm) high, 13.5" (35 cm) long and 6" (16 cm) wide.
The LEGO Porsche 911 made its debut in March of 2021, and there is no news regarding its retirement yet.

LEGO Vespa 125 10298
RRP: $99.99 | €99.99
Year Released: 2022
Pieces: 1106
Minifigures: 0

Just as the Fiat 500, the Vespa 125 is another italian classic, with great italian lines and beautiful italian curves. The design process, and the end results are fantastic, starting from the baby blue color, the contrasting dark blue,
This set is definitively made to a whole different scale, much bigger than the other models, but it is understandable, since the level on intricacy changes the smaller the vehicle is.
On this model the features aren't many, seems like it is more of a fully displayable piece, vs other vehicles which can be a little more interactive. But it does the retractable motorbike stand, a crate with a bouquet of flowers, and a brick-built helmet with racing goggles.
The LEGO Vespa has 1106 and it measures over 8.5″ (22 cm) high, 13.5″ (35 cm) long, and 4.5″ (12 cm) wide. It was released in March of 2021, and at the moment there is no date scheduled for its retirement.

LEGO Back to the Future Time Machine 10300
RRP: $199.99 | €199.99
Year Released: 2022
Pieces: 1872
Minifigures: 2
This might not be the first LEGO Back to the Future Time Machine, but it is definitively the one most of us will drool for. This 80's machine is in all of our minds, and just because the car is so tied to the movie, it's impossible to see it in any other way. The designers went above and beyond since this set follows the movie details with incredible accuracy.
It features all the necessary pieces in order to recreate any of the 3 different DeLoreans used in the trilogy; plus, the ability to display it in its hoover stance. Besides this, it also comes with small details such as interchangeable license plates, the iconic hoverboard, a crate with plutonium, and a light brick representing the very important Flux Capacitor.
Also, this is the first vehicle in the series that actually comes with minifigures, remarkably both exclusive to this set, a very bright Doc Brown in a flashy yellow suit, and Marty McFly with its red jacket and his Nike MAG shoes, which are side printed also.
It measures 5″ (12 cm) high, 8″ (19 cm) long, and over 14″ (35 cm) wide, and was released in April 2022, so it is a fairly recent set which will probably take some time before it retires.

LEGO Chevrolet Camaro Z/28 1969 10304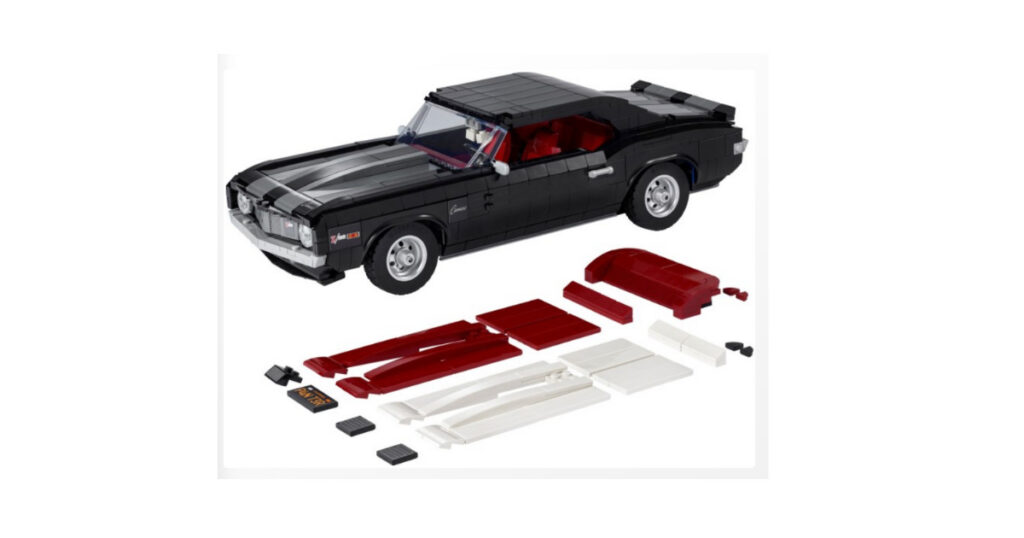 RRP: $169.99 | €169.99
Year Released: 2022
Pieces: 1456
Minifigures: 0
After the great success the Ford Mustang had, LEGO couldn't pass the opportunity to include another muscle car to the collection, and no better candidate than its Chevrolet counterpart, the Camaro Z/28 from 1969. This car has very tough and strong lines and the designer capitalize on this by making it deep black, showing off the bad guy vibes.
Following the same vein of customization that has characterized these vehicles, this time LEGO offers 3 different color racing stripes, you can choose between gray, red or white, along with the possibility to make this a convertible model or leave it as a hard-top. It features a very detailed engine bay, sporting the legendary 302 engine. Also has working steering, and as in all vehicles in the subtheme, the doors and trunk can also open.
This set has 1456 pieces, which is almost on par with the Mustang, making it perfect to display alongside it, as it has the exact same proportions. This one measure 4" (10 cm) high, 6" (14 cm) wide and 15" (36 cm) long.

LEGO Chevrolet Camaro Z/28 1969 was released a couple of months ago, in July of 2022, so this is the newest Icons vehicle to date.

Interested in Learning More About Collecting LEGO?
This list of the LEGO Icons vehicles are part of the new line going forward, but if you want to read about the ones that came before them, check out Every LEGO Creator Expert Vehicle Set Ever Released here.