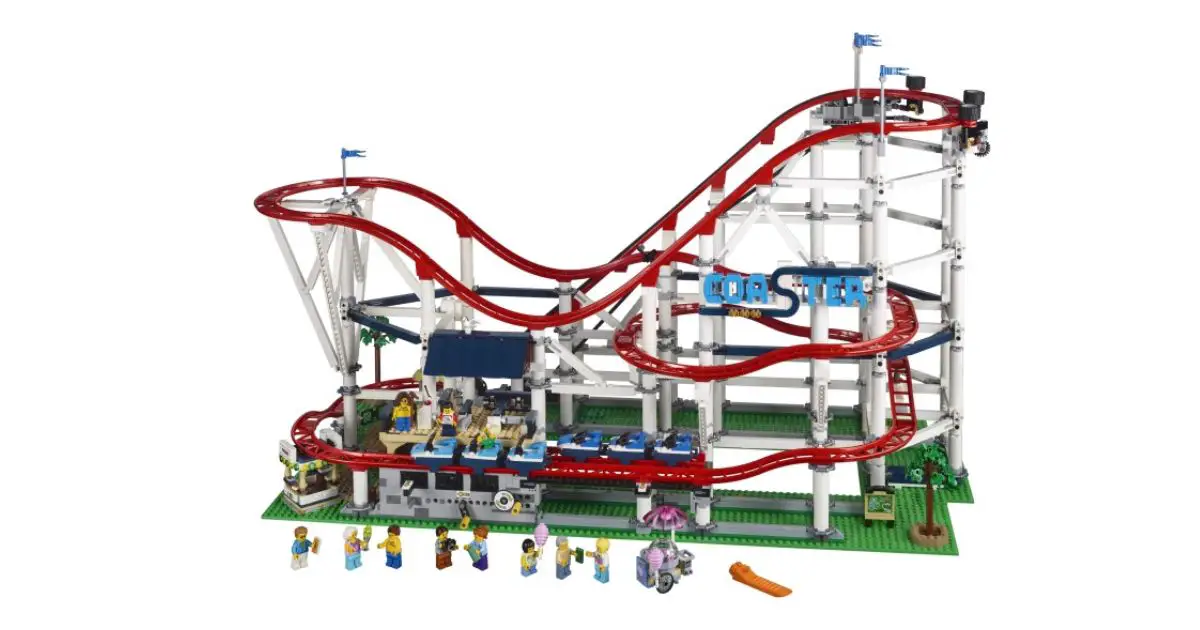 The world of LEGO is so vast, they can take us into a movie, a videogame, or even to space, but they also come back down and create the things we have actually seen and experienced. These sets explore that feeling of amusement, of awe, as if we were kids again.
The LEGO Fairground Collection is a subtheme designed around all these amazing rides seen in the fairs, carnivals, or amusement parks. They are part of the LEGO Icons theme, which as we all know, are sets focused on more advanced models and building techniques. The first Fairground Collection set was release in 2009, and from then, every set has been launched sporadically; this makes the subtheme even more collectable than many others, as only 6 other sets have been released since.
The sets of the LEGO Fairground Collection are spectacular display pieces, and they all share a great feature, the ability to be upgraded from a manual operation to a fully motorized one, using the LEGO Power Functions. This is completely optional, and the modules are generally sold separately, but these sets take life when you are able to see them moving on their own, just as the real ones. All of them also offer small vignettes we fondly recognize, such as the hotdog or cotton candy stalls.
So, which are the sets that are part of this subtheme? Let's look at a complete list of the LEGO Fairground Collection sets.

LEGO Grand Carousel 10196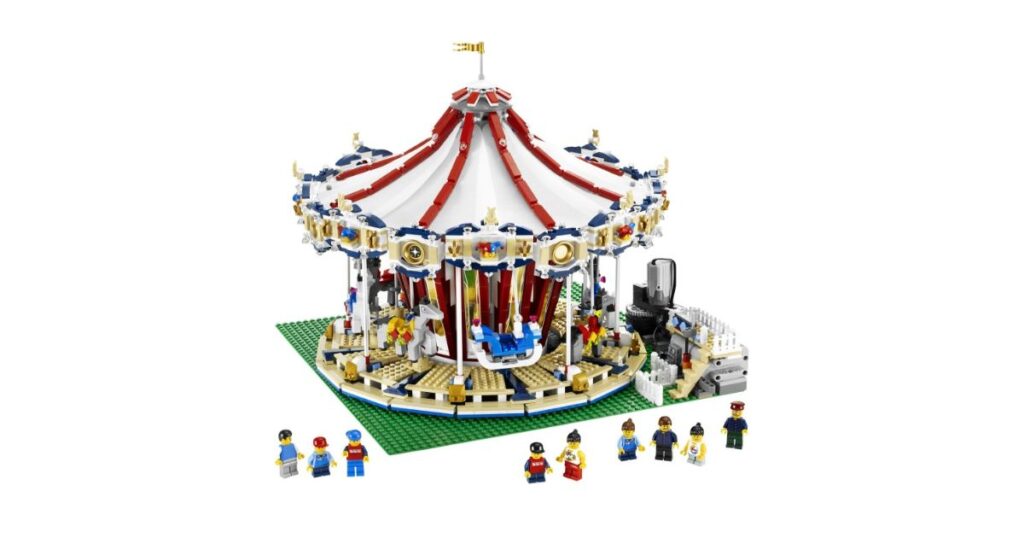 RRP: $249.99 | £179.99
Year Released: 2009
Pieces: 3263
Minifigures: 9
The first set in the LEGO Fairground collection is one that many would have hoped to pick up when it was first release, it's the LEGO Grand Carousel, set number 10196. The Grand Carousel it's an amazing set that includes the LEGO Power Function motor and also a sound brick! Which is something so rarely included in any LEGO set. The carousel is very beautifully decorated, with intricate ornaments and many gold-plated elements.
The set features 3263 pieces, which by the time it was released, makes it one of the biggest at the time. It includes 9 minifigures, most of them passengers, but it also came with a couple of mechanics and the ride operator; all minifigures are exclusive. The main feature of this set is how it actually rotates and plays music, while the carts, boats and brick-build horses move up and down, just like a real merry-go-round!
LEGO Grand Carousel was released in July 2009 and retired at the end of May 2010, which gave it a shelf life of only 10 months. Such a sort time for a set this grand.

LEGO Fairground Mixer 10244
RRP: $149.99 | €129.99
Year Released: 2014
Pieces: 1746
Minifigures: 12
The LEGO Fairground Mixer is the second set in the collection. It features several stations and rides such as a ticket booth, a dunk tank, a high striker and the main attraction, The Mixer. The main ride can be rotated (manually) and includes many glow-in-the-dark accents that look great when the light goes off. When the day has finished, all of the attractions can be folded, stored, and packed in the included trailers, which then can haul them to the next location!
This set contains has 1746 pieces, which is the smallest set in the collection, but it compensates it with being the one that has the most minifigs, at 12. It includes a ride operator, a juggler, a strong man, a dunk lady, and 8 kids and adults passengers; all of them exclusive to the set.
LEGO Fairground Mixer was released in January 2014 and retired in December 2016, for a shelf life of 2 years and 7 months.

LEGO Ferris Wheel 10247
RRP: $199.99 | €179.99
Year Released: 2015
Pieces: 2464
Minifigures: 10
The LEGO Ferris Wheel is a very tall set, at around 2 feet tall (0.6 meters), it showcases the iconic ride we all associate with carnivals. The ride features a ramp, the boarding platform, and 12 gondolas. And for the ones waiting to hop on the ride, it also offers a ticket kiosk, an ice cream stall and a bench with assorted flowers and trees.
This set contains 2464 pieces and 10 minifigures, including the ride operator, an ice cream vendor and another 8 passengers (4 adults and 4 children). The LEGO Ferris Wheel is a centerpiece by itself, with colorful pieces and transparent elements that just burst as the wheel spins. Power functions can be added to it, but they are sold separately.
LEGO Ferris Wheel was released in June 2015 and retired at the end of 2018, that brings the shelf life to 3 years and 7 months, tied for the longest one in this theme.

LEGO Carousel 10257
RRP: $199.99 | €179.99
Year Released: 2017
Pieces: 2670
Minifigures: 7
It took LEGO 7 years to have another Carousel made and be more readily available than the previous one. This iteration features 5 brick build animals, including a swan, an elephant, a tiger, a flamingo, and a frog. All of them but the swan, move up and down as the carousel rotates. It also comes with a small ticket booth side-build and printed ticket elements.
This set features 2670 pieces and just 7 minifigures, the least minifigs of the Fairground Collection, but not less interesting. More detailed characters, such as the ticket vendor, the grandmother and a couple of the kid's facial expressions, bring this Carousel minifigures to a more modern era. Even when it might be difficult not to compare both sets, this one stands on its own. The large yellow cloth canopy, all the embellishments, the gold-colored elements and reflective stickers make it stand out from the distance.
LEGO Carousel released in June 2017 and retired in December of 2019, which gave it a shelf life of 2 years and 7 months.

LEGO Roller Coaster 10261
RRP: $379.99 | €329.99
Year Released: 2018
Pieces: 4124
Minifigures: 11
LEGO Roller Coaster 10261 was an amazing surprise when revealed, as LEGO hadn't attempted to create this ride before. The set is a behemoth, measuring 20″ tall (53cm) and 34″ wide (88cm), that is more than 3 baseplates combined! The most recognizable item on this ride, besides the fantastic curves and drops, is the very well-designed brick-built COASTER sign that intermingles with the eye-popping red tracks. It features a fully functional chain-lift mechanism and comes with 2 trains.
This set includes 4124 pieces, which makes it the largest set in terms of piece count. It includes 11 minifigures, with the ever-present ride operator, a cotton candy vendor and 9 ride passengers. No Fairground Collection could be ever complete without a roller coaster such as this one.
LEGO Roller Coaster made its debut in June 2018, and was officially retired just last year, in December 2021, giving it 3 years and 7 month lifetime.

LEGO Haunted House 10273
RRP: $299.99 | €299.99
Year Released: 2020
Pieces: 3231
Minifigures: 10
LEGO Haunted House 10273 diverts slightly from all the other sets in the collection since this is an actual building, and not a structure. But don't get confused, this is still a ride, not just a haunted house. The main feature it's the thrilling drop that passengers get to experience once they free-fall from a 6 story building! This particular set has a ton of references from past themes, mainly the Adventurer's line.
The set has 3231 pieces and 10 minifigures, and the selection isn't the typical ride crew. Included are 2 ghost-dress employees, 1 skeleton, 5 visitors and 2 ticket booth operators that happen to be twins, gulp. This dark and spooky haunted manor measures over 26" (68cm) high, making it stand out easily.
LEGO Haunted House was released in June 2020 and is still being sold. Currently there is no official retirement date for this set.

LEGO Loop Coaster 10303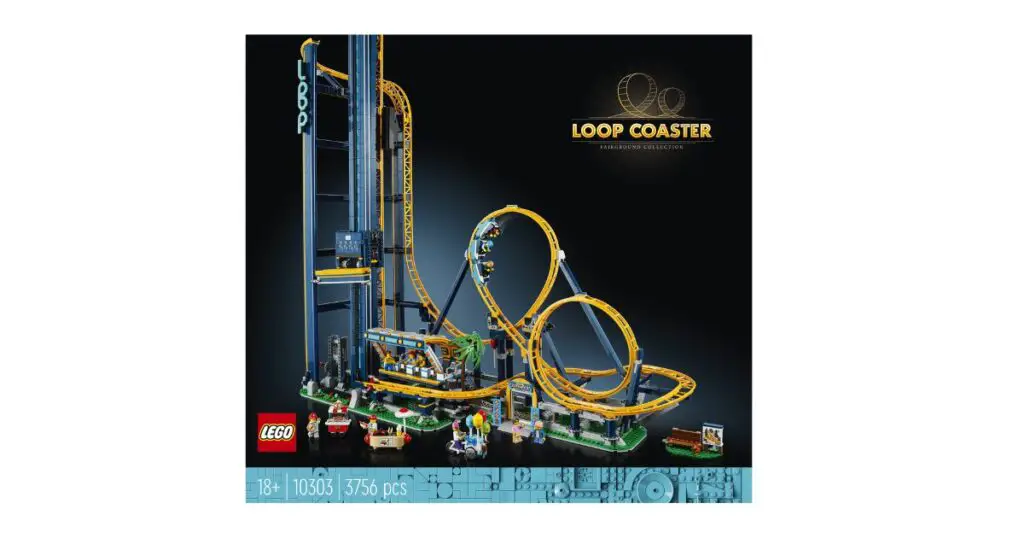 RRP: $399.99 | €399.99
Year Released: 2022
Pieces: 3756
Minifigures: 11
The newest and latest set in this collection is the LEGO Loop Coaster 10303, having just released in July 2022. This is the 3rd tallest LEGO set ever! Measuring a whooping 36″ (92cm) tall. The height is needed in order for the carts to have enough momentum and be able to ride the double loop in a very smooth and fun way. The color combination used in the set is gorgeous, the bright yellow tracks alongside the dark blue structure, and the LOOP sign at the top make it a very modern and sleek ride.

This set includes 3756 pieces and comes with 11 minifigures. Three of them are stall vendors, then 7 ride passengers (1 child) and last but not least, a LEGO-branded ride operator. There are a lot of design details and mechanical features that can only be appreciated seeing this, one of a kind, set in person.
Given that this has was release a couple of months ago, it is expected to run at least 2 years before it retires, but with anything LEGO, it's better to check constantly if you are looking to buy it and avoid getting out of the loop.

Interested in Learning More About Collecting LEGO?
This list of the LEGO Fairground Collection gives us a great overview of the theme and the different rides that have been created along the years. As you can imagine, the earlier sets have grown in value a lot since they retired, and most will continue to go upwards. If you would like to learn more about LEGO investing and collecting, check us out on YouTube where we make videos all about it.
We also have other articles just like this one which give an amazing round-up of LEGO sets to feast on. Check out this one if you want to see a complete walkthrough of Every LEGO Overwatch Set Ever Released.