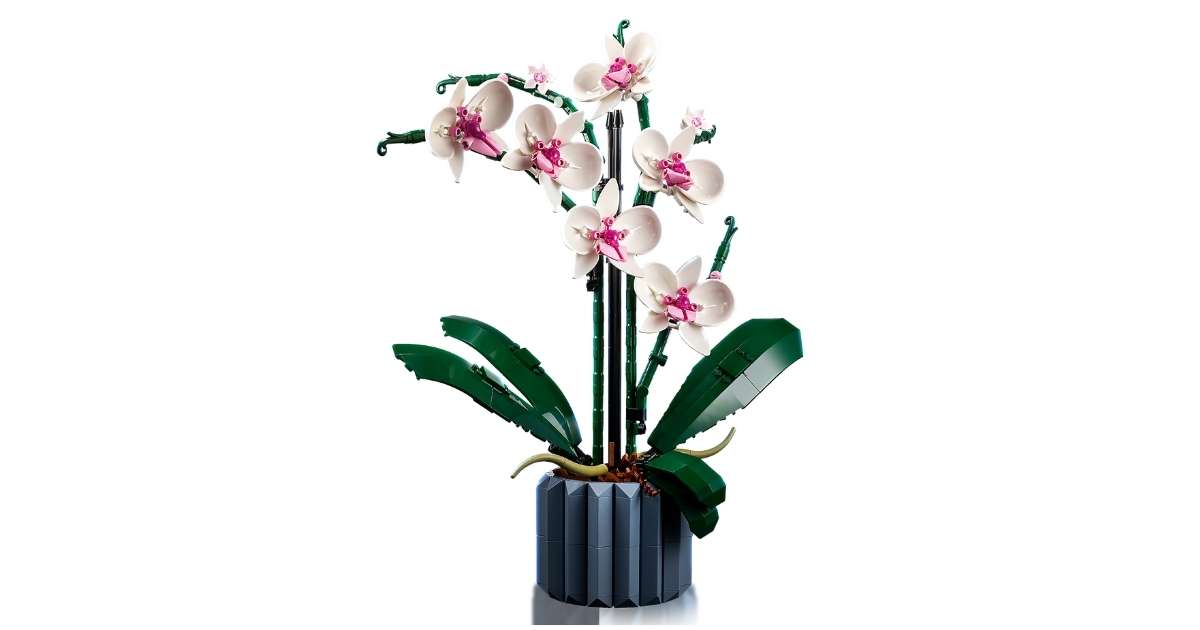 Inspired by gorgeous plants and flowers from around the world, the LEGO Botanical Collection brings a carefully and thoughtfully designed set of arrangements for LEGO fans and home décor enthusiasts that make for a great replacement for real plants as they do not require maintenance.
The LEGO Botanical Collection is a vibrant category of LEGO sets aimed at adults who have a love for fauna. LEGO Botanical Collection was first released in January, 2021 for the 18+ LEGO fans and has quickly proven to be a fan favorite. Priced comparably to their real life inspirations, the 5 available sets make for beautiful displays around the home or office as well as thoughtful gifts.
This growing collection was created with a lot of meaning behind it. Whether it be the simple act of gifting or a spiritual coming together of friends and relatives to bring these designs to life, this collection will undoubtedly continue to amaze their fans. Let's take a closer look at the wonderful sets LEGO has created so far!
LEGO Flower Bouquet 10280
RRP: $49.99 | €59.99
Year Released: 2021
Pieces: 756
The first LEGO Botanical collection set is the Flower Bouquet. This set is composed of a new array of colors and realistic petal shapes that make for a vibrant gift or decoration. This collection was created keeping in mind plant lovers who struggle with live plants as it provides for beautiful displays made entirely from LEGO pieces. Retailing at $49.99, this Flower Bouquet is comparable in price with real flower bouquets.
The Flower Bouquet contains 756 pieces that come together to create 10 individual flowers which include 3 pink roses, 2 snapdragons, 2 daisies, 1 California poppy, 1 aster, and 1 lavender sprig. The set also includes 3 leaves and 2 bushy stems.
LEGO Flower Bouquet was released in January 2021. The Flower Bouquet is part of LEGO's Plans from Plants initiative which means that pieces in this set are made from sustainably sourced sugarcane in LEGO's efforts to increase their plant based materials. Although the vase is not included in this set, all parts have adjustable stems which allow for unique arrangements.
LEGO Bonsai Tree 10281
RRP: $49.99 | €49.99
Year Released: 2021
Pieces: 878
With over one hundred more pieces than the Flower Bouquet, the LEGO Bonsai Tree is a set with interchangeable pieces that allow for two very distinct decorative displays. The tree can exhibit a bonsai tree's classic green leaf design or a gorgeous and vibrant pink cherry blossom in bloom design.
The set consists of 878 pieces and it includes a base with a real life wood feel made completely with LEGO pieces. To make this set even more unique, the pink blossom pieces contain a hidden sweet frog design.
LEGO Bonsai Tree was released in January 2021 and was designed by senior designer Nick Vas who was known for designing bonsai trees for his colleagues' at the LEGO offices long before this set's release. This set is also part of LEGO's Plants from Plants Initiative.
LEGO Bird of Paradise 10289
RRP: $99.99 | €99.99
Year Released: 2021
Pieces: 1173
After the first 2 Botanical Collection sets proved to be very popular among adult LEGO fans, this third set was released in June of 2021. At 1173 pieces, LEGO Birds of Paradise offers a strong presence of color similar to what would be expected of the real version. The beautiful design rests on a black pot made out of LEGO elements.
Inspired by the South African native, The LEGO Birds of Paradise offer a vibrant mix of greenery as well as orange and purple flowers that resemble the features of a bird. Similar to the previous Botanical Collection sets, the leaves and branches are moveable allowing for distinctive designs.
This set is unique as it consists of some unexpected, repurposed pieces such as the purple stamens which are made from LEGO swords. Another interesting feature is that the design allows for some swaying when placed near a light breeze, similar to what can be expected of a real plant. This shows the intricacy that went behind designing this set. Senior designer, Chris McVeigh combined Systematic and Technical Bricks to allow this Birds of Paradise to sway without tipping. This classy and elegant display is the largest of the collection so far in number of pieces.
LEGO Succulents 10309
RRP: $49.99 | €49.99
Year Released: 2022
Pieces: 771
The LEGO Succulents is another colorful design composed of 9 unique plants. These include 1 Orange Monroe, 1 Aloe plant, 1 Hens and Chicks, 1 Moon Cactus, 1 Ball Cactus, 1 Burro's Tail, 1 Sedum Luteoviride, 1 Lavender Echeveria, and 1 Red Echeveria. All 9 plants have their individual pot which are then put together using axles.
These 9 plants can be rearranged in any order or be separated and displayed as individual plants or smaller arrangements if desired. The LEGO Succulents set consists of 771 pieces and was designed by Anderson Grubb who also designed the Flower Bouquet and is known for having colorful and artistic designs.
This LEGO Botanical Collection set also contains some repurposed LEGO Elements pieces within the set. This set arrives with 3 separate instruction booklets which make it simple to share this build with friends and family.
LEGO Orchid 10311
RRP: $49.99 | €49.99
Year Released: 2022
Pieces: 608
The fifth set in the Botanical Collection is the smallest in number of pieces. LEGO Orchid 10311 is composed of 608 pieces. This, however, does not take away from the beautiful design that makes for an elegant display. The LEGO Orchid set is composed of 5 leaves connected to a fluted vase as well as 2 air roots. LEGO element pieces can be added to the vase to resemble bark. The set also contains 8 blossoms with adjustable leaves and petals.
Similar to the previous sets, the LEGO Orchid was designed to be as realistic looking as possible which makes for an appealing home décor piece or gift. Another similarity with this set is that it also contains some repurposed LEGO elements pieces. Mini-figure shields from other sets make up the Orchid's sepals and dinosaur tails contribute to the roots.
The LEGO Orchid offers a good replacement for plant lovers who want to combine their love for botanical arrangements and LEGO building. The display is delicate as well as spirited.
Do You Have These Sets in Your Collection?
The LEGO Botanical Collection is a creative and beautifully designed series of LEGO sets, and they have helped to open the doors to many new LEGO fans, as people give these incredible sets as gifts to those who haven't yet realized how much they love LEGO.
Over time as these sets retire and are no longer available, they begin to grow in value. If you would like to learn how you can invest in LEGO sets, check out our YouTube channel where we make videos teaching you how.
If you would like to see more amazing lists of LEGO sets, we wrote an article that walks through every LEGO Modular Building ever released – check it out here! And for more reviews of the LEGO Botanical series, you can check out this article.