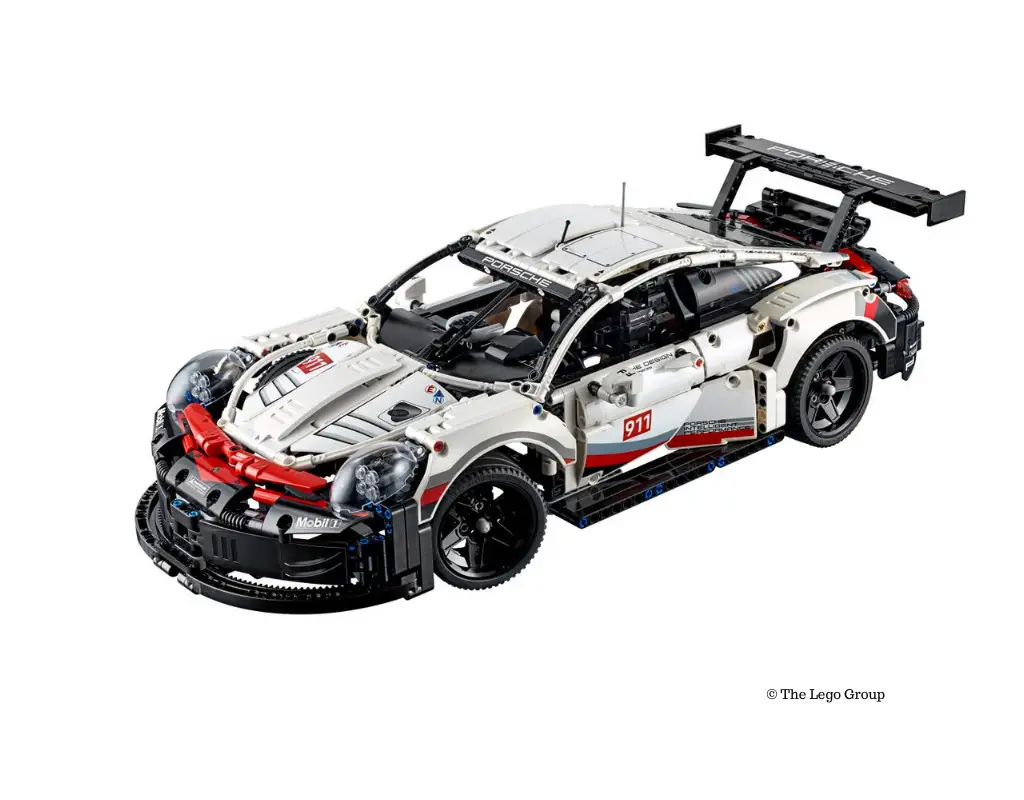 I recently posted an article about five large sets that I believe are worth investing in. While I believe those five sets are solid picks, I feel that I may have left one important set out. Ever since I have started building Speed Champion sets and adding them to my inventory, I've also had my eye on the larger Technic sport cars.
Let's look at the Technic Porsche 911 RSR 42096.
This is a stunning set, and an extremely popular one. It should appeal largely to adult fans as a display piece. It is sleek and stylish, and embodies the Porsche beautifully. As I've talked about before, I really want to like the sets that I'm buying for investment purposes, and this one immediately passes the test.
Price
The RRP of $149.99 for this set again is definitely higher than what I'd like to go to, but given its predecessors performance and the growing popularity of Technic sports cars with adults, I would be willing to spend higher amounts here and stock up.  I also currently have a lot of small to mid-size LEGO sets in my inventory so even though that is my preferred business model, I feel that adding some larger set to it would give my inventory more balance. 
Due to what is going on with COVID-19 there aren't as many discounts with LEGO as there usually are, but I still believe this is a good buy.  Amazon Prime Day has been delayed, and Amazon has not announced the new date.  I would be interested to see if this set will get discounted.
Collectability
Out of all the Technic Sports cars LEGO has created; I believe this set is in the top three of people will want to collect on the secondary market.  I see the Technic sports car subtheme growing exponentially over the years.  As adults start to change their habits and lifestyles due to COVID-19 they'll be looking for fun and cool activities to do at home and for many people, putting together a cardboard puzzle just won't cut it.
Potential Return on Investment
I actually believe that this set will have a higher ROI than it's Technic predecessor. 
Again, I never liked the bright red orange of the previous Porsche and I believe that the color design of the new Porsche gives it a added dimension that the previous one just doesn't have. 
Also with the RRP of the new Porsche being half the price of the older one, I believe this creates more opportunity for buyers to own this set, and more opportunity for the price to rise far beyond what we pay for the set.
Predecessor
I remember when its predecessor, Technic Porsche 911 GT3 RS, was released and I was not impressed even though I thought it would do very well.
What I didn't like about this set was the price point. At $299.99 there would be no way that I would be able to acquire a decent amount of inventory. I also have seen over time that it is harder for expensive sets to reach the same levels of ROI as smaller sets. There is just not as much room to grow. And lastly, we need to be aware of the rampant credit card fraud that happens on eBay for expensive items. LEGO is not free from that, so there is some minor level of risk if you sell high priced LEGO sets. Thankfully I've been able to avoid it, but it's worth keeping in mind.
The second problem I had with this set, which is the same problem I have with the other Technic sports cars that LEGO is selling, is it is only one color. If I was going to spend $300 on that set I would want it to look three dimensional and a bright solid color of orange would be the opposite of that.
Go out there and get it!
My overall verdict is that this is a set I am heavily considering picking up a few of. It doesn't check all of my boxes for an investment, but it comes close. It's a great set and may not have much time left on the shelves. It's a good time to pick this one up.
Thanks for reading!
I hope you found this valuable. If so, make sure to check us out on YouTube, where we give tons of more experience and strategies for LEGO reselling and investing. Also, we have a free Facebook group – join if you would like to learn from like-minded LEGO investors.
Do you like this LEGO Technic set? Post your thoughts in the comments below!