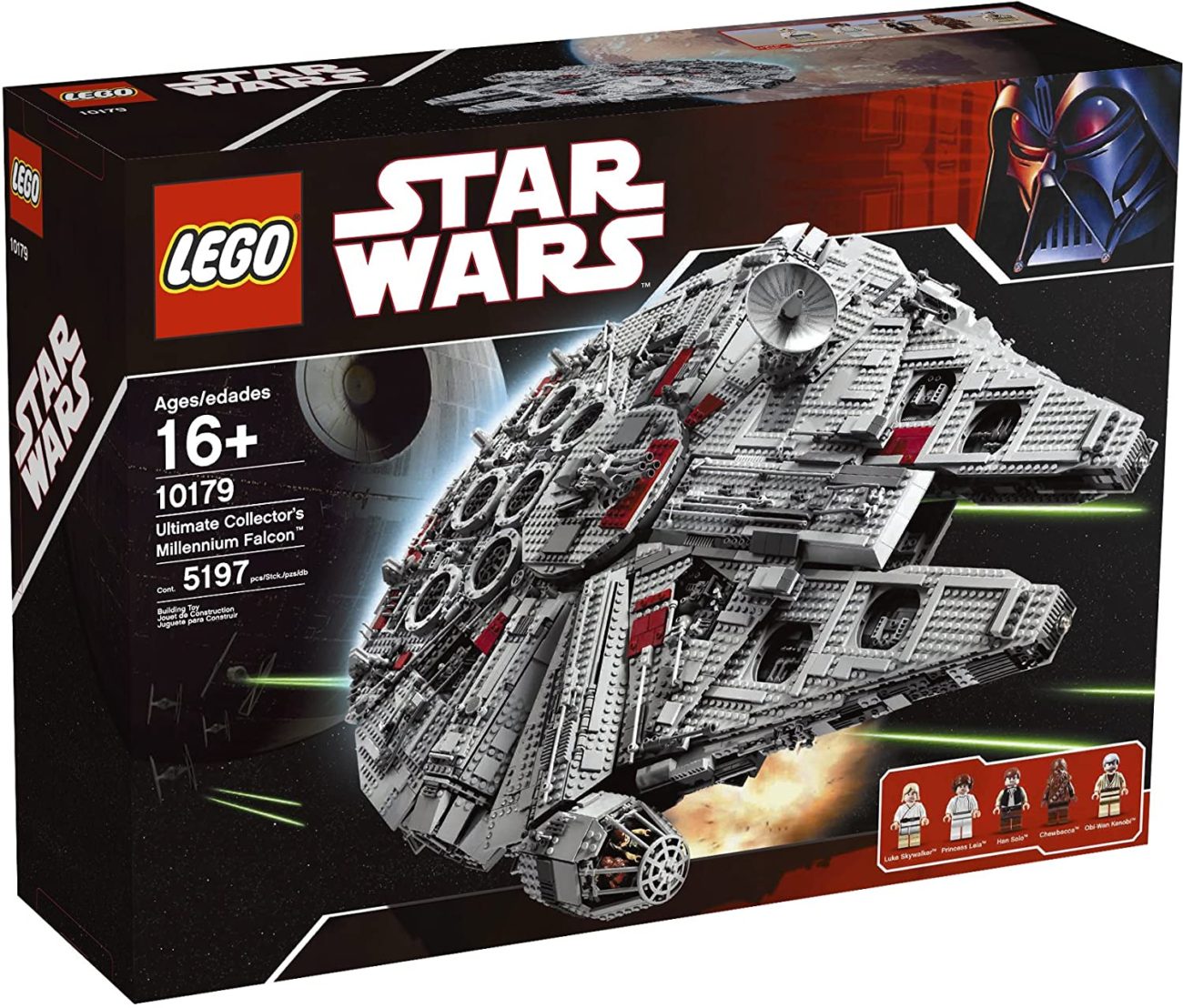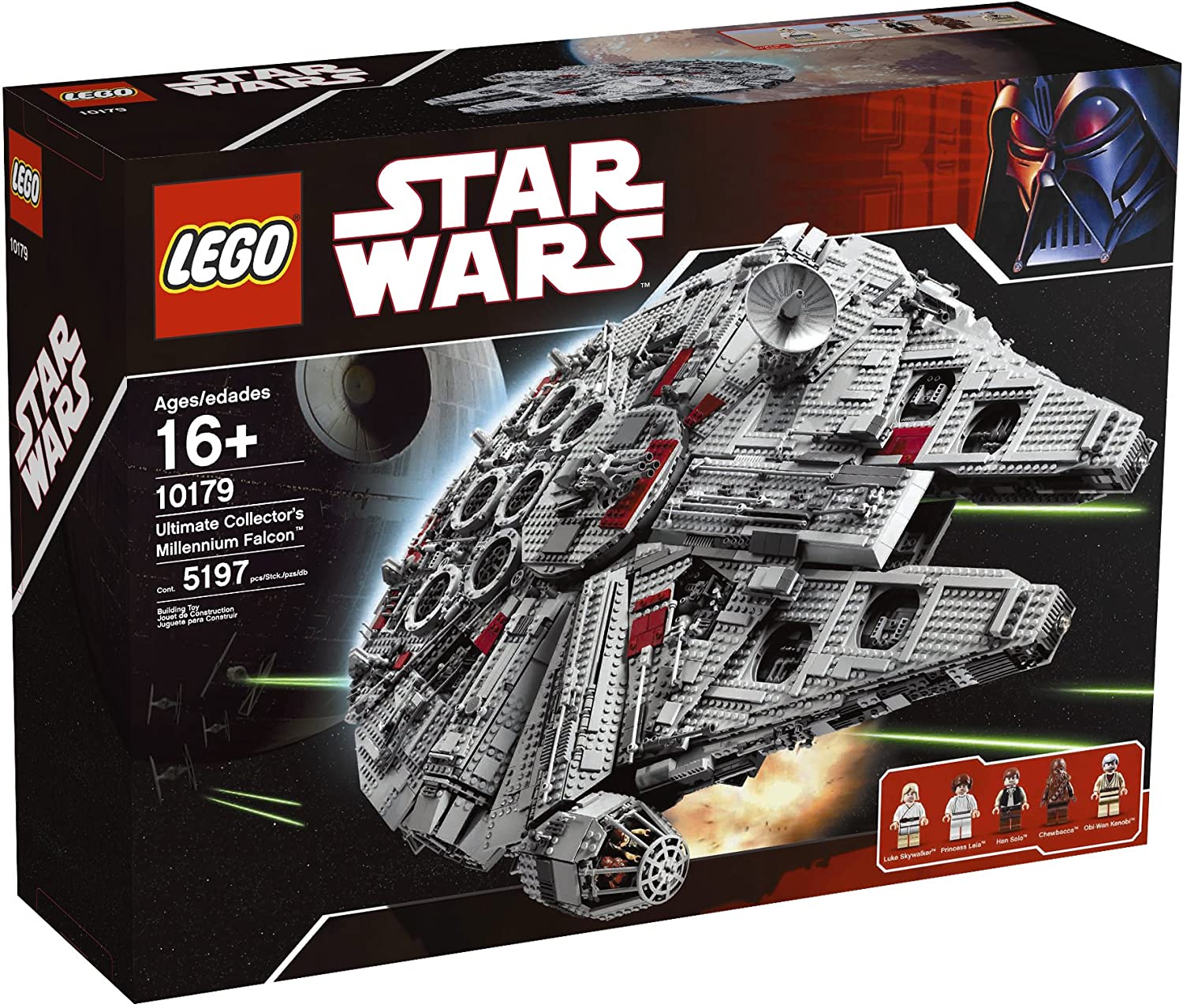 LEGO Star Wars has been a staple theme from The LEGO Group since it was first introduced in 1999. Over the years, there have been many different sub-themes in the LEGO Star Wars universe, and arguably one of the most popular of them all is the Ultimate Collector's Series.
With a focus on more complex building techniques and incredibly detailed design, the LEGO Star Wars UCS series introduced fans to a new, exciting wave of Star Wars sets when the first one was released in the year 2000. Ever since then, the LEGO Star Wars UCS sets have garnered some of the most attention of any LEGO set each year when they are released, often with lines of people waiting outside of LEGO Stores to get the latest one.
But what amazing sets do we see on the list of every LEGO Star Wars UCS set? Which sets have been released so far in this sub-theme? The following is a comprehensive list of UCS sets from the first ever release to present day. Let's go!
LEGO TIE Interceptor 7181
RRP: $99.99 | €199.99
Year Released: 2000
Pieces: 703
Minifigures: 0
The first of its kind, the TIE Interceptor paved the way for subsequent Ultimate Collector Series Star Wars sets. With its unique blue colour scheme and no minifigures included – this set is a stark contrast to just how far the series has come. It was retired in December 2001, giving it just over a year on the market.
LEGO X-Wing Fighter 7191
RRP: $149.99
Year Released: 2000
Pieces: 1304
Minifigures: 0
This set really reflects its time of release in the year 2000. Despite its distinct blue and black box art, the model itself was a jumble of different colours including red and white. It is popular opinion that this set does not have the clean finish it might have if it were to be re-released today. Nevertheless, sealed copies are still being sold for over $1000.
LEGO Darth Maul Bust 10018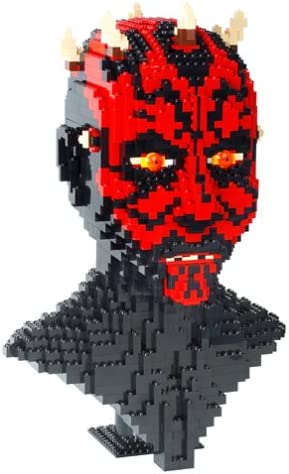 RRP: $149.99
Year Released: 2001
Pieces: 1860
Minifigures: 0
This intimidating sculpture was a great edition to the series at the time of its release in 2001. It followed on from the Yoda and was available for a higher price point of $149.99 and contained 785 more pieces in comparison. Many fans are still to this day gathering the pieces to replicate this unique set after it retired in 2002. However sealed copies are available for over 10x its original price.
LEGO Rebel Blockade Runner 10019
RRP: $199.99
Year Released: 2001
Pieces: 1748
Minifigures: 0
This set might appear small on the box art but is in fact a substantially sized display piece at 65.2 cm. Despite the numerous stickers and distinct lack of Minifigures, the set is redeemed by the multiple large engines and considered design. For this reason, many fans regard this set as a truly magnificent display piece. The set retired in 2003.
LEGO Yoda 7194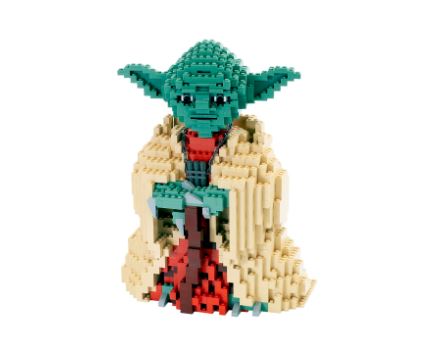 RRP: $99.99
Year Released: 2002
Pieces: 1075
Minifigures: 0
The third UCS set ever released is yet another example of how LEGO Star Wars models have greatly improved. With a very reasonable price point of $99.99 for 1075 pieces, unfortunately the blocky and rough execution of this set still remains unfavoured by fans. The model is seen as awkward by most, especially when compared to the more recent 75225 interpretation of Yoda. It included no minifigures and was retired in December 2003.
LEGO Special Edition Naboo Starfighter 10026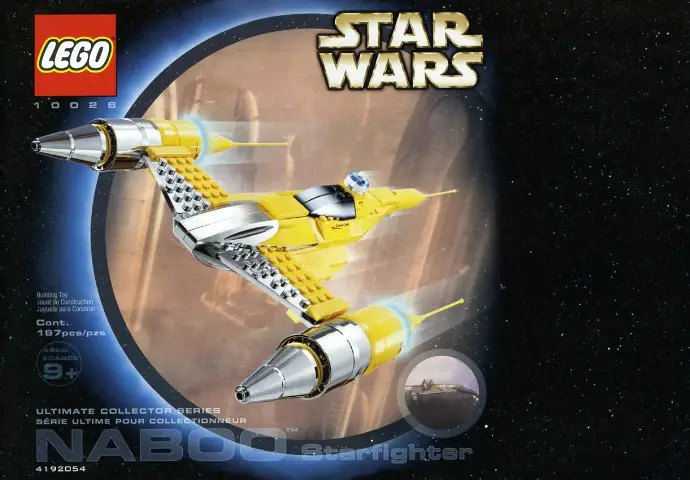 RRP: $39.99
Year Released: 2002
Pieces: 187
Minifigures: 0
This set has the cheapest retail price on this list and yet is well known for its now very expensive pieces. Consisting of distinctive shiny chrome elements; some of which now sell for an average of around $30 each (source Bricklink). This set is also the smallest in the series at an underwhelming 28.6cm therefore isn't to scale with the rest of the series. It retired in 2002, the same year it was released so did not have a very long time on the market.
LEGO Imperial Star Destroyer 10030
RRP: $299.99 / €299.99
Year Released: 2002
Pieces: 3104
Minifigures: 0
The Imperial Star Destroyer established a compelling movement within the series. Even two decades after its release in January 2002, it maintains a reputation for being a highly impressive display piece with a length of 58.9cm. Made from 3104 parts and with no Minifigures – the $299.99 retail price was also a very welcomed one. It had a huge lifespan of 65 months before finally retiring in February 2008.
LEGO Cloud City 10123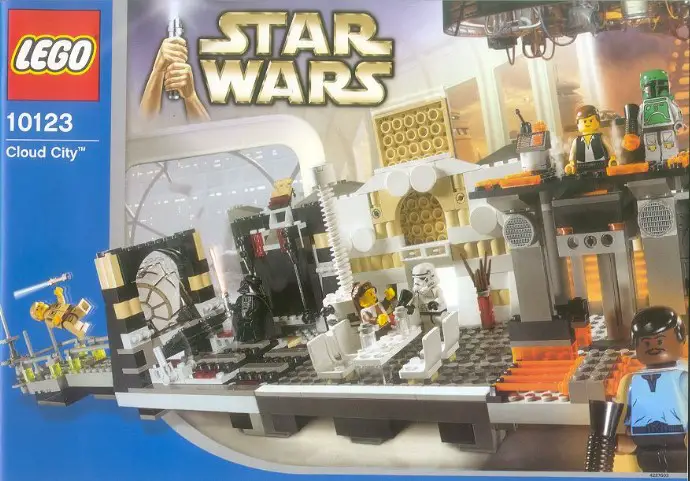 RRP: $99.99
Year Released: 2003
Pieces: 698
Minifigures: 8
This set is undoubtedly known by every LEGO Star Wars fan out there for its legendary status and is probably on their bucket list too. Now known to be valued at over $8,000, many regret not picking up the once $100 priced set after it was released in October 2003. Its main appeal are the eight iconic Minifigures which are also now respectfully worth big numbers. It was available exclusively from LEGO and retired in March 2005.
LEGO Rebel Snowspeeder 10129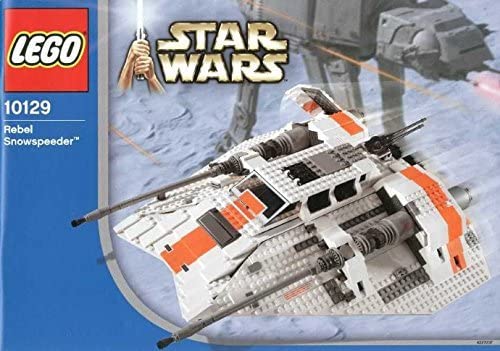 RRP: $129.99 / €100
Year Released: 2003
Pieces: 1457
Minifigures: 0
The 2003 UCS Snowspeeder was a 1445 piece set and like most early UCS offerings – did not come with any Minifigures. Many fans appreciated the model for its highly detailed interior cockpit, moving harpoon gun and overall how displayable it was. It was retired in 2005.
LEGO TIE Fighter Collection 10131
RRP: $69.99
Year Released: 2004
Pieces: 682
Minifigures: 4
Adding some extra excitement to the series, this addition included not one but a whopping four ships and four minifigures with one being an exciting exclusive. The playability factor was therefore off the charts but was equally designed for display with a multitude of details, sturdy build and stand. The TIE fighter has since been remodelled by LEGO so it's easy for this version to be considered outdated. However at the time (2004) and for just $69.99, the set became a must have. 
LEGO Y-Wing Attack Starfighter 10134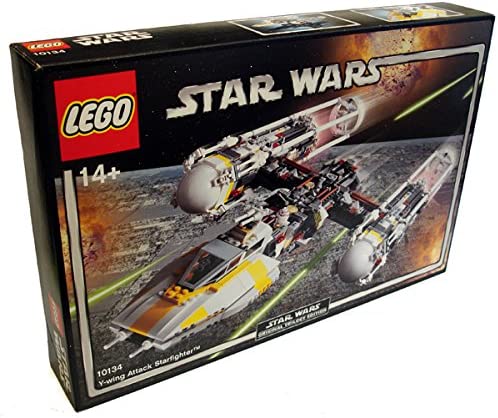 RRP: $119.99
Year Released: 2004
Pieces: 1473
Minifigures: 1
Considered one of the most underrated UCS sets – the 2004 Y-Wing Attack Starfighter made a great addition to the series. Using over 1400 parts to create a multitude of intricate details and an accurate likeness to the movie's versions, fans agree it makes for an amazing displayable model. Only a red Astromech Droid accompanies this set in terms of minifigures but its surprising 57cm length is a key component to why that can be easily overlooked. It retailed for $119.99 and was discontinued in 2007 but was curiously available on the LEGO website very briefly in 2009. A very exceptional event!
LEGO Death Star II 10143
RRP: $299.99
Year Released: 2005
Pieces: 3449
Minifigures: 0
The 2005 iconic Death Star model gave LEGO fans plenty of bang for their buck. Priced at $299.99 for over 3000 pieces, many could overlook the complete absence of minifigures in this landmark of a set. It is a classic in its own right which is why a sealed copy from the secondary market would now set you back $1000+. It retired in 2007 in the UK but remained available in North America until early 2009.
LEGO Sandcrawler 10144
RRP: $139.99
Year Released: 2005
Pieces: 1669
Minifigures: 11
The original 2005 Sandcrawler was the epitome of an accurate, detailed and playable LEGO Star Wars UCS set. It was packed with features such as working steering, moving treads, a removable centre section to reveal a detailed interior and 11 popular minifigures. It's clear when taking a look at this set that LEGO really listened to their fans and delivered this 38cm long, 22.8 cm high epic addition to the series as a result. It retired all too soon in 2008.
LEGO Imperial AT-ST 10174
RRP: $79.99
Year Released: 2006
Pieces: 1068
Minifigures: 0
This AT-ST was the second cheapest UCS set without skimping on quality. Released in 2006 and retailing for just $79.99, the model provided enough detail and accuracy through gun placement, a swivelling head and an opening hatch to please fans. Its legs were not posable and so was better suited for displaying. It came with no Minifigures and retired in 2008.
LEGO Vader's Tie Advanced 10175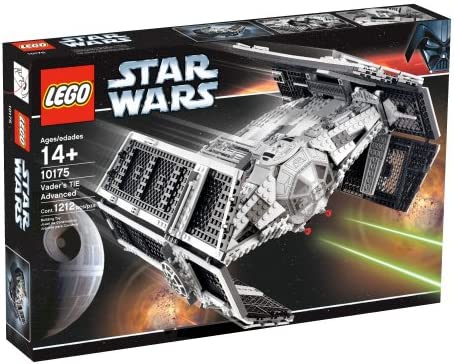 RRP: $99.99
Year Released: 2006
Pieces: 1212
Minifigures: 0
The Vader's Advanced Tie fighter is a set that was released in 2006 for $99.99 It housed many details and replicated an accuracy to the movie version. Unfortunatley the stand for this model was a problem but was still considered a worthy display piece, particularly due to its true to the film colour scheme instead of the previous blue and black LEGO had been known to use. It unfortunatley was not accompanied by any minifgures and was retired in 2009.
LEGO Motorized Walking AT-AT 10178
RRP: $129.99
Year Released: 2007
Pieces: 1137
Minifigures: 4
It's really no surprise at all that this set was popular among fans after its launch in 2007. Although it retailed for $129.99, the sheer joy fans recieved from the motorized element of the build made it worth every penny. The set allowed for the head, both sides and back to open up, an opening cockpit, the ability to hang Luke Skywalker underneath and even had a carrying handle. In addition, it came with four iconic minifigures, a motor and batteries. It retired in 2010 after a total of 38 months on the market.
LEGO Ultimate Collector's Millennium Falcon 10179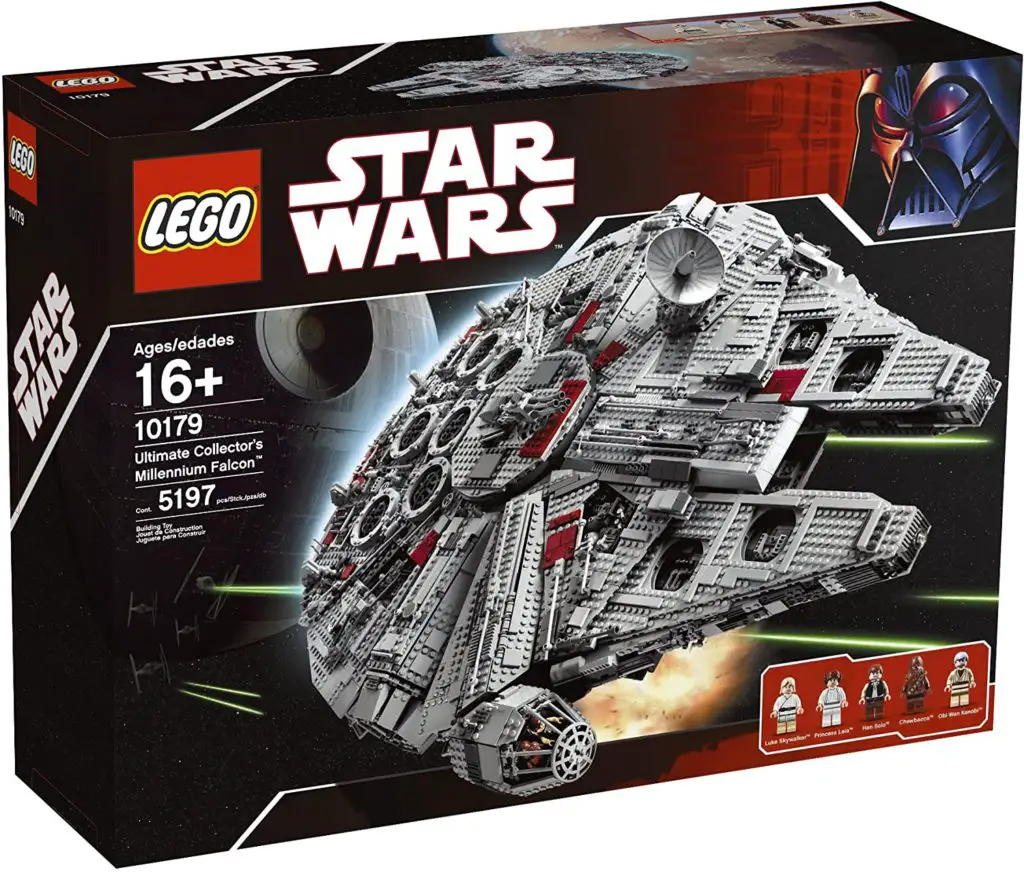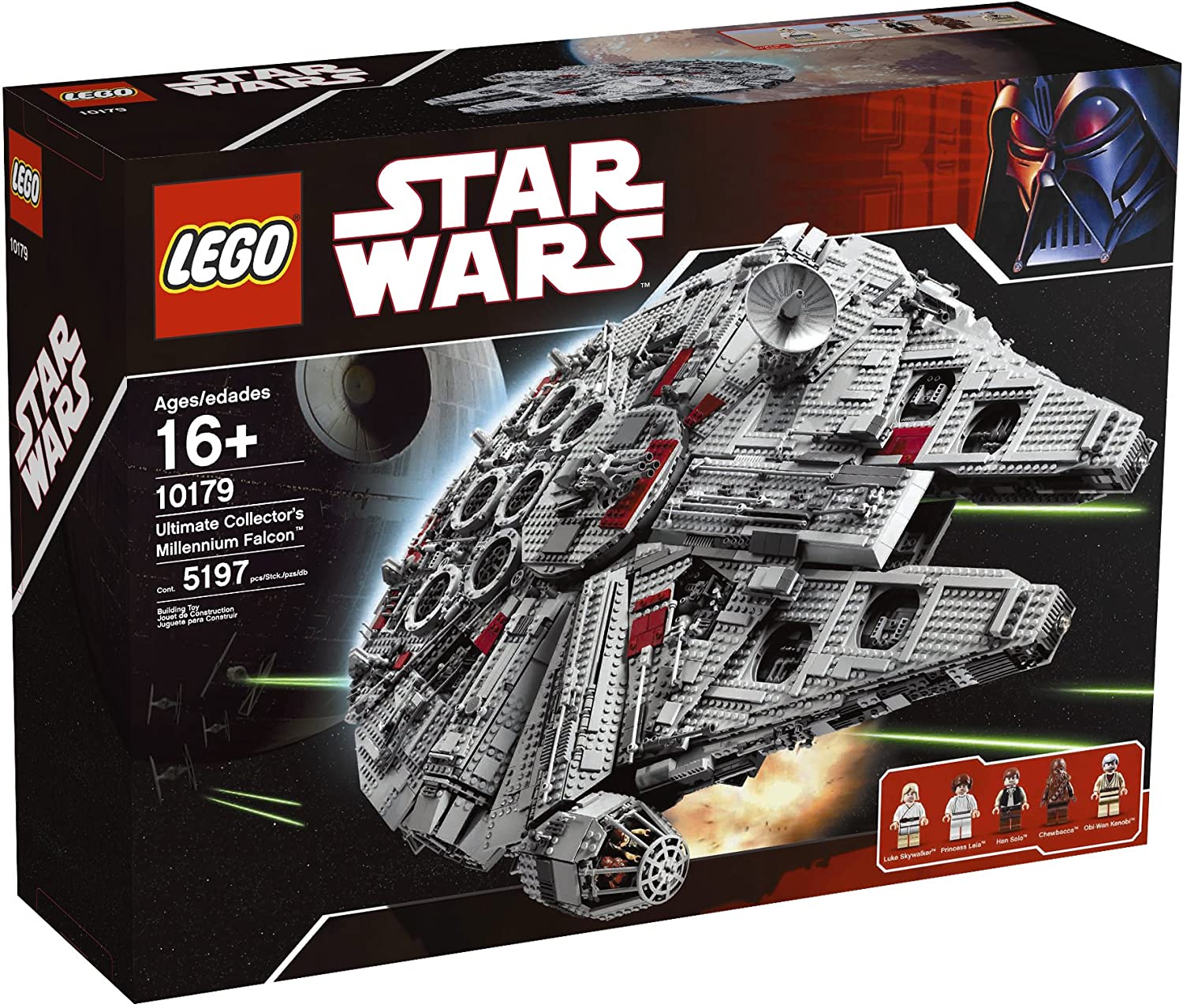 RRP: $499.99
Year Released: 2007
Pieces: 5197
Minifigures: 5
This millennium falcon was considered a game changer following its launch in 2007 and quickly became a lot of fan's favourite set from the series. The model's length is an impressive 84cm, had over 5000 pieces and was completely made to scale for the five included minifigures – making it once the biggest UCS set ever. Although it came out over a decade and a half ago, it is still a very valuable piece – being priced at over $1000, more than double its original $499.99 retail amount. It retired in 2010, after 31 months on the market.
LEGO General Grievous 10186
RRP: $89.99
Year Released: 2008
Pieces: 1085
Minifigures: 0
This is a unique set that has divided many fans. Its lack of information on the provided plaque, unstable build and questionable execution of the lightsabers leaves a lot to be desired for most. However, the iconic character is still generally well portrayed with all four arms spread out – making it an impressive display piece in its own right. It retailed for just $89.99 after being released in 2008, had 1085 pieces, no Minifigures and was retired in 2009, giving it a rather short time on the market.
LEGO Death Star 10188
RRP: $399.99 / €419.99
Year Released: 2008 (US) / 2009 (UK)
Pieces: 3803
Minifigures: 23
Despite being released more than a decade ago in 2008, this set is still extremely sought after by fans. With a staggering 3803 pieces and 23 iconic minifigures, this set's popularity drastically skyrocketed.
The many detailed rooms within the set equated not only to an exceptional display piece but also allowed lots of play for its targeted audience – 14 years and up. Many LEGO Star Wars fans to this day still consider this set to be a holy grail and a game changer for the UCS series as a whole.
LEGO Republic Dropship with AT-OT Walk 10195
RRP: $249.99 / €249.99
Year Released: 2009
Pieces: 1758
Minifigures: 8
Dubbed "two incredible Star Wars vehicles in one!" (Source Brickset) this was a fresh, unique take on the UCS collection. Its price of $249.99 once launched in 2009 was a sticking point for a lot of fans. Despite the large dropship, extensive details, lift system and a whopping eight Minifigures (6 Clone troopers and 2 Clone pilots) – many just didn't think it was an exciting enough set. It retired in 2011 after being on the market for 32 months.
LEGO UCS Imperial Shuttle 10212
RRP: $259.99 / €259.99
Year Released: 2010
Pieces: 2503
Minifigures: 5
This 2010 release is regarded as one of the best UCS sets of all time. With five Minifigures (three of which being exclusive), 2503 pieces and a slew of features including a rotating cockpit, movable landing gear and options to fold the wings up – it's no surprise that this set has performed exceptionally well after its retirement in 2012.
LEGO Obi-Wan's Jedi Starfighter 10215
RRP: $99.99 / €99.99
Year Released: 2010
Pieces: 675
Minifigures: 0
With just a total of 675 pieces, no minifigures and a price of $99.99, many found this a more affordable option from the UCS series after its release in 2010. It had a detailed interior cockpit, used a selection of more hard to find parts and made a slick display piece. It retired in 2012 after 17 months of being on the market.
LEGO UCS Super Star Destroyer 10221
RRP: $399.99 / €399.99
Year Released: 2011
Pieces: 3152
Minifigures: 5
This Super Star Destroyer was considered a wonderful build by fans and an accurate likeness to the real thing. Released in 2011, it came with five minifigures, over 3152 pieces and retired in 2013. It retailed originally for $399.99 but is now selling for over $1000 in sealed condition post retirement.
LEGO R2-D2 10225
RRP: $179.99 / €179.99
Year Released: 2012
Pieces: 2127
Minifigures: 1
In 2012, a buildable UCS R2-D2 was released. It included a multitude of features such as an interface arm, buzzsaw, opening hatches and the iconic third leg. It also came with a smaller Minifigure version of the droid and a unique plaque combined with a stand. Overall, this made for a very well liked set which was retired in 2014.
LEGO B-Wing Starfighter 10227
RRP: $199.99 / €199.99
Year Released: 2012
Pieces: 1486
Minifigures: 20
Released in 2012, this set included no minifigures, 1486 pieces and a multitude of appealing features such as a rotating, self levelling cockpit, flight or landing wing configurations and much more. However the set had a bulky stand which did not go down well with fans. The set retired in 2013, giving it a lifespan of just over a year.
LEGO Ewok Village 10236
RRP: $249.99 / €249.99
Year Released: 2013
Pieces: 1990
Minifigures: 16
There are numerous factors that continue to make this set very popular with fans. It features a unique layout with four large trees, 16 minifigures (excluding R2-D2) and an impressive array of details and functions. Fans agree this is a very accurate depiction of the movie's scene which also doubles up as a formidable playset. It had a lifespan of 38 months after being officially retired in November 2016.
LEGO Red Five X-Wing Starfighter 10240
RRP: $199.99 / €199.99
Year Released: 2013
Pieces: 1559
Minifigures: 1
This 2013 set is a remake of the 2000 X-Wing and has been dubbed one of the best UCS sets ever made by many fans.
Despite only including one droid and no pilot, the model pays great homage to its movie counterpart and is considered a stunning display piece by fans. It was priced for a very reasonable $199.99, came with 1559 pieces and retired after several years in 2015.
LEGO Sandcrawler 75059
RRP: $299.99 / €299.99
Year Released: 2014
Pieces: 3296
Minifigures: 7
The Sandcrawler was an important addition to the UCS series, as it is an iconic part of the Star Wars series, appearing in multiple films.
This a prime example of a feature packed set. While the set didn't include a display plaque, it did come with a wide selection of seven Minifigures and 3296 parts. Play features included opening panels, moving cranes, working steering, a removable top and much much more. It retailed for $299.99, was released in 2014 and retired in 2016.
LEGO UCS Slave 1 75060
RRP: $199.99 / €199.99
Year Released: 2015
Pieces: 1996
Minifigures: 4
Designed to encapsulate the iconic model from Star Wars: Episode V The Empire Strikes Back – the slave 1 UCS gunship did not disappoint fans. No attention to detail was spared thanks to the inclusion of a cockpit that rotates, wings for both landing and flight mode, hidden blasters to name a few. It was released in 2015, came with 4 Minifigures, 1996 pieces and finally retired in 2019.
LEGO TIE Fighter 75095
RRP: $199.99 / €199.99
Year Released: 2015
Pieces: 1685
Minifigures: 1
Launched in May 2015 this tie fighter contained just one redesigned Minifigure, a working opening top hatch and over 1681 parts. It had a lower, more affordable price point of $199.99 and a reasonable shelf life – retiring in December 2017.
LEGO Assault on Hoth 75098
RRP: $249.99 / €249.99
Year Released: 2016
Pieces: 2144
Minifigures: 16
Released in 2016, Assault on Hoth depicts the crucial moments from The Empire Strikes Back when the rebels are attacked at their base. Despite its 2144 pieces and large fifteen Minifigure selection, the set many fans did not think this set was well executed and that it didn't live up to the expectations they had for a UCS set focused on Hoth.
This set had 11 unique minifigures, including an Astromech Droid, Han Solo in a snow outfit, three Hoth rebel soldiers, K-3PO, Luke Skywalker in a snow outfit, a rebel officer, Toryn Farr, Wedge Antilles, and Wes Janson.
LEGO The Death Star 75159
RRP: $499.99 / €499.99
Year Released: 2016
Pieces: 4016
Minifigures: 21
This re-release of the LEGO Death Star came out eight years after the original and proved to be  a controversial set within the community. It was an excellent playset just like the first version of the Death Star, but some fans felt that there weren't enough improvements made.
This set is complete with 4016 pieces and a massive count of minifigures – 21 in total. It was released in 2016 and had a lifespan of 49 months before finally being retired.
LEGO Snowspeeder 75144
RRP: $199.99 / €199.99
Year Released: 2017
Pieces: 1703
Minifigures: 2
At a $199.99 retail price point, the Snowspeeder was a less bold and dramatic model but was still favoured within the community. Featuring moving pieces, an opening cockpit and two Minifigures – the set had everything fans wanted in terms of details.
At a comparatively lower length of 39cm, this made for a significantly smaller display piece but an impressive one nonetheless. It was the last UCS set to feature the traditional box art, was released in 2017 and later retired in 2019.
LEGO Millennium Falcon 75192
RRP: $799.99 / €799.99
Year Released: 2017
Pieces: 7541
Minifigures: 8
Released in 2017, this beast of a collector's set had an extremely long shelf life. The set was the first to incorporate the more understated, nuanced black box packaging and sold out on the LEGO website mere minutes after being first available to buy. Boasting a whopping 7541 pieces and 8 Minifigures, the huge, iconic collector's set is already deemed a classic by most.
The steep $799.99 and sheer size of this iteration of the Millennium Falcon make this piece not particularly playable and rather more suited for displaying, which actively reflects the 16+ targeted audience. 
LEGO Y-Wing Starfighter 75181
RRP: $199.99 / €199.99
Year Released: 2018
Pieces: 1967
Minifigures: 2
This amazing upgrade introduced new, exciting minifigures and a sleek, much cleaner colour scheme. It features a cockpit that can be opened, wheel-activated rotating ion cannons on top and much more. Builders concur that the set is extremely well designed and therefore remains stable even when picked up for playing with.
This set was extremely highly reviewed during the initial years after its release, which made it a must-have addition to the series for many fans.
LEGO Imperial Star Destroyer 75252
RRP: $699.99 / €699.99
Year Released: 2019
Pieces: 4784
Minifigures: 2
It is safe to say this set is huge and dwarfs nearly all of its predecessors. It has a formidable length of 110cm and stands over 43cm high when including the stand. 
It first came out in 2019. It has a notably  large build and is bulky with a pretty consistent grey colour scheme throughout. Only two Minifigures are included and there aren't many playable features, making this far better suited as a display piece. That said many have complained about its unstable structure while others rate it as their favourite model from the entire series.
Its a model that was based entirely on accurately depicting the opening scene from Star Wars: A New Hope and with details such as moving turrets, radar dishes and even a separate smaller starship, it's no wonder many love this set.
LEGO A-Wing Starfighter 75275
RRP: $199.99 / €199.99
Year Released: 2020
Pieces: 1673
Minifigures: 1
With its lower price point, the A-Wing Starfighter was a more affordable opportunity for collector's after its release in 2020 with it's $199.99 price point. It is universally agreed within the community that the model is well proportioned, aesthetically pleasing and offers an accurate depiction.
However with just one Minifigures, its complex shape and lack of stability has stopped this from being a must-have for most. It retired in 2021 giving it a rather short shelf life overall.
LEGO Republic Gunship 75309
RRP: $349.99 / €349.99
Year Released: 2021
Pieces: 3292
Minifigures: 2
The gunship was a solid build and well received by most of the LEGO community after its initial release in 2021. The main reason for this is because it was voted by fans themselves to be included in the series after being given the opportunity to have their say through a LEGO Ideas poll.
It's safe to say the angles, size and build of this set were the main factors that appealed after coming with only a lacklustre 2 Minifigures. At $349.99 for 3292 pieces it's not a surprise this set is on most collector's shelves. 
LEGO AT-AT 75313
RRP: $799.99 / €799.99
Year Released: 2021
Pieces: 6785
Minifigures: 9
Released in 2021, this collector's set stands at a massive 62 cm tall and has enough room inside to hold 40 minifigures. It remains a firm fan favourite due to its impressive features, size and overall attention to detail despite its equally sizable $799.99 price tag on release.
At the time of release, LEGO AT-AT 75313 was the largest LEGO Star Wars UCS set to ever be released, with a whopping 6785 pieces in the box, and took the crown from the LEGO Millennium Falcon 75192 which was previously the largest UCS set in terms of piece count.
LEGO Luke Skywalker's Landspeeder 75341
RRP: $199.99 / €199.99
Year Released: 2022
Pieces: 1890
Minifigures: 2
LEGO Luke Skywalker's Landspeeder was released in 2022. With only two minifigures included, this set received mixed reviews from LEGO fans. However, there is no denying how impressive it is when on display. It comes with a detailed plaque, 1890 pieces and the minifigures for Luke Skywalker and C-3PO.
Final Thoughts
Seeing the LEGO Star Wars Ultimate Collector's Series sets all in one list here is really a reminder on how far this sub-theme has come, and the amazing things that have been accomplished since it was created. There are so many incredibly iconic sets in this list, and looking through every LEGO Star Wars UCS set ever released makes me feel that this is quite possibly the greatest sub-theme in the world of LEGO.
If you would like to see more incredible lists of every LEGO set in a theme, we made one that walks through every single LEGO Lord of the Rings set ever released. Check it out here!