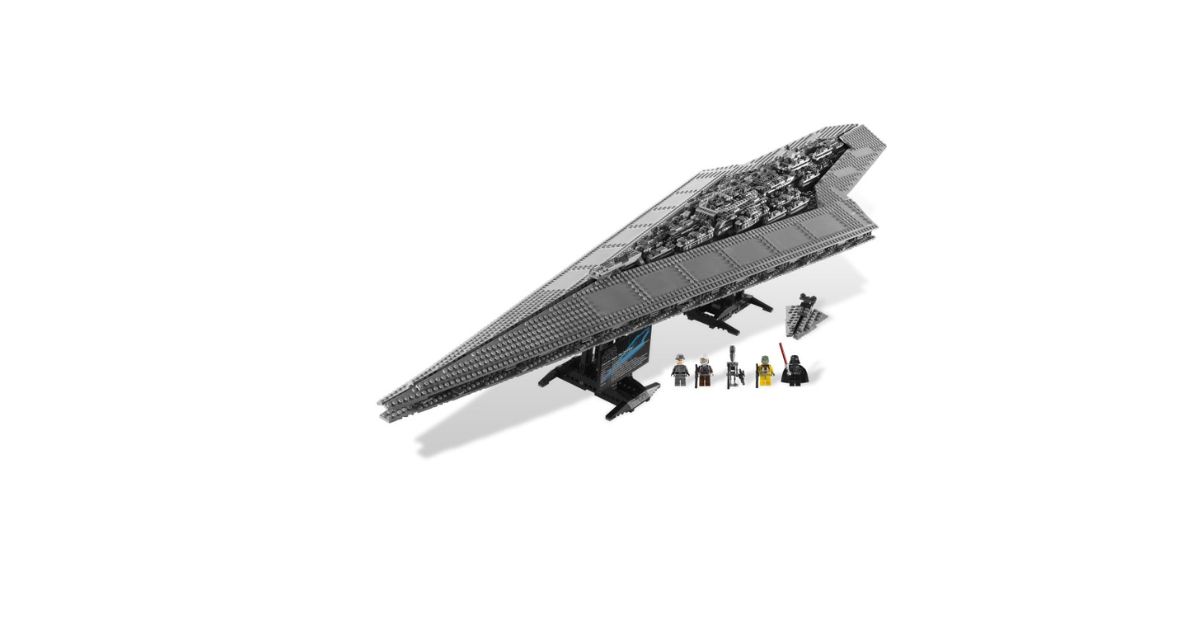 LEGO and Star Wars. What more needs to be said about this duo other than that? In 1999, The LEGO Group partnered with Lucasfilm, and ever since it has been a beautiful marriage of two icons. The combination of the world's most popular toy alongside one of the world's most renowned movie franchises has provided LEGO fans of all ages with a plethora of legendary sets.
LEGO Star Wars is one of the most popular LEGO themes to date.  Within this theme, there are many iconic spaceships.  In this list, we cover every LEGO Star Wars Star Destroyer set that have been released, including one key chain (bag charm).
The LEGO Star Destroyer sets range from tiny micro builds to full-on display pieces worthy of any Star Wars collector.  The first set on this list was released in 2002 with the most recent being released in 2019 and still available for purchase today.
This set was a mini build of the iconic spaceship on a micro-scale. The Star Destroyer is easily recognizable even in a miniature version thanks to its command bridge.  Even though this set only features 87 pieces, surprisingly this isn't the smallest set for such an iconic ship, on this list. The main focus of this set is its mini-building size. Unlike the larger variations with more detail, this miniature version does a great job of bringing the ship to life.
LEGO Star Destroyer 4492 was released on Jan 1, 2004, and retired in December of the same year giving it just 1 year of shelf life.
The next set on this list kicks it up a notch with its size, playability, and abundance of Minifigures. The main focus of this set is its playability with its lasers, rotating turrets, and locations for Minifigures, especially in the bridge of the ship allowing the Imperial Officer to be at the helm.
The set contains 9 Minifigures including R2-D5, Darth Vader, Grand Moff Wilhuff Tarkin, Imperial Officer, 2 of the Imperial Stormtroopers, Mouse Droid, and 2 of the Royal Guards with Red Hands. R2-D5, the Imperial Officer, and Imperial Stormtrooper are all unique to this set.
The set was released in June 2006 and retired in December 2008 giving it a shelf life of just over two and a half years.
This LEGO Midi-scale Imperial Star Destroyer set finds itself in a unique position being in the exact middle, or median of the other sets by piece count. Light bluish gray plates and wedges are used throughout to give the color of the ship while darker pieces are used to create contrast and a theme that will be seen quite often throughout this list.
This set contains 423 pieces putting it right in the middle of the larger UCS style sets and the mini builds. No Minifigures were included in this set. This set like most sets on this list uses an abundance of light and dark bluish gray plates, tiles, and wedges to create the overall shape of the ship. You get some round dome-style pieces to sit atop the ship's bridge to create the deflector shield generator.
The set was released in Aug 2010 and retired in December 2010 giving it a short shelf life of just shy of 5 months.
This set is massive. It is the complete antithesis of the smaller sets on this list just by its sheer length.  Nothing even comes close to it. Or so we thought in 2011 (wait to see what was released in 2019!)  The closest set in length, LEGO Imperial Star Destroyer 75252 is still over half of a foot shorter at 43 inches.  Go big, or in this case long, or go home should be the motto for this set.
Coming in at almost 50 inches long (124.5cm) it is by far the longest ship on this list.  The set came with 3,152 pieces and 5 Minifigures. The Minifigures included in this set are Admiral Firmus Piett, Bossk in Sand Green, Darth Vader with White Pupils, Dengar, and IG-88. It also comes with a miniature Imperial Star Destroyer to help reference its gargantuan size in the Star Wars universe.  With this set being a part of the UCS series, it includes a display stand for any collector to proudly display along with a UCS plaque giving all the specifications of the ship itself.
The set was released in September 2011 and retired in December 2014 giving it a shelf life of 3 years and 3 months.
The second mini build of the Star Destroyer on this list uses fewer pieces that the first but depicts the ship quite well, even in its minuscule version.  Again, light bluish gray wedges and pieces dominate the set with some darker pieces sprinkled throughout to add contrast.
This set included 38 pieces consisting of light bluish-gray wedges, slopes, and jumpers.  The set also included dark gray plates, grates, studs, and slopes to create the contrast seen in the movies.
The set was released in March 2012 and retired that same year. It had a limited release globally.
A micro build of the First Order Star Destroyer, this set uses wedge plates to make up the structure of the ship and grille tiles to add texture to the spaceship.  This allows it to depict the First Order Star Destroyer in a scaled-down form. 
This set contains only 56 pieces making it the fourth smallest set on this list.  The set is comprised mainly of light bluish gray tiles, wedges, and angle plates to create the LEGO First Order Star Destroyer in its miniature form.
The set was released in January 2016 and retired in December 2016 giving it a shelf life of just one year.
You can tell this set was designed with a lot of attention to detail. With 7 Minifigures and 4 stud shooters on each side, this set is sure to keep the Rebels in check. Adults and kids are sure to have a blast protecting their piece of the Empire with LEGO First Order Star Destroyer.
This set has 1,416 pieces, making it the fourth largest set by piece count on this list.  The set also came with 7 Minifigures, which tie for the second most of any set. Three of the Minifigures are exclusive to this set. The Minifigures included in this set were BB-9E, First Order Medical Droid, First Order Office, First Order Shuttle Pilot, First Order Stormtrooper, First Order Stormtrooper Squad Leader, and Supreme Leader Snoke. 
The set was released in September 2017 and retired in Oct 2019 in North America giving it a shelf life of two years and one month.  It has a shorter shelf life in the UK/EU being sold only until May of 2019 with a shelf life of 1 year and 8 months.
The LEGO Imperial Star Destroyer 75252 looks amazing with its potential for display and stature. Its presence is overwhelming and for perfectly good reason, the designer Henrik Anderson has designed over 150 LEGO sets since they started working for The LEGO Group in 1998.
We have now made it to the largest set on this list by piece, and it is a behemoth! Coming in with 4,784 pieces, it dwarfs the next set by over 1,600 pieces! Besides the large piece count, you also get over 3 feet of length for an impressive display size and two Minifigures; both of which are unique to this set. The Minifigures included are Imperial Crewmember with Printed Arms and Imperial Office with Dual Molded Legs. 
The set was released in October 2019 and is expected to retire in December 2022 giving it a potential shelf life of 3 years and 3 months.
Final Thoughts
LEGO Star Wars Star Destroyer sets are packed with incredible sets with their unique flair to keep LEGO Star Wars fans coming back for more. If you are looking for sets that are impressive to display, have high levels of entertainment, or even just enjoy the micro-scale of this iconic Star Wars ship, there is something for every Star Wars lover, of all ages!
If you enjoyed checking out this list, then you may also love this article we wrote which walks through every LEGO The Hobbit Set Ever Released – check it out here!