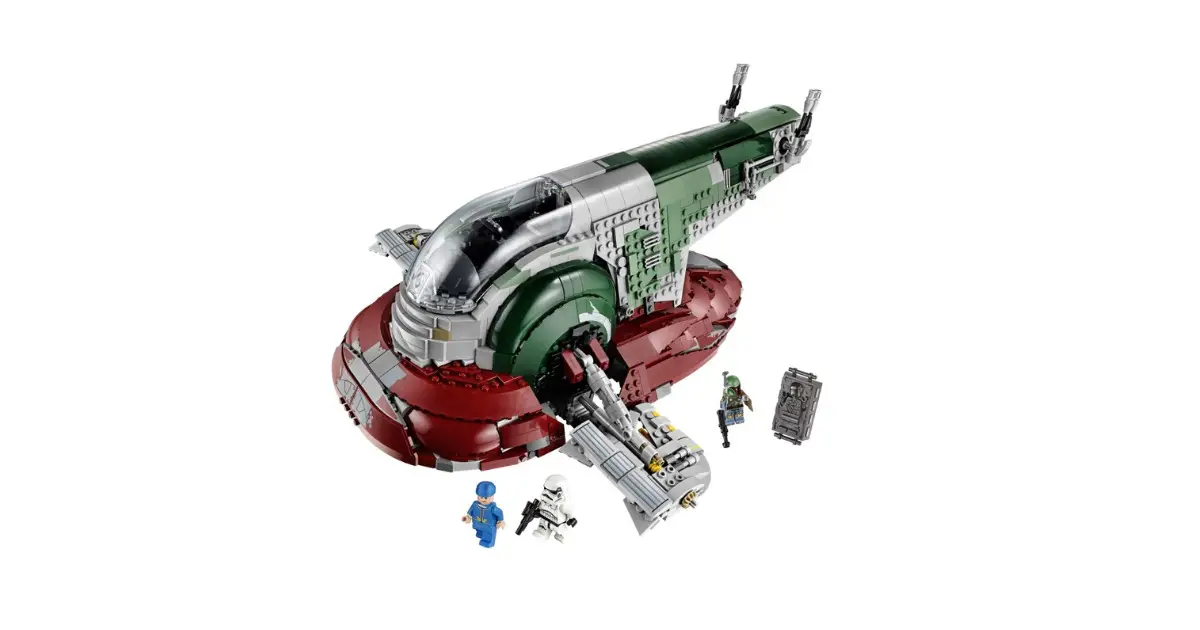 The LEGO Group, which was introduced in 1932 as a Danish toy production company, has achieved unparalleled success within its industry. It was in fact the founder's son who orchestrated the production of the familiar interlocking plastic bricks we know and love to this day. In 1999, LEGO sought alternative ways to boost their audience and increase marketability. They elected to introduce third-party intellectual property partnerships, which began with a partnership with Star Wars – a relationship which still exists today. This innovative and unexampled strategy was effective at amplifying its customer base and inventory. They have since built up strong relationships with reputable and enormously popular brands such as Disney, Marvel, DC, Minecraft and Harry Potter, to name a few.
In this article I will be compiling a list of every Slave 1 set ever released, in chronological order. For each set, I will outline the recommended retail price, shelf life, piece count and number of minifigures.
Before we begin, we should first look into the origin of the formidable Slave 1 and its influential contribution to the Star Wars series. The spacecraft first appeared in Star Wars Episode V: The Empire Strikes Back, which was released in 1980. Its first known owner and pilot was Jango Fett, an infamous bounty hunter and the clone template of the Grand Army of the Republic. During Jango's period of ownership, the spacecraft was equipped with an arsenal of both conspicuous and inconspicuous weaponry. Jango's son (unaltered clone), Boba fett, acquired the infamous ship following the death of his father, and subsequently made his own modifications. These included shield generators, weapons and sensor systems.
LEGO Slave 1 7144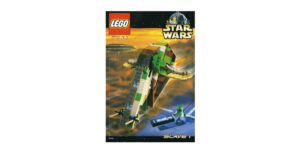 RRP: $20
Year Released: 2000
Pieces: 166
Minifigures: 2
Slave 1 7144 was the first rendition to be introduced into the collection, consisting of 166 pieces and 2 minifigures, to include Boba Fett and Han Solo in Carbonite. Despite the ship being a relatively small and uncomplicated build, its characteristics and playability ensure its prominence amongst its counterparts. The selection of basic parts can be attributed to the date of release as there was a lack of brick variety and building techniques which are common in the present day. The minimal building style and absence of exclusive minifigures regrettably reduce the desirability of this set.
Released on 1st January 2000 and retiring on 31st December 2001, this revolutionary set had a shelf life of 2 years.
LEGO Jango Fett's Slave 1 7153
RRP: $50.00 | £44.99
Year Released: 2002
Pieces: 369
Minifigures: 2
Jango Fett's Slave 1 comprises 369 pieces and 2 minifigures. These include Jango Fett (Balaclava Head) (exclusive) and Boba Fett, Young (exclusive). The minifigures alone make this set highly attractive, with a used Jango Fett (Balaclava Head) currently costing roughly £300 on the secondary market. A used Boba Fett, Young is presently valued at a respectable £18. Aside from the value aspect, Jango Fett's printed torso is well detailed, together with the accompanying jetpack and helmet. This was an easy build with good weaponry incorporated into the vehicle. There are some minor elements that deviate from the source material, but overall LEGO have created a fair representation with this set.
Jango Fett's Slave 1 was released on 23rd April 2002 and subsequently retired on 31st December 2003, giving it a shelf life of approximately 1 year 8 months.
Interestingly, and rather unusually, there was a limited edition release which contained both Jango Fett's Slave 1 7153 and a bonus LEGO Star Wars themed carry case (65153). I have intentionally omitted it from this list as it is ultimately the same set repackaged.
LEGO Jedi Starfighter & Slave 1 4487
RRP: $4.00 | £3.99
Year Released: 2003
Pieces: 53
Minifigures: 0
This set consists of 53 pieces and 0 minifigures. It portrays the interaction which transpired between Boba Fett and Obi-Wan Kenobi in Star Wars Episode II: Attack of the Clones. LEGO did well to capture the scene in a miniscule form. The price is exceptionally generous, with a price per piece of 7.5c. This set would suit young or perhaps inexperienced collectors, serving as an introductory build of sorts. It lacks playable functionality but that is understandable given the size.
Released on 1st January 2003 and retiring on 31st December 2003, this set had a short shelf life of just 12 months.
LEGO Slave 1 6209
RRP: $49.99 | £39.99
Year Released: 2006
Pieces: 537
Minifigures: 5
Slave 1 6209, modelled after Star Wars Episode V: The Empire Strikes Back, comprises 537 pieces and 5 minifugres, which include Boba Fett, Dengar (exclusive), Bespin Guard (exclusive), IG-88 (exclusive), Han Solo in Carbonite. The assortment of minifigures is appreciated in light of the relatively inexpensive retail price. The designers use Technic pieces to help provide stability for the hull, and make excellent use of the interior space, allowing for hidden missiles, a gun rack and storage boxes. The cockpit can cleverly rotate to match the configuration of the ship, whether that be flight or landing. As with other editions, a cargo bay is present for Han Solo (in his carbonite form) to be stored during transit.
This set was released on 1st January 2006 and retired on 31st July 2007, giving it a moderately short shelf life of 1 year 7 months.
LEGO Slave 1 8097
RRP: $79.99 | £81.99
Year Released: 2010
Pieces: 573
Minifigures: 4
This set consists of 573 pieces and 4 minifigures, to include Han Solo (exclusive), Boba Fett – Pauldron (exclusive), Bossk – Sand Green, Han Solo in Carbonite. A price per piece count of 14.0c makes this set the most expensive in the collection. Unfortunately, not a tremendous amount has changed from the previous versions. It is also well documented that the cockpit windshield often comes loose and thus care should be taken when handling, which, to some, detracts from the playability. Several minor additions have been implemented, however, such as Boba Fett's helmet now being completely detached from his jetpack, and Han Solo's Carbonite piece being redesigned to encase the actual minifigure within the mould.
Released on 1st June 2010 and retiring on 31st December 2011, Slave 1 8097 had a shelf life of approximately 1 year 7 months.
LEGO Slave 1 75060
RRP: $199.99 | £179.99
Year Released: 2015
Pieces: 1996
Minifigures: 5
Slave 1 75060 comprises an astonishing 1996 pieces and 5 minifigures, which include Imperial Stormtrooper, Boba Fett – Pauldron (exclusive), Bespin Guard – Light Nougat (exclusive), Han Solo (exclusive) and Han Solo in Carbonite. This particular model is part of the Ultimate Collector Series (UCS), which was first introduced in 2000, shortly after the introduction of the Star Wars licensed theme. The UCS subtheme allows LEGO the flexibility and freedom to depict selected vehicles in a grander light, allowing for a greater amount of detail and the use of more varying bricks. Whilst it can reduce the set's playability, it enhances its displayability. This increased scale demands a higher retail price, which older collectors are likely to accept and pay. The majority of the minifigures are reasonably unremarkable, although Boba Fett has exquisite detailing, from his helmet through to his legs. The overall design of the spacecraft has been well represented, with a good balance of mechanical detailing and aesthetic appeal.
Slave 1 75060 was released on 1st January 2015 and retired on 31st December 2018, equating to a colossal shelf life of 4 years.
LEGO Slave 1 – 20th Anniversary Edition 75243
RRP: $119.99 | £109.99
Year Released: 2019
Pieces: 1007
Minifigures: 6
This monumental 20th Anniversary Edition of the Slave 1 contains a considerable 1007 pieces and 6 minifigures. These include Boba Fett – Pauldron Cloth, 4-LOM, Zuckuss (exclusive), Han Solo in Carbonite, Han Solo (exclusive), Princess Leia (exclusive). They are all fairly desirable, with Princess Leia being a notable inclusion to celebrate the 20th anniversary. This set boasts Technic parts in order to keep the stability of the build, and a number of sand green and transparent pieces for variety. The ship is equipped with two rotating blaster turrets, together with two spring-loaded shooters. There is also a handle at the bottom of the ship which allows for manoeuvrability and again, demonstrates LEGO's ingenuity for playability. The colour scheme is accurate, shown as red, grey and green. Whilst stickers have been included, they are not overbearing in the building experience.
This set was released on 1st April 2019 and retired on 31st December 2020, giving it a shelf life of 1 year 9 months.
LEGO Boba Fett's Starship 75312
RRP: $49.99 | £44.99
Year Released: 2021
Pieces: 593
Minifigures: 2
The most recent iteration of the spacecraft is Boba Fett's Starship, comprising 593 pieces and 2 minifigures, to include The Mandalorian and Boba Fett. Whilst neither minifigure is exclusive to this set, they are both incredibly detailed and accurate to their source material. This set is based upon The Mandalorian, a television series which first aired in 2019.
Currently spanning two seasons, it depicts the adventures of Din Djarin, a Mandolorian bounty hunter who vows to protect an infant named Grogu, whilst concurrently battling with his own emotions and identity. It has amassed a wide audience, with season three due to air in the former half of 2023. This set offers tremendous value for money with a price per piece of 8.4c.
Whilst the build is smaller than some of the other recent variations, this model evidences LEGO's continuous innovation. A boarding vehicle is included as a separate build and allows the Starship to be propped up in its flight configuration which makes for an outstanding display. It also enables the Starship to be shown from the underside, which is moderately textured and decorated with orange bricks. The cockpit has been designed generously, sufficient for one minifigure to pilot.
You may be curious as to the reason for the seemingly abrupt name change. The Walt Disney Company acquired Lucasfilms in October 2012, and in doing so, Lucasfilms assumed Disney's brand image, ideologies and values. In 2021, LEGO Star Wars Lead Designer Michael Lee Stockwell stated that they were no longer referring to the ship as "Slave 1". He also intimated that, "it is just something that Disney doesn't want to use anymore." Whilst Disney has not announced the change formally, it can be inferred that they wish to disassociate the term with their intellectual properties.
It was also likely changed to ensure that the content and merchandise continue to appeal to children – to attract and retain that demographic. Whilst fans initially appeared frustrated with this change, the waters now seem to be settling. Boba Fett's Starship was released on 1st August 2021 and is yet to be retired.
Final Thoughts
In summary, the renowned spacecraft piloted by Jango Fett (and later Boba Fett) has progressively improved since its first introduction in 2000, both in size and complexity. The LEGO Group has done well to model the ships in accordance with their respective source material, whilst retaining the usual robustness and playability for an expansive audience. In recent years, the name behind the ship has not been without its tribulations, but Disney has made proactive decisions to reflect a more contemporary society. Boba Fett's Starship 75312 is the only set currently available at retail and will likely retire in 2023, based on the historical data.
If you enjoyed this list, why not check out my article on every Y-wing set ever released. We also have an extensive selection of videos available on our YouTube channel, Brick Bucks, make sure you come take a look!