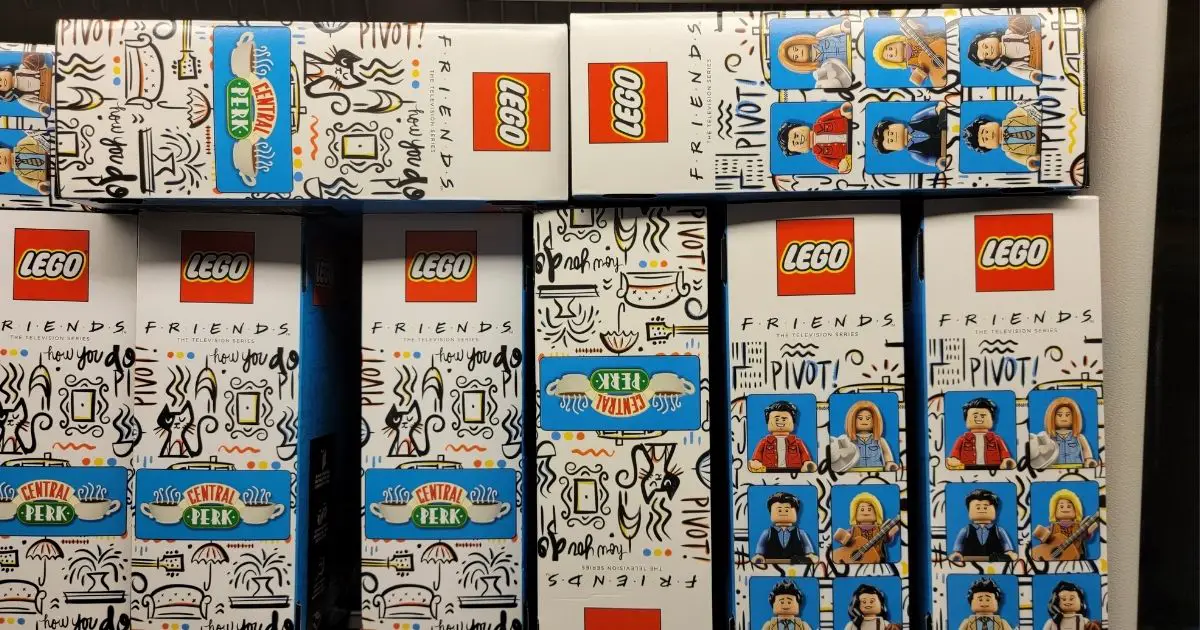 In recent years, investing in LEGO sets has become an even more popular way of making a side income for many LEGO fans and online business owners. Due to LEGO sets being able to consistently produce incredibly high returns on investment, investing in the sealed LEGO sets, storing them for a while, and then selling them online is becoming a more and more popular way to make money.
However to properly maximize your return on investment and achieve impressive profit numbers with LEGO investing, there are a number of things that should first be taken into account.
To invest in LEGO sets so that they grow in value, the goal is to buy sets that will soon stop being manufactured by The LEGO Group. When a set is 'retired' and no longer manufactured, its value will begin to rise on marketplaces such as eBay or Amazon. By holding these LEGO sets in storage while the values rise and then selling them later, you can achieve very quick growth in your money.
Whether you're brand new or a seasoned investor, you're in the right place. Read on to learn more.
When should I invest in LEGO sets?
Also known as the "buy-in time", the decision of when to invest is an extremely crucial one. Most LEGO sets will appreciate in value once they have been retired, meaning the LEGO Group will have stopped the production of them completely. It is at this point supply is limited, which then drives the market price higher, because demand often continues to be strong even after the set has been retired. This creates an extremely lucrative opportunity for investors. 
So when exactly is the best time to invest? 
To begin with, arguably the greatest time to invest in any LEGO set is during the set's retirement year. This means that the set is coming to the end of its shelf-life in retail stores, and therefore it will spend the least amount of time in your storage after you purchase it. Buying a set right before it retires will minimize your hold time, and maximize the time that the set is actually growing in value.
If you want to know what sets are retiring soon, you can get an entire list of them here.
It is important to be disciplined and not buy a set immediately after it has been released, as it could mean you will have it occupying precious, limited space for up to three years before it's retired or you can shift it. 
The next best time to buy is when it is available to be purchased at a discounted price. The reason for this is that it will serve to further increase your overall ROI (return on investment).
This doesn't have to be only during special sales events like Black Friday or Prime Day either – deals can be found everywhere throughout the year. They will differ depending on where you are located in the world but the main thing to always keep in mind is that the lower the buy-in price, the higher the profit margin – so snag a bargain on the sets you have in your sights whenever you can. 
Combining both of these things together and buying sets when they are both nearing retirement and also discounted is a great strategy.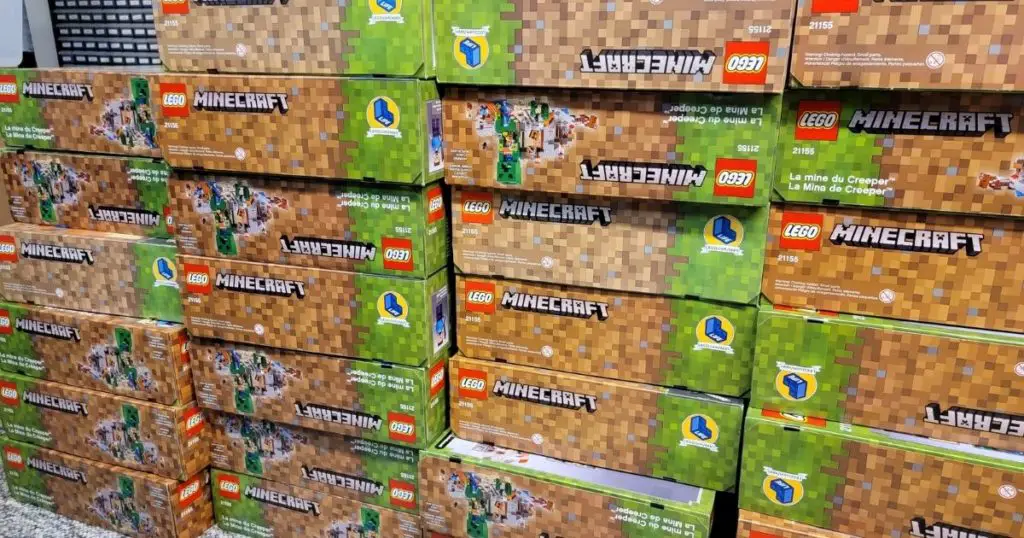 How can I buy LEGO at a discount?
Waiting for great deals from the retailers isn't the only way we can buy LEGO sets for below their regular retail price.
There are a multitude of different ways to increase profit margin that don't just include buying sets at discounted rates. One such method is to utilize cashback websites. Before making any LEGO purchase online, check out a number of cashback websites first since many will pay you rewards. Websites such as Rakuten offer cashback to people simply for clicking through their website before going to your usual retailer website and making a purchase.
These numbers will quickly add up and could even mean a "free" set with all of the accumulated purchases by the end of it. At the very minimum it is a great way of reducing cost and increasing that all important profit margin.
Another fantastic way to maximize your investment is to take full advantage of the frequent gift with purchases the LEGO group offer throughout the year. For instance, in addition to your initial purchase, you could also receive a totally free, time-limited set. This free set could then be stored and sold later or quickly flipped – all for a profit, which helps to reduce the amount you paid for the main set you bought. Many investors like to take this route, particularly when the set they want to invest in is only available directly from the LEGO group. It's certainly something worth considering on top of everything else.
There are many other great ways to create a profit margin from thin air with LEGO investing. If you want to learn more, subscribe to the Brick Scoop newsletter where we share tips and tricks.
What LEGO sets should I invest in?
The importance of research when investing in LEGO can not be overstated. There are hundreds of sets and themes on the market at any given time but not all will return high numbers even after they have retired. 
When deciding which LEGO set(s) to invest in, identifying key indicators that point to the probability of them developing into high performing sets can be very advantageous. Exclusive minifigures and pieces, sets with a high collectible value and are extremley sought but have a low supply after are a few examples that have historically added value to a LEGO set.
When your chosen set is out of stock, does the price jump on Amazon? Is the set frequently out of stock? Is the set only available from LEGO.com, one retailer or multiple retailers? How is it performing on the secondary market before it has even retired? Is it likely to spike in interest after a future movie or TV series is released? 
These are important questions you can ask yourself to figure out the likelihood that the set will be a winner.
It can feel overwhelming when first faced with the decision of what to buy out of a sea of sets but these are all fantastic questions to to get you started in further revealing the potential value of a LEGO set.
Another consideration to make is the varying popularity of sets depending on location. Not all LEGO sets are available in certain countries – for example the blue Fiat 500 was limited to European buyers only. This adds yet another layer of low supply and high demand by being extremely limited. 
A good tip is to try and leave emotion out of buying decisions too. You may not agree with a certain theme being that interesting but if the demand is there, it will still sell. So instead, be sure to make knowledge based, strategic choices grounded in research which suit your individual investing approach. 
Overall, there are a wide variety of opinions out there on exactly what to invest in and so it may also be tempting to follow the crowd and invest in what everyone else is recommending but this could lead to an overcrowded market and being stuck with sets you have very little knowledge of. Instead, you should create your own idea of which sets and themes you personally feel will be high performing and popular.
While you should always do your own research before investing, the above examples are things to definitely look out for when seeking a potential gold mine.
For a great starting point, you can check out this list of sets that we think have a good chance of doing well as an investment.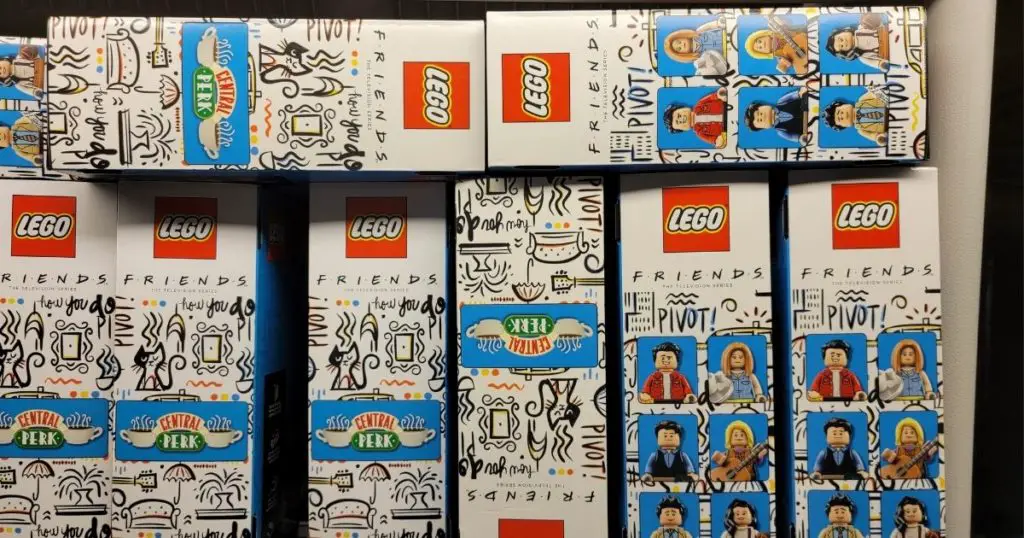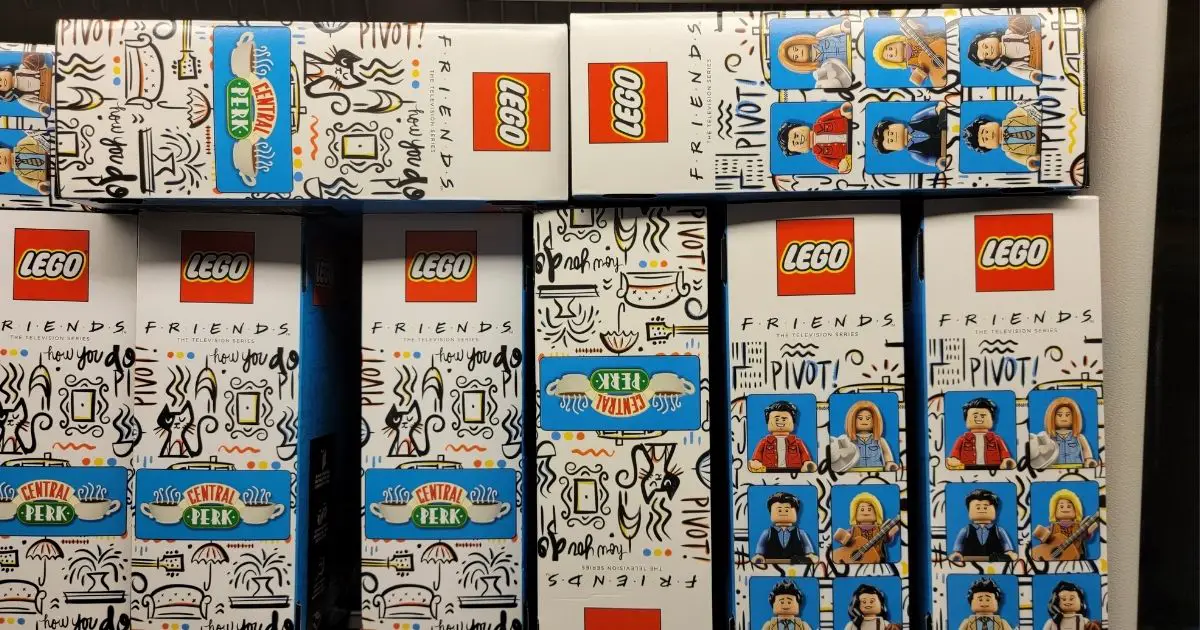 How much money can I make from investing in LEGO?
Although the answer to this question is entirely dependent on how much you are investing, BrickBucks community members have been able to achieve impressive annual returns on investment ranging from 60-120%. It is absolutely possible to double your money if done correctly. It's just a case of knowing how to do so. These results are not guaranteed of course, and every LEGO investor must do their own research and due diligence and make their own business decisions.
It may be hard to believe that there is a massively lucrative opportunity from investing in LEGO but when compared to other traditional investment approaches – LEGO certainly makes its mark. Take for example the average annual return of the stock market (S&P 500 index fund) being 8-10%, or Gold at 10%. These are all low figures in comparison to the impressive ROI that we see from LEGO investors.
Returns can vary significantly, just like any other sort of investment but LEGO Investing has proven historically time and time again to be a very reliable and consistent way to achieve high figures in a surprisingly short amount of time.
These figures continue to further increase if compounded. What is compounding? To put simply, it is reinvesting any money made to purchase more stock and therefore create even more profit. For example, buying one set for $50 and selling it for $120 ($100 after your selling fees). Then using that $100 to purchase two sets the next time, selling those for $240, and so on.
However, there are also numerous costs involved when it comes to actually selling your investment(s). Popular marketplace platforms like eBay and Amazon charge fees which will eat into profits. So these costs should certainly be taken into account before selling or investing. Of course, some platforms like Facebook Marketplace local deals are free to use so this could be an even better choice. 
It should be noted that LEGO Investing is not passive – it requires more work and time than lots of other investment methods but it is worth it when taking in mind the possible returns. Therefore, it is without a doubt that LEGO sets can provide a very high and healthy return on investment if done correctly.
What tools do I need for LEGO investing?
When it comes to LEGO Investing and selling, there are numerous tools that can greatly assist with efficiency and cost reduction. The following is a quick rundown of the basic tools to get you started. 
Label Printer
You could find yourself needing multiple labels printed at any time so investing in a good, reliable printer is a necessity. A thermal label printer could be the best approach here. This allows you to print labels quickly and efficiently to slap on the box that you are shipping out. The one that I recommend is the Rollo label printer – this printer is absolutely amazing, and requires no ink!
Shipping Supplies
This includes tape, boxes, air pillow machines, a cart etc.
While shipping supplies are one of the biggest costs for any investor, it is vital that your LEGO sets are shipped in quality packaging to ensure a safe arrival. The last thing you want is to lose out on profits because the packaging was skimped on. It is a worthy expense to get right and can save time, money and effort down the road. Therefore the quality of any materials you decide to use should be thoroughly taken into consideration.
Uline is a great website to source boxes for shipping sets in. You can also try eBay – there are often some great deals when you buy in bulk!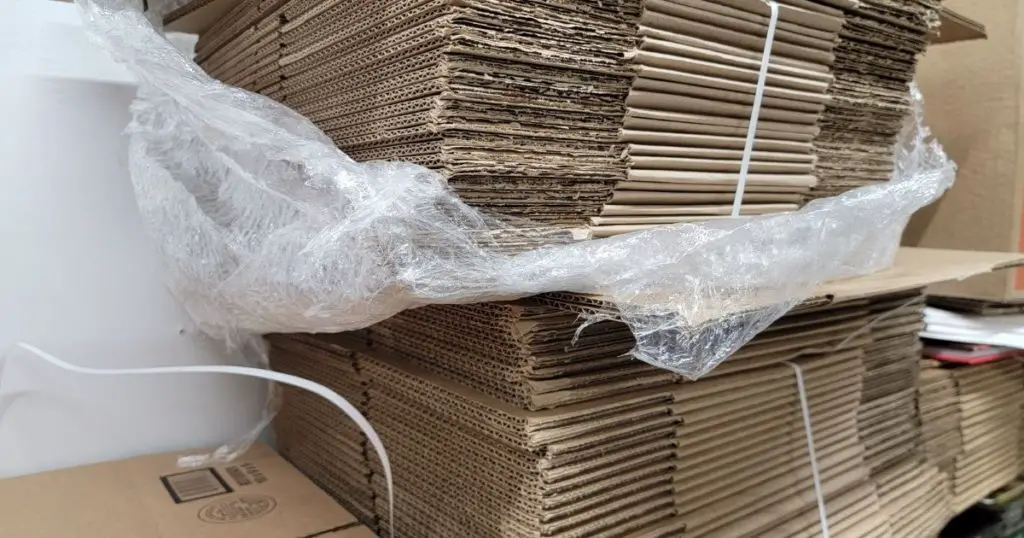 Storage Solutions
With LEGO investing, we need to store the sets for a while. Frequently referred to as "hold time", this is the period in which you will store sets before selling them. During this time you are going to need some somewhere safe and preferably out of the way to keep all of your investments. Hold times will differ depending on an investor's individual strategy but it can range from a few months, right up to several years. 
Storage is a critical factor when it comes to LEGO investing but is an often overlooked one. Like any other asset, sets should be kept in good condition by minimizing the risk of any damage to the boxes during their long term in storage. This therefore requires keeping them somewhere that is ideally dry, away from the sun, pets and insects etc. Equally, while stacking sets on top of each other may seem like a solution and good option to conserve space – there is a limit to how high you should stack, as it greatly increases the likelihood of boxes bulging which can then cause seals to break.
With this knowledge, a lot of individuals choose to invest in simple, cheap shelving units to line up sets side by side in spare rooms in their home. Not everyone is able to accommodate for a large amount of space though so boxes are another possible solution many choose to use as an alternative. Others even have separate storage units dedicated solely for all their investments which can be a fantastic decision in the long run. There is really no right or wrong choice when it comes to storing sets provided they are kept safe and protected.
If safety and protection are top of your requirement list, then using plastic tote bins may be the best option for you. This can help to protect from moisture or leaks, while also providing a hard shell around your inventory. This also means that they can be stacked higher than cardboard boxes.
Overall, depending on the size of the LEGO sets you decide to buy, a lot of space may be required. For this reason, it is crucial to take all of this into account before investing, especially if space is at a premium.
Software
One of the most important aspects of being successful with LEGO investing is to learn how to research the sets. This is crucial if you want to pick winners and avoid making mistakes. One of the best ways to research sets is to use software to help you along the way, and there are a handful of tools that are extremely useful in giving you the best chance for success.
One such example is the FBA Multi Tool which is Google Chrome browser plug-in that shows the data of LEGO sets when displayed on an Amazon webpage. It displays the supply-related data, which is crucial to know in advance of putting precious cash on the line, and helpful for making any buying or selling related decisions. FBA Multi Tool will show the information that is extremely important to LEGO investors, and it will do it right on the Amazon listing page as you are browsing Amazon for LEGO sets.
To find out more detail on FBA Multi Tool and how it can help you, check out this video.
Final Thoughts
Like any business or money making venture, there are costs and requirements involved for LEGO investing in order to make truly large returns on investment but it is absolutely possible. There is no doubt about whether LEGO Investing is a great opportunity or not but it should be known that it is a multifaceted approach that requires a lot of research, patience, discipline and initiative.
While many investors will purchase hundreds of sets and do very well, LEGO Investing is open to anyone willing to work hard and put in the work, regardless of how much money you have to invest. It all starts with just one set and with e-commerce platforms consistently rocketing in popularity and use, there can be no questioning if retired LEGO sets can continue to dominate the market. The future certainly appears bright for LEGO investors – new or seasoned. Jump in!