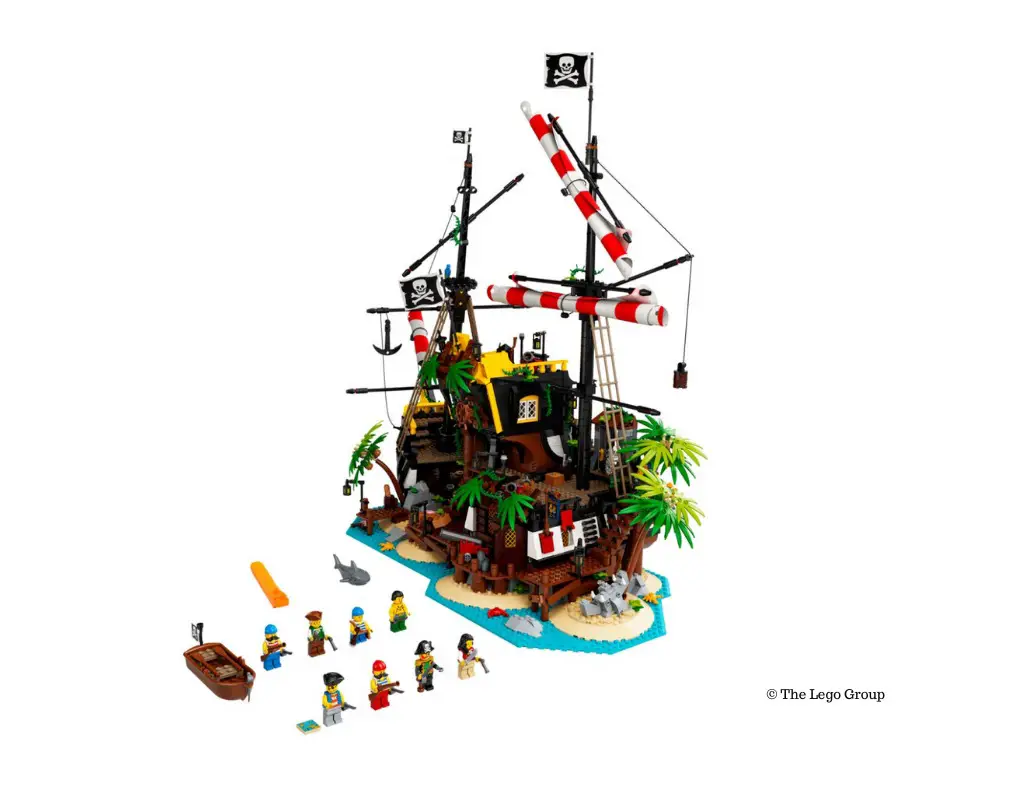 LEGO investing and reselling is all about picking the LEGO sets that are most likely to increase in value after they have retired. With that in mind, our job as LEGO investors is to analyze sets until we find the real winners. Winners can come in all shapes and sizes, from a variety of different LEGO themes, different price points, and different topics.
I have never owned any large LEGO ship sets but I have always been interested in them.
The one set I regret not buying is the LEGO Movie 70810 Metal Beard's Sea Cow. It is such a magnificent ship and performed quite well once it retired. That set turned out to be a winner (although it did take some time!).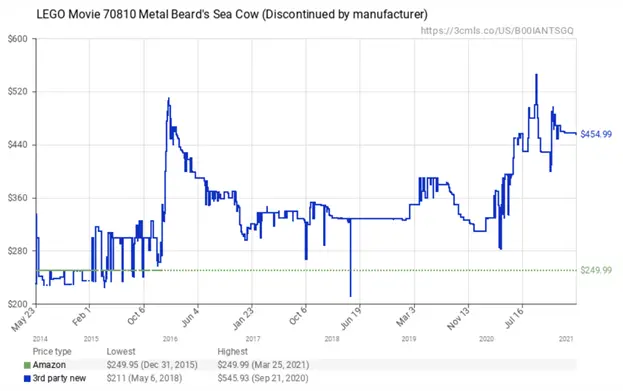 LEGO Movie 70810 Metal Beard's Sea Cow ROI 82%
LEGO Ideas Pirates of Barracuda Bay 21322 is another large ship set that has also caught my eye. Let's talk about whether the Pirates of Barracuda Bay will do well after retirement for LEGO investing and reselling.
The Price Point
This set retails for $199.99 and comes with 2,545 pieces which is a good value but also keep in mind that LEGO Ideas 21318 Tree House Comes with 3,036 pieces.
Unfortunately, Barracuda Bay has the same problem as the tree house – the discounts are rare. This set still has some time before it's retired so there's still a good chance that is may be discounted during an Amazon Prime Day or Black Friday, but until this point it has been hard to find the Pirates of Barracuda Bay at a substantial discount below retail price.

Playability

LEGO investors should always think about the audience of a set. Is the set a display piece that might go in the office of an adult? Or does it have playability which can help to drive demand amongst kids?
This set has a ton of playability. But it also appeals to adults!
Collectability
Another driver of demand is collectability. In other words – will people buy this set to complete a collection? Will they buy it to pair it with other similar sets?
LEGO Ideas is a theme that typically has lower amount of collectability than other themes. This is because LEGO Ideas sets are often unrelated to each other due to how they come from the ideas of fans without any overall core theme or strategy.
Although this is a LEGO Ideas set, that does not mean it has no collectability. LEGO pirates sets have been a common thread over time throughout various different themes. For example, LEGO Creator 3in1 Pirate Ship 31109, which is currently available at retail price, would make a great pairing.
LEGO is known for releasing similar ships like every couple of years, so this creates a opportunity to collect a whole fleet of these wonderful ships.
Investment Potential

Unfortunately, I only see this set having an approximate ROI of 100% two to three years after it has retired.
Even though that may seem like a low performing set when it comes to LEGO investing, that does not mean that you will not make money off it. Back when Star Wars Millennium Falcon 75105 was selling at the retail price I grabbed quite a few of them because even though I knew there was not a high ROI, I knew I could still make a $75 profit for each set sold.
That is exactly what will happen if you decide to purchase this set for investing. You could eventually make a $125 profit for each set being sold post retirement. If this set were to be discounted at $169.99, I might be wiling to pull the trigger on this set, but I would purchase no more than ten units.

Conclusion

For me it is a pass on purchasing this set for investment, but that should not mean that you should not buy it if you are a fan of this set. It is a great set with tons of playability.
If you want more strategies for investing and reselling, make sure to check us out on YouTube, where we give tons of more experience and strategies for LEGO reselling and investing. Also, we have a free Facebook group – join if you would like to learn from like-minded LEGO investors.
Do you like the Barracuda Bay set? Let us know your thoughts in the comments!