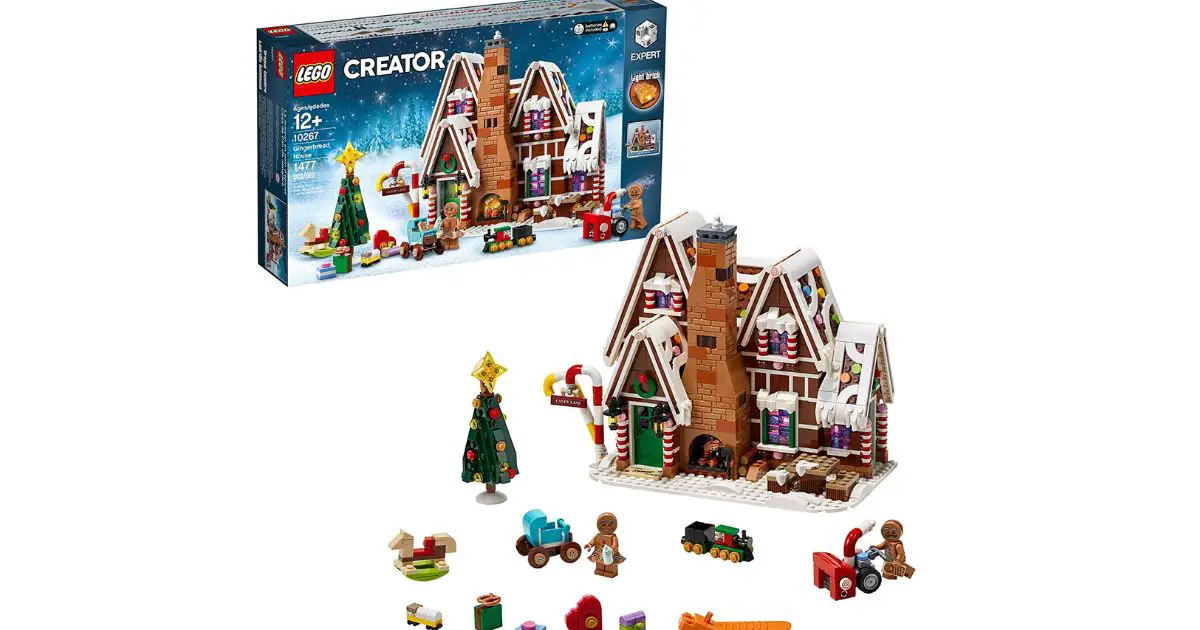 The LEGO Group has a wide range of different themes and sub-themes of LEGO sets available for fans to collect, and although many of them are based on licenses from popular movies and shows such as Star Wars or Harry Potter, there are also many product lines that are created entirely by The LEGO Group and are loved by fans all over the world. This list of LEGO Winter Village sets is a prime example of one of these sub-themes. It's always a cold, festive time with the wave of LEGO Winter Village Sets!
The Winter Village theme is a series of sets from the LEGO group which feature Christmas based scenes and characters. This series started out strong and has maintained its success since its launch in 2009. It offered fans a unique, light hearted, seasonal addition to their collections that had otherwise not been available before. LEGO Winter Village is not a full theme of sets, but rather is a sub-theme within the Creator Expert and Icons theme of LEGO sets.
There are currently a total of thirteen sets that make up the entire collection, and typically one new set is released in the line-up each calendar year. But what LEGO Winter Village sets have been released to date? Let's dive into the list of LEGO Winter Village sets that have ever been released.
Winter Village Toy Shop 10199
RRP: $59.99
Year Released: 2009
Pieces: 815
Minifigures: 7
We're kicking off the list with the Winter Village Toy Shop, which was the first ever set from the series, and made a strong impression within the LEGO community when it was released in 2009. 
Naturally, this set is brimming with a variety of festive gifts such as a small train etc within the shop itself which are created from clever use of creative, interesting building techniques. Additionally, there is a stand out, sizable Christmas tree, a snowman, seven minifigures and even a light brick with batteries to give the exterior a warm glow. 
There is never a dull moment with this set which is perhaps why it is still extremely sought after despite being over a decade old.
Winter Village Bakery 10216
RRP: $54.99
Year Released: 2010
Pieces: 687
Minifigures: 7
The second set in the collection was slightly smaller than its counterpart but still packed an impressive amount of detail. The set's bakery, which was the major draw of this set, was filled with delectable treats, perfect for warming up after a go on the provided ice rink outside.
As would now become customary in the series, the included light brick also helped create an atmospheric glow to the overall, very festive scene. It featured 686 pieces, 7 minifigures and even a horse drawn cart for transporting Christmas trees.
Winter Village Post Office 10222
RRP: $69.99
Year Released: 2011
Pieces: 822
Minifigures: 7
Where do the many letters to Santa end up? To the North Pole! However before they embark on their voyage to the jolly, white-bearded man himself, they must pass via the post office to be processed, so that they can then board the old mail truck ready for delivery! 
That is where this wonderfully imaginative set comes in. It comes with lots of post, seven unique minifigures, a dog, 822 pieces and just like the Toy Shop- a light brick. The star of the show in this set is of course the post-office building, but the van and other accessories make for great bonuses.
Winter Village Cottage 10229
RRP: $69.99
Year Released: 2012
Pieces: 1490
Minifigures: 8
Out of all the sets in this list, the Winter Village Cottage is one of the largest, with 1490 pieces in the box. It comprises of a family of minifigures, a cosy, decorated cottage for them to spend the holidays in, a storage shed, igloo and even a snowplough!
A beautiful feature of the snow-covered cottage is the light brick that allows the fireplace to glow while dad sits in front of it and reads his newspaper. There's a sled and skiis for the children to keep busy while mum can get the feast prepared in the mosaic-floored kitchen. There is no lack of details in this set and although the price was higher, fans conclude it was most definitely worth it.
Winter Village Market 10235
RRP: $99.99
Year Released: 2013
Pieces: 1261
Minifigures: 9
Taking a unique approach, the Winter Village Market was the first set to not feature a main building since the series first launched. Instead, it included a festive carousel for the child minifigures, which is supervised by the operator in their hut and can be cranked by hand thanks to the gear component but does not come motorized.
There are also three separate market stalls selling all sorts of things such as sausages, drinks, baked goods, confectionery and there's even games for the minifigures to take part in. With 9 minifigures, this is the most that has ever been included in a Winter Village set and overall makes for an exceptional play and display set in equal measure.
Santa's Workshop 10245
RRP: $69.99
Year Released: 2014
Pieces: 883
Minifigures: 6
Once again, the LEGO group decided to bring out something different from all the predecessors with this non-village themed set. Still maintaining a Christmas vibe, Santa's workshop offered a direct look behind the scenes at Mr and Mrs Clause's house itself straight out of the North Pole! A bonus four elves were included to help make some presents and wrap them in time for the big day.
There was some controversy in the community however as the set included five brick built reindeers rather than using moulded pieces. Some argued this detracted from the otherwise magical Winter Wonderland type set – particularly when the sleigh and house were so brilliantly designed with no lack of detail or play features.
Winter Toy Shop 10249
RRP: $79.99
Year Released: 2015
Pieces: 898
Minifigures: 8
Featuring the biggest Christmas tree of them all, the 2015 version of the Winter Toy Shop was a re-release and near duplicate of the very first ever set in the series, also being a Winter Toy Shop. This edition however included an additional minifigure and eighty three more pieces. Overall, both sets are extremely similar, featuring the same wide variety of festive details.
This was a fantastic opportunity for any fan to pick this set up if they missed out on the original after six years following its release. The only downfall was the slightly higher price point but this was easily overlooked for what has become a hallmark set of the series.
Winter Village Train 10254
RRP: $99.99
Year Released: 2016
Pieces: 734
Minifigures: 5
Train sets have always been a big hit within the LEGO community and this was no exception. 
The set included 734 pieces, five minifigures and a classic Christmas tree. Arguably though, the standout feature of this set is that it came with tracks and a power function so that the train could really come to life. Despite focusing on just the locomotive, the many carefully thought out additions such as detailed interior carriages, steam from the funnel, a bright, festive colour scheme, a boarding platform and lots of gifts made this an excellent add-on to the many other Winter Village sets.
Winter Village Station 10259
RRP: $79.99
Year Released: 2017
Pieces: 902
Minifigures: 5
This is the perfect accompaniment to the previous Winter Holiday Train and so was the next set to be released from LEGO in the series.
Covered in snow, the train station provided yet more tracks for the locomotive to explore on top of a level crossing for the provided bus to cross as well. Despite the building, doubling as a clock tower platform, looking somewhat simple – the interior was used creatively to include a coffee shop, ticket booth and luggage rack. All you could need to have family and friends reunite for the holidays!
The set came with a total of five minifigures and 902 pieces. 
Winter Fire Station 10263
RRP: $99.99
Year Released: 2018
Pieces: 1166
Minifigures: 6
Every town or city needs a fire station ready to respond to all kinds of calls. Luckily, LEGO created this delightful set with a vintage looking fire engine, a brick built sled, a station and a small but magnificent ice rink. As usual, the set also had a light brick, this time to illuminate the frosty fire station windows. 
Containing 1166 pieces and 6 minifigures, the selection of firefighters with normal city folk compliments the set perfectly and provides a fantastic playable, festive scene.
Winter Gingerbread House 10267
RRP: $99.99
Year Released: 2019
Pieces: 1477
Minifigures: 2
The Gingerbread House marked a decade of the Winter Village theme.
The set follows a family of three gingerbread people – a mum, dad and baby in their cosy, seasonally decorated house. The absence of standard minifigures received mixed opinions but the overall theme and details included outweighed them. Out of the 1477 pieces, a selection of toys really brought this set to the next level for playability.
Also included are a small locomotive train (perhaps a nod to the 10254 train), a rocking horse, truck and much more. On top of that, the house's interior being bright and colourful, along with the standard light brick really reiterated the "delicious" yet homely feel. 
Gingerbread House retired in December 2021 after 24 months on shelves.
Elf Club House 10275
RRP: $99.99
Year Released: 2020
Pieces: 1197
Minifigures: 4
What is Santa without his little helpers?! This was the first Winter Village set to take on a new, mature audience of 18+ and incorporate a fresh, sleek black box design.
One of the main features of this set is the moulded reindeer to pull the sleigh instead of a brick built alternative like in set 10245. The four included elves have arguably the best cottage to complete all of their much needed work. A ship, keyboard, aeroplane, and other fascinating LEGO toys have also been made using bricks. The light brick allows for the elves to work all through the night as well, not to mention the oven to make waffles if they get peckish!
LEGO Elf's Clubhouse is complete with 1197 pieces and 4 minifigures.
Winter Village Santa's Visit 10293
RRP: $99.99
Year Released: 2021
Pieces: 1445
Minifigures: 4
While it only comes with four minifigures, Santa's Visit is a beautifully thought out set with many seasonal, intricate details. The set centres exactly around its title – therefore includes a chimney for Santa to go down, a fireplace for the stockings, a table for the family feast and of course a Christmas tree for the presents to go under! For this reason, it remains a firm favourite within the LEGO community, some arguing it's the best of the lot.
LEGO Santa's Visit is complete with 1445 pieces and 4 minifigures.
Final Thoughts
In conclusion, the Winter Village sets have an abundance of festive components and play features while still maintaining a reasonable price point. There is no questioning whether each of the sets in this list were carefully thought-out to include eye-catching details which results in creating an all around breathtaking winter scene. Although older/retired sets have now massively increased in value, it's not a surprise that fans want to complete the entire collection of this joyful and merry theme.
If you'd like to see more awesome round-up lists of LEGO sets, check out this complete list of every LEGO modular building ever released.